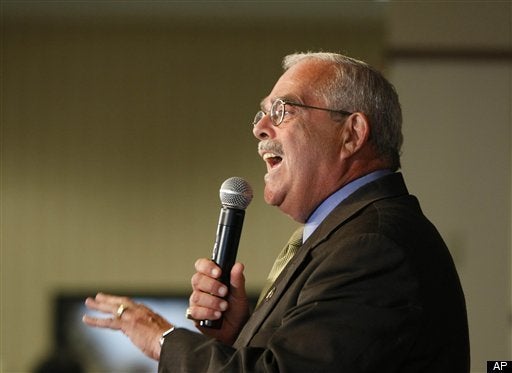 A dreadful unemployment report showing that the private sector hired only 41,000 workers in May suggested Friday that the jobs crisis in America is not really subsiding. What is subsiding, however, is congressional Democrats' appetite for extending programs to help the unemployed.
Last week, conservative House Democrats rebelled against a bill to reauthorize several expiring domestic aid programs, including extended unemployment benefits, because the bill would have added $123 billion to a federal budget deficit expected to reach $1.5 trillion this year. Why do more deficit spending, they asked, if the recovery is already underway?
"A year ago we were in the midst of the worst recession in 80 years and desperately trying to find ways to climb out of it," said Rep. Gerry Connolly (D-Va.), president of the freshman class, who credited the stimulus bill with turning the economy around. "We did the right thing and it's working. Now, a year and four months later, it's a very different situation. We are now managing a recovery and trying to sustain it."
"We've had four straight months of job growth," said Rep. Jason Altmire, a Blue Dog Democrat from Pennsylvania. "At some point you have to take a step back and look at the relative value of unemployment benefits versus people looking for jobs."
Conservative Dems were able to delay a vote on the bill, the American Jobs and Closing Loopholes Act, until the end of the week. When leadership finally agreed to chop stuff out of the package, including a month of extended unemployment benefits and health insurance subsidies for laid-off workers, it was too late -- the Senate had already adjourned for the Memorial Day break.
Several programs, including extended unemployment benefits, lapsed Tuesday and won't be reauthorized until sometime after June 7, when the Senate returns from its vacation. And that, if it happens, may be the final reauthorization: Though unemployment is higher now than when Congress gave the jobless an additional 18 months of benefits, Democrats are unwilling to commit to doing more when the extended benefits expire again at the end of the year.
Doug Thornell, a spokesman for Rep. Chris Van Hollen (D-Md.), pointed out that Republicans solidly opposed the bill. "They voted against American jobs, they voted to send American jobs overseas, and they turned their backs on workers who are unemployed through no fault of their own."
This week, according to the Department of Labor, 19,400 people prematurely exhausted their unemployment benefits because of the lapse. There's no indication the Senate will move quickly when it returns next week, when the number of premature exhaustions will climb to 323,400. By the end of the month the number will reach 1.2 million.
Friday's jobs report from the Labor Department showed the economy added 431,000 jobs in May, but 411,000 of those came from temporary Census hiring. The unemployment rate fell from 9.9 to 9.7 percent, in part because the labor force shrank as some jobless people gave up looking for work.
"I think it's important for us not to dismiss this report just because there were Census jobs in it. A job's a job," said Thornell. "Over the last two months there have been close to 300,000 private sector jobs created. That's a huge turnaround from the Bush years."
The number of long-term unemployed inched up by about 47,000, to 6.76 million. That's 46 percent of the 15 million jobless Americans, and it's the programs to help them that are on the chopping block. Sixty-seven percent of the unemployed received benefits; without the extensions Congress has passed since the recession, only 35 percent of the 15 million unemployed would be receiving benefits.
While Congress struggles to preserve the existing programs, no help whatsoever is forthcoming for the hundreds of thousands who have already exhausted the 99 weeks of unemployment benefits available in some states.
"Today's jobs report proves we are still in desperate straits in terms of our jobs recovery," said Judy Conti, a lobbyist with the National Employment Law Project. "For anybody in Congress to suggest that now is the time to start pulling back our supports for people who are unemployed through no fault of their own proves that they are out of touch with reality at best and heartless at worst."
Progressive economist Dean Baker, co-director of the Center for Economic and Policy Research, said the unimpressive jobs report "actually is good news in that it should shut up the dingbats
who thought the economy was recovering just fine."

Calling all HuffPost superfans!
Sign up for membership to become a founding member and help shape HuffPost's next chapter