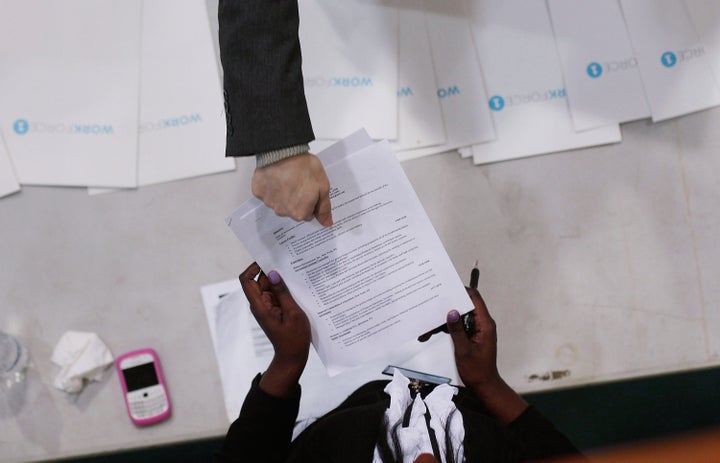 NEW YORK (Steven C. Johnson) - Private-sector hiring surged in December as employers added 325,000 new workers while claims for jobless benefits fell, raising hope that recent labor market improvement would continue in 2012.
The ADP National Employment Report's December job tally surprised economists who had expected a 178,000 gain. It was also well above the 204,000 private jobs added in November.
"The number is stunning," said Wayne Kaufman, chief market analyst at John Thomas Financial in New York. "This is another data point that shows our economy is healing. It fits in well with improvements we've seen in consumer sentiment, and obviously that's because there are more people getting paychecks, which is making everyone happier."
Joel Prakken of Macroeconomic Advisers, which helps produce the report, struck a note of caution, telling reporters that the December surge in hiring might have been caused in part by year-end seasonal factors and revisions were possible.
In the U.S. stock market, stock futures pared losses after the data while U.S. government debt prices fell slightly.
A more comprehensive government report due Friday is expected to show the economy added 150,000 public and private sector jobs last month, but the ADP report may cause some to revise that total upward.
Thursday's data "point to what should be a fabulous number tomorrow," said Todd Schoenberger, managing director at Landcolt Trading in Wilmington, Delaware. "We should welcome this positive news because clearly Santa Claus is still around."
A separate report from consultants Challenger, Gray & Christmas showed the number of planned layoffs at U.S. firms fell to a five-month low in November.
But John Challenger, chief executive officer, said the two sectors that suffered the most job cuts in 2011 -- government and financial services -- look destined to struggle again this year.
The jobless rate is expected to have edged up to 8.7 percent as some Americans who had given up their search for work were lured back into the market, according to a Reuters survey.
Even so, economists say recent labor market trends have been encouraging. The number of Americans filing first-time claims for unemployment benefits fell last week for the fourth time in the last five weeks.
However, in December 2010, a surge in private sector hiring far exceeded the total job gain for that month reported by the government.
"Some caution is required," said Theodore Littleton, economist at IFR Economics, a unit of Thomson Reuters.
(Additional reporting by Ryan Vlastelica; Editing by Chizu Nomiyama)