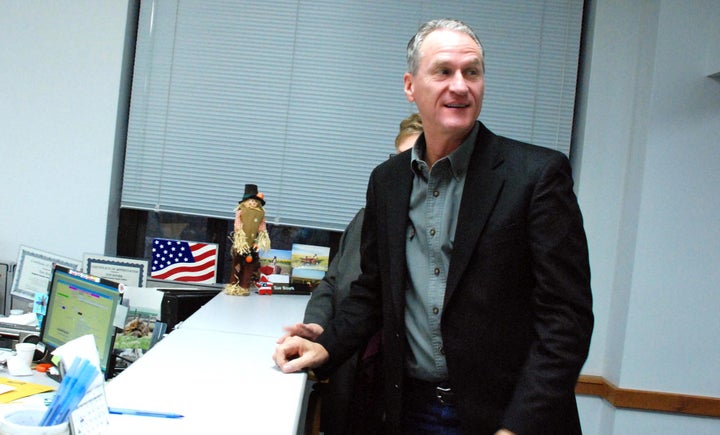 WASHINGTON -- The Republican governor of South Dakota shared his personal experience growing up as the child of two deaf parents as part of the National Governors Association meeting this weekend, urging his fellow governors to promote jobs programs for people with disabilities.
South Dakota Gov. Dennis Daugaard told his colleagues his experiences Sunday morning during a panel discussion, part of several sessions this weekend dedicated to the subject of employment for people with disabilities. Delaware Gov. Jack Markell (D), the NGA chairman, has made the issue this year's platform for NGA.
"I'm embarrassed to say that I have not done a lot as governor in this area," Daugaard said. "I want to do more."
Daugaard went on to share details of his parents' lives, with his father working as a farmer and janitor, some of the only job opportunities available to him at the time. While the morning session was highlighted by Daugaard's personal experiences, governors also used the meetings to discuss ways states can create jobs for people with disabilities.
Carl Van Horn, the director of the Heldrich Center for Workforce Development at Rutgers University in New Jersey, told governors Sunday morning that people with disabilities have an unemployment rate at twice the national average and the rate is likely to rise with the aging population. Connecticut Gov. Dan Malloy (D) told his colleagues that the number of persons with disabilities seeking to enter the workforce will also continue to rise, due to the number of Iraq and Afghanistan veterans with disabilities who have exited from rehabilitation.
"We owe it to these patriots to make sure that they have a job," Malloy said. "We should do everything in our power to make sure they do."
Malloy noted that one of the main concerns in his state has been that many people with disabilities work part time and do not receive benefits, but the income they make could cost them benefits from Medicaid. He said that he has created a program to allow for the state to provide benefits for people with disabilities who work part time, so they can enter the workforce.
On Saturday, Walgreens CEO Gregory Wasson told governors about his company's programs training and employing those with disabilities in retail stores and distribution centers. Wasson told governors that those hired by Walgreens have worked well in a fast environment and have contributed to corporate goals. He noted, though, that when states and companies work on the issue of employment for people with disabilities, they need to address individual business needs, and not adopt any one strategy.
"This cannot be a cookie cutter approach," Wasson said.
Markell, the NGA chairman, told governors that the NGA will continue exploring ways states can work to develop programs for employing those with disabilities. As part of the goal to develop a list of best practices for state governments, the association is planning two institutes in May for governors and their staffs to meet with business leaders and share findings.
Among the areas governors were told to focus on were utilizing business leaders as advocates and meeting with parents of the disabled to promote to them the idea that their child can get a job. Malloy said that with the rate of autism rising nationally, the jobs issue needs to be addressed.
"That means more people even with severe autism can work part time or full time," Malloy said. "That means that the job pipeline needs to be there. We need to move away from warehousing people. The best place to spend your day if you have disabilities is in a job. It is our obligation to break down the barriers."
Calling all HuffPost superfans!
Sign up for membership to become a founding member and help shape HuffPost's next chapter
BEFORE YOU GO
PHOTO GALLERY
United States Governors