Are you a recent college graduate with mounds of student debt and few job prospects? An employer struggling to fill entry-level positions that require a specialized skill set? Or perhaps a parent whose child graduated over a year ago from college, and is still living at home, jobless?
From Pittsburgh to Johannesburg, young people all over the world are facing daunting odds as they attempt to enter the job market. Those with a college degree struggle to find a job that rewards their years of education. Those without a college degree? They have become, according to Patty Stonesifer, Chair of The White House Council for Community Solutions, "disconnected youth," who will likely face a lifelong struggle to find meaningful employment.
This wasn't always the case. According to Anthony Carnevale, Director of the Center on Education and the Workforce at Georgetown University, in the 1970s more than 70% of middle-class jobs still only required a high school degree or less. Today? More than 60% of jobs require some sort of tertiary education.
In its new publication, Voices on Society, McKinsey & Company convenes leading experts who put forth their ideas for how we can solve the employment challenges young people are facing. "Jobs for the Young & Restless" includes an interactive debate between Anthony Carnevale and Gagan Biyani, Co-Founder of Udemy, which asks readers to choose their side of the question: "Does a traditional college education in the US still make sense given the costs and the state of the economy?" So far, 35% of readers think it does not. As one of our readers, Daniel Barnwell, writes: "The problem is that there is not an adequate alternative education for someone that wants to learn a specific trade ... but might not excel in the traditional liberal arts courses."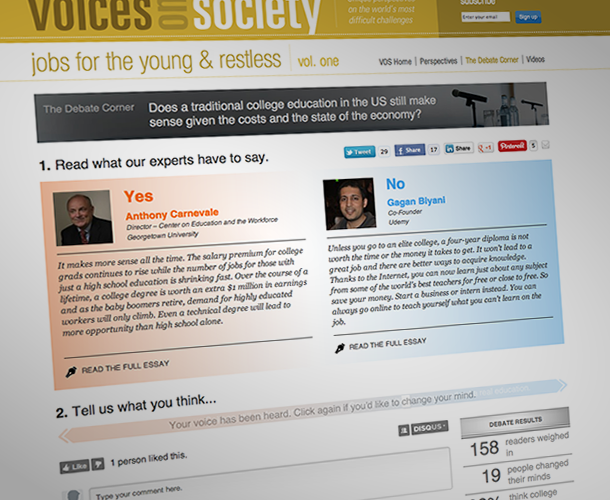 The publication also features essays from six global experts whose viewpoints are both diverse and provocative:

Fred Swaniker: CEO & Co-Founder, African Leadership Academy
"Africa is sitting on a time bomb" according to Swaniker. With almost two-thirds of its population under the age of 25, Africa skews young -- which is why, to ensure economic growth and social stability, it must create meaningful opportunities for its youth. Increased access to education and public/private partnerships emphasizing entrepreneurship will help.
Patty Stonesifer: Chair, The White House Council for Community Solutions
Too many American students leave school -- with and without diplomas -- unprepared to enter the workforce. The solution: support from all members of the community -- the public and private sectors, as well as families -- to provide skills, role models, experience, and opportunity.
Shantayanan Devarajan: Chief Economist, World Bank's Africa Region
For at least another generation, most young Africans will work in the informal economy. To boost productivity, governments need to provide young people with basic reading and math skills to enable them to succeed in agricultural and home-based enterprises and perhaps move into the formal sector.
Hilary Steedman: Senior Research Fellow, The London School of Economics
Apprenticeship offers the promise of reducing youth unemployment and increasing critical skills. But for apprenticeship to work, the interests of employers, apprentices, and government must be carefully balanced.
Thero Setiloane: CEO, Business Leadership South Africa
In South Africa, children's life chances remain overwhelmingly determined by race, by birth, and by where they attend school. To solve the pressing problem of youth unemployment, business and government must join forces to provide education and development opportunities to ensure that young people leave school ready to work.
Moataz Al Alfi: CEO, Egypt Kuwait Holding Company
The Middle East suffers from a severe mismatch between the skills employers need and the skills youth learn in school. To fix this problem, business and education ministries must work together to prepare young people to join the workforce.
Calling all HuffPost superfans!
Sign up for membership to become a founding member and help shape HuffPost's next chapter