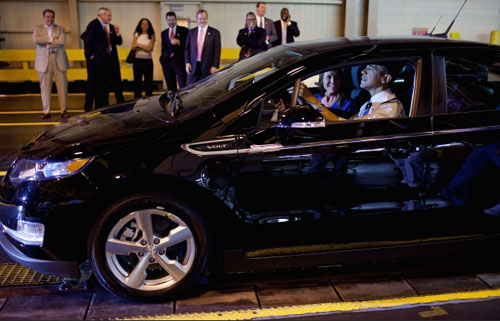 President Barack Obama, behind the wheel of Chevy Volt (Official White House Photo by Pete Souza)
President Obama, who made rescuing the auto companies one of his first goals, officially opened his reelection campaign with a rally in Columbus, Ohio telling the crowd of 14,000 that he aims to take the country "forward" while his presumed opponent, Mitt Romney, will slam on the brakes and try to throw the country into reverse.
Analysts believe a still limping economy with tepid job growth will keep the president on the defensive as he fights to secure a second term. One bright spot, the revival of the American auto industry, saved almost 1.5 millions jobs, according to the Center for Automotive Research and kept the economic damage from spreading even further. The carmakers trip from bankruptcy to profitability was made possible by his support. Oddly enough Mitt Romney, who was raised in suburban Detroit and whose father was a former governor of Michigan and a president of American Motors, still says bailing out the automakers was wrong.
In a similar vein the Republican-controlled House has put up a roadblock to a transportation bill passed by the Senate that has the potential to be a more powerful job engine than the auto bailout. If enacted it would keep over 2.5 million construction workers on the job. But the discussions about our transportation future shouldn't just be about keeping the shovels turning and autoworkers on the job. Yes, we need to look at jobs, but we also need to see we are not in this alone. The United States should be part of a global move toward interconnected, seamless transportation that, in addition to creating jobs locally, reduces the threat of global climate change, enhances trade and improves the health and livability of our rapidly urbanizing world while making sure we don't leave less populated areas behind.
This was the theme of the International Transport Forum recently held (May 2-4) in Leipzig, Germany. The Forum brought together over 750 transport experts, suppliers, government officials and journalists from developed countries to meet with their counterparts from the rapidly developing countries for a series of discussions about the need to craft a vision for an interconnected future. The dire consequences of not changing how we move people and goods underpinned the conference.
"Unless action is taken, I mean, unless action is taken now -- CO2 emissions from transport will skyrocket from a level that is already tremendously high," said Angel Gurria, the Secretary General of the Organization for Economic Co-operation and Development (OECD).
Currently, transportation is responsible for "23 percent of man made CO2 emissions globally," said Gurria. The reason? About 96 percent of transportation is still powered by "fossil fuels." Gurria noted that without immediate action, by 2050 we will see a 50 percent increase in greenhouse gas emissions with a disastrous impact on the living standards of the world.
Electric cars are seen as part of the solution that alone can reduce projected emissions growth 12 percent by 2050, according to Gurria. He sees electrics making a big difference in taxis and delivery vehicles where "trips are short but usage is intensive." But the, "biggest reductions (in the auto sector) will come from fuel economy improvements in conventional vehicles."
Even if we throttle down emissions from passenger cars in developed countries, emissions from transporting freight will probably continue to increase. The big worry comes from the growth and demand for cars in emerging economies like India and China.
Of course, it's the appetite for cars from exactly those countries that has spurred the recovery of the American auto industry as well as kept other global automakers' factories humming. As part of the conference, BMW, whose sales in China recently surpassed its United States totals, hosted a tour of its Leipzig plant. It currently produces 740 cars a day at this factory but has the ability to rapidly increase capacity as needed. The transport ministers didn't suggest countries should curtail auto production but emphasized the need to create systems that are "less dependent on cars."
Urban transportation was a major focus of the conference since it's been estimated that by 2050 over 70 percent of the world's population will live in cities up from 18 percent today.
The number of people riding bicycles to school and work, taking streetcars or buses and walking in Leipzig showed what that future could look like. Traveling through town I couldn't help notice that it wasn't just a few cycling fanatics or students who were reclaiming the streets with their bikes. The city was also linked to the rest of Germany and Europe by an efficient rail system with centrally located train stations that were served by streetcars, buses and taxis that provided connections to airports. Inexpensive rental bicycles were also readily available.
Coming from Los Angeles and seeing that it was easy to catch a streetcar or take a bus from the airport reminded me of how completely our transportation options have been defined by the automobile. As recently as the 1950s, Los Angeles had a streetcar system with over 1800 miles of track. It was ripped up and replaced by wide lanes and freeways that promised the joy of the open road. The good news is that gridlocked LA is rebuilding its light rail system using some of the abandoned right of ways from the system that was destroyed. But even if the city can find the funding to complete its current plans we will only have about 750 miles of track. That's less than half of what existed before.
Connections between cities by improved high-speed rail systems are seen as important ways to reduce dependency on cars and on air travel. This September, Japan is set to launch its fourth generation of high-speed rail since the first lines went into operation ahead of the 1964 Summer Olympics. The new trains have a projected top speed of 205 miles per hour.
In the United States, high-speed rail, like the auto bailout, has been castigated as a wasteful government program. Republican governors Rick Scott of Florida, John Kasich of Ohio and Scott Walker of Wisconsin all turned down available Federal funds. California's governor is happy to take the money to build a system linking Los Angeles and San Francisco but it's become tied up by routing and funding disputes.
Given the fragile state of the economies of the United States and within the European Union, it's easy to understand why any program meets resistance. But even cash-strapped Britain is "reopening some rail stations that were closed prematurely," said Norman Baker, the new transportation minister. "It is possible in times of tight budgets to make improvements," he said.
That's an important lesson for our country. Even though the Obama administration has made funding available for various bridges, roads and rail projects what seems to be missing is a vision for what a modern American transportation system would look like. And why we need to do it now. Our current auto-centric system of freeways serving suburbs festooned with drive ins was first showcased to the public at the 1939 New York World's Fair in the General Motors Pavilion. Dubbed 'Futurama,' this eye popping display of the future packed them in as visitors, seated in moving auto seats, watched a rural diorama be transformed step by step. Farms and small towns were replaced by single family homes in subdivisions ringing gleaming cities served by an efficient and uncrowded network of multi-lane highways. The industrial designer, Norman Bel Geddes, was the Svengali who created this compelling show. He'd caught the eye of GM execs who admired his streamlined products and theater set designs. World War Two interrupted its implementation but after the war, the public was ready to see this fictional Futurama become reality.
Moving forward will require public support inspired by a new vision that conjures up a compelling future of walkable cities and towns, bicycles, streetcars, clean buses, high-speed trains and fuel-efficient cars close to accessible airports. We have a lot to undo and rebuild to get there. China and India and other countries still have the opportunity to get it right the first time. The result for countries, states and cities that join the transportation transformation will be jobs and economic growth, a cleaner environment, reduced concerns about global climate change, healthier people who get more exercise from riding bikes and walking and the knowledge that we've built a sustainable system that meets the needs of our people while connecting us to the world.
Popular in the Community