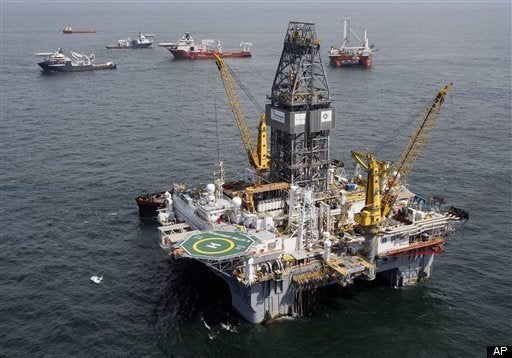 This article was published in "The Louisiana Weekly" on January 30, 2011
The Gulf Coast remains banged up and broken from BP's spill but worries that Louisiana workers would be hit hard by the federal drilling ban -- which ended in October -- haven't materialized. In an early January report on the moratorium, public-private partnership GNO, Inc. said big job losses that it and others expected haven't occurred so far. Employment in the coastal, oil patch grew in 2010, according to the Louisiana Workforce Commission last week.
If you tank up with gasoline, you probably figured out awhile ago that oil prices are rising. Petroleum companies have no intention of missing that boat, and want staff on hand at production facilities in Louisiana and elsewhere to help them meet demand and capitalize on higher prices.

Robin Barnes, executive vice president at GNO, Inc., said "job losses on the Louisiana coast are, at least initially, not as high as we expected last June. Large and small companies have tried to retain employees rather than lay them off, and in some cases have shortened their hours." GNO, Inc.'s January report was the second in its three-part Economic Impact Series, including an already-released segment on fisheries and a soon-to-be issued, final part on Louisiana's brand.
Barnes said smaller firms on the coast have dipped into their savings to cover payrolls. "Some companies have managed to hold on with money received from BP claims and the Vessels of Opportunity program," she noted. "Unemployment could rise in the coastal economy this year, however, as businesses deplete their savings."
In September, the U.S. Dept. of Interior revised projected Gulf job losses from the deepwater moratorium to a range of 8,000 to 12,000, from an earlier view of 23,000. Those figures compare with Louisiana Governor Bobby Jindal's forecast last spring that 20,000 jobs would be forfeited to the drilling ban.
Last June, GNO, Inc. saw a potential drop of 12,500 to 21,900 full-time-equivalent positions from the deepwater moratorium. The group's January report said "to date, we have not seen evidence of these projections," but added that since June, Louisiana has lost over 25,000 jobs statewide. "While this cannot be assumed a direct correlation -- unemployment was rising around the country -- we are confident that the decrease in drilling permits and the significant slow-down of the oil and gas industry had an impact on this number."
Since the release of GNO, Inc.'s January report, however, Louisiana officials said that the state's jobs grew in 2010 as a whole and that December's unemployment rate of 7.2%, not seasonally adjusted, was unchanged from 2009's end. Seasonally adjusted, the December jobless number was 8%.
Last October, GNO, Inc. began releasing a Gulf Permit Index, tracking approved, federal deep and shallow water permits on a biweekly basis. On the shallow end, permits in the last quarter of 2010 averaged 6.3 per month versus 7.1 in the year earlier quarter.
Curry Smith, GNO, Inc. communications and research manager, said last week, "only two, new deepwater drilling permits have been approved by BOEMRE since the moratorium ended on Oct. 12. And since then, only 16 new shallow-water permits have been approved, though there was no official ban on shallow drilling." Deepwater permits were issued for new exploratory wells in November and December, respectively, to BHP Billiton Petroleum.
Last week, Senator Mary Landrieu's office said "five, deepwater platforms operating in the Gulf have left for other parts of the world, costing Louisiana and the Gulf Coast nearly 5,000 jobs." Most of those rigs moved to the coast of Africa, in some cases temporarily, according to their owners.
As a reference point, GNO, Inc. used 33 as the number of deepwater rigs shut in the Gulf by the drilling moratorium, though the actual figure is lower. The group said that each rig directly or indirectly employs between 415 and 732 Louisiana workers, and 33 rigs would employ between 13,695 and 24,156 workers. "While we have not seen evidence of this high level of unemployment, should the lack of permits continue, the number of jobs at risk is significant," GNO, Inc's January report said.
Separately, Eileen Angelico, New Orleans spokeswoman for the federal Bureau of Ocean Energy Management, Regulation and Enforcement, said last week that 21, rather 33 deepwater rigs were shut in the Gulf during the drilling ban. "Of the 33 deepwater rigs that were operating at the time that Interior Secretary Salazar called for the moratorium, 21 rigs eventually suspended operations," she said. "Twelve rigs were completing operations, which were not covered under the moratorium, such as drilling a relief well; workover operations; and drilling waterflood, gas injections or disposal wells." For example, Taylor Energy's Diamond Ocean Saratoga was exempt as it continued to plug and abandon a Mississippi Canyon well, following platform damage from Hurricane Ivan.
A notice from the Dept. of Interior late last May explained the types of rig operations that were exempt from the moratorium.
Continuing with its reference number of 33 shut rigs, GNO, Inc. said "over the course of seven months from June to December 2010, 33 working, deepwater rigs would have accounted for state and parish income and rig royalties of between $9,868,799 and $16,864,585. We cannot assume that all these taxes were lost as a result of the moratorium, because -- as we have discussed -- income-tax paying workers have been kept on payroll, and some companies have found other sources of revenue."
Layoffs on rigs since last spring are far less than initially expected. The $100 million Rig Worker Assistance Fund, established with BP funds, was created to compensate rig employees unable to work as a direct result of the moratorium. GNO, Inc. said in January "this fund, housed at the Baton Rouge Area Foundation, has received approximately 624 applications, 343 of which were compensated. We estimate that each deepwater drilling rig relies on approximately 230 direct workers." Rig employees did not lose their jobs in large numbers, and some workers that were laid off chose not to apply to the fund, GNO, Inc. said.
The group said "job losses were mostly suffered by members of the low-income, unskilled labor force. The majority of directly and indirectly impacted businesses chose to retain most of their employees, despite a sharp drop-off in their needs for labor." GNO, Inc. also said "drilling rigs may be keeping employees on payroll, but are not purchasing the goods and services -- known in the industry as 'rope, soap, and dope' -- that they did previously."
When asked what he thought about earlier projections that the moratorium could result in losses of 20,000 Gulf jobs, Don Briggs, president of the Louisiana Oil and Gas Association, said last week "I think they are probably high." But, he said, "it's been a very difficult number to quantify." Briggs pointed out, for instance, that "companies like Baker Hughes, Halliburton and Schlumberger can move their people anywhere, to places such as the Haynesville," the big natural gas-from-shale play in Northwest Louisiana.
The GNO, Inc. study includes "qualitative" or anecdotal research from discussions with several, small business owners providing goods and services to oil and gas companies affected by the drilling ban. In addition, employees of non-profit groups assisting small businesses on Louisiana's coast were interviewed. GNO, Inc. found that "the moratorium forced business owners to drastically change their business plans and utilize savings to compensate for significantly decreased revenue. Most small business owners have attempted to retain their employees in anticipation of drilling permits being granted in the near future."
GNO, Inc. expects that if drilling permits don't increase much by second-quarter 2011, small businesses will be forced to begin major layoffs. Larger companies may choose to keep employees on longer, but not indefinitely.
On January 3, BOEMRE told thirteen oil companies that they may be able to resume previously approved exploration and production activities without submitting revised plans. In its January report, GNO, Inc. said that its Gulf Permit Index had shown little increase in permits issued since then. "Thus, we maintain that a de facto, deepwater moratorium remains in place." The group said that, given recent increases in shallow, permit approvals, however, "the de facto shallow-water moratorium ended."
GNO, Inc. said "the U.S. has experienced accidents in various industries, including mining, air travel, civil engineering, chemical transportation and others, yet none have resulted in the long-term, comprehensive shutdown of an industry."
The group does not weigh in on Louisiana's clean energy-versus-oil debate. It does say "the safety of workers and the environment must be of paramount importance." New systems and procedures should be described and implemented, using transparent methods. "This will allow the nation's offshore oil and natural gas industry to return to work in a way that will preserve thousands of critical jobs," in a region still recovering from hurricanes.
Separately, Dr. Loren Scott, emeritus professor in economics at Louisiana State University, said he's keeping an eye on job numbers in Metropolitan Statistical Areas in the coastal oil patch. In the Houma MSA, covering Lafourche and Terrebonne parishes, unemployment was 5.1%, not seasonally adjusted, in December, down from 5.7% in November and 5.3% in December 2009. Those numbers were all below prevailing national averages. Unemployment also fell in December in the Lafayette, Lake Charles and New Orleans MSAs, including Plaquemines Parish.
Joseph Mason, LSU finance professor, said "nobody has a good number on job losses from the moratorium right now because of the nature of the holdups -- limited licensing in shallow and deep water. The Administration and BOEMRE are still barely licensing projects -- not just placing procedural hurdles, but simply locking out the industry, thereby leaving in place the ongoing, harsh economic effect."
Mason continued, saying "Obama said a few weeks back that permitting would gain speed," but that hasn't happened.
Meanwhile, President Obama referred to oil as "yesterday's energy" in his State of the Union speech last week, and said he wants the nation to focus on producing and using cleaner fuels. end

Related
Popular in the Community