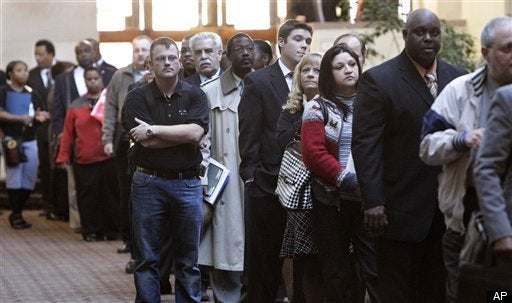 The national employment situation has slowly been improving, but fundamental shifts in the economy may prevent a full recovery, a new Federal Reserve report concludes.
The "normal" unemployment rate, or the baseline level to which the economy is progressing, will be worse than it was before the recession, according to a report released this week by the Federal Reserve Bank of San Francisco. The new rate, about 6.7 percent, is significantly higher than the previous "normal" of about 5 percent, the San Francisco Fed said. A full recovery, in that case, would be a long time coming.
The current jobless rate, 9 percent, still elevated from the Great Recession, leaves out many more workers who have given up searching for employment. As business try to do more with less, as workers gradually lose skills and as the available jobs change, the scar of elevated unemployment might never fully fade.
While some causes of job loss were temporary, others will prove permanent, economists say.
"There have been structural shocks as well as cyclical shocks," said Ethan Harris, an economist at Bank of America Merrill Lynch. "There are industries that probably won't come back for a long time."
When the real estate market crashed, the construction and manufacturing industries suffered a devastating blow. As companies increasingly rely on advanced technologies, and as they increasingly look for highly educated employees, many workers have found that jobs simply do not exist in the industries in which they've been trained.
Many workers have spent months, or even years, sending out resumes, to no avail. These workers complain that prospective employers discriminate against them for being unemployed, even if they're out of work through no fault of their own.
As they remain unemployed, workers tend to lose the skills that jobs require, economists say. Unemployment can feel like a vicious cycle.
"There has been a long dislocation in the labor market, a period during which people were unable to build their skills," said Edward Friedman, an economist at Moody's Analytics. "Being unemployed for so long makes them rusty."
While other sectors of the economy recover, labor will lag, the San Francisco Fed report suggests. The jobs of the future will be different than the jobs that existed before the crisis, economists say, meaning the workforce will have to undergo a long and painful transition.
But some experts are skeptical that the future "normal" will be as bad as the Fed report says. Moody's Analytics predicts that unemployment will eventually level off at about 5.7 percent, Friedman noted.
The job loss, further, might not have been as "structural" as the Fed report suggests. Heidi Shierholz, an economist at the Economic Policy Institute, in Washington, said that the current labor situation isn't as uneven as it would be in a "structural" unemployment scenario, in which workers are somehow isolated from corresponding companies.
"If there was big structural mismatch, you'd see some industries with wages increasing dramatically or hours increasing dramatically," Shierholz said. "You'd have to have some places with actual labor shortages."
While the recovery will be slow, the past may offer reason to be optimistic. Less than three years ago, in the spring of 2008, the unemployment rate dipped below 5 percent. Stuart Hoffman, chief economist of PNC Financial Services Group, said the good old days will, in some form, return.
"To say that's the best we can get, that seems a bit defeatist in my view," he said of the Fed's projected baseline. "There's room for the U.S. economy to do better."
Popular in the Community