 If you think the numbers in the September jobs report were skewed to help President Barack Obama, a look into how the figures are calculated will prove you wrong.
But it just isn't so. The monthly jobs numbers are put together by career government analysts, using long-established statistical methods that are shielded from political influence. Until recently, the BLS was run by an appointee from the Bush administration, and it currently has no political appointees.
Here's how it works: The government surveys a random sample of roughly 60,000 households and 140,000 employers every month, according to Karen Kosanovich, senior economist at the BLS. Both the household and establishment surveys are scientifically random samples, meant to represent all U.S. residents and businesses.
For the household survey, on which the unemployment rate is based, representatives from the Census Bureau interview people by knocking on their doors or calling them on behalf of the BLS.
To break that down a bit further, the government does not actively choose whom to poll for the household survey. A computer program randomly decides on which households get included in the survey.
So that the figures are based on a representative sample, the government narrows down exactly how many people in different categories it will survey before the computer program does its work. For example, a certain number of people surveyed live in urban areas in Texas, in order to represent the share of total U.S. residents who live in urban areas in Texas. That same weighting is done for areas across the country.
The government minimizes variability by interviewing only so many new households every month. On a given month, roughly one-eighth of households surveyed are being interviewed by the government for the survey for the first time, according to Kosanovich. That is because the government interviews the same households up to eight times over a year and a half after randomly selecting them, in order to prevent the unemployment rate from changing because a given cohort was significantly different from the one before.
"We report the data that we get from the survey directly," Kosanovich said. "There's no political influence on our collection or data estimation or release of data."
Furthermore, the Bureau of Labor Statistics is an independent agency that typically has only one political appointee: the commissioner. But BLS commissioner Keith Hall, a Bush appointee, left in January, and Congress has yet to confirm President Obama's nominee.
Others have noted that it is impossible for the BLS to have made these numbers up for political reasons. Hall told the Wall Street Journal on Friday that "the numbers are what they are." And Washington Post columnist Ezra Klein breaks down some of the numbers in the jobs report that are drawing the suspicion of conspiracy theorists.
The short story is that the job truthers' claims are baseless. No conspiracy here.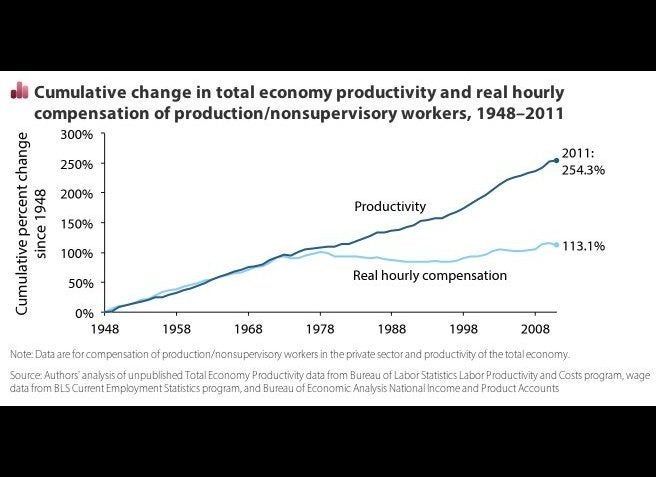 10 Ways The U.S. Is Getting Worse For Most Americans
Support HuffPost
The Stakes Have Never Been Higher
Related
Popular in the Community