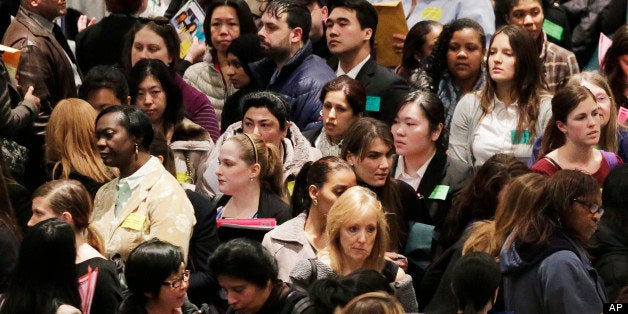 WASHINGTON -- The U.S. Labor Department announced Friday morning that the economy has been steadily adding jobs, pushing the unemployment rate down to 7.5 percent from 7.6 percent. The improvement won't mean much to people without jobs, especially people who've been unemployed a long time.
An economist with the labor-focused Economic Policy Institute called the report a disaster, saying it would take five whole years for the current rate of growth to return the country to full employment.
"This is a classic 'hold-steady' report -- enough job growth to keep the unemployment rate stable but not much more," EPI's Heidi Sheirholz said in a statement. "In good times, this would be fine, but at a time like this, it represents an ongoing disaster."
It's easier to see the downside of slow growth from the perspective of the jobless. Emma Campbell of Seneca, S.C. worked in a factory for 17 years, helping make medical equipment like compression sleeves and bandages, before returning to school for a master's in public administration. In 2008 she landed a job as administrator for a national nonprofit that helps women in the construction industry.
"I just decided one day I do not want to be in a factory for the rest of my life," Campbell said. "But right now I'm feeling like why did I even go to this trouble."
Last year the nonprofit moved its main office to Florida and she lost her job. Now Campbell, 49, has been unemployed for seven months -- making her officially one of the 4.4 million long-term unemployed. Their ranks have been slowly shrinking, but economists can't say with certainty whether they're finding jobs or discontinuing their search.
Campbell said a temp agency staffer even told her to take credentials off her resume since it might make potential employers think she'd leave as soon as she found something better. She said she has been offering to work for free at nearby nonprofits to eliminate gaps on her resume.
"The economy is so bad, I feel like I'm competing with a million other people," Campbell said.
She got more bad news last month when the South Carolina Department of Employment and Workforce notified claimants that budget cuts known as sequestration would be chopping federal unemployment benefits known as Emergency Unemployment Compensation. The cuts will affect 16,000 people in the Palmetto State receiving the benefits, which kick in for workers there who have exhausted 20 weeks of state compensation.
"We now know the U.S. Department of Labor requires all EUC benefit payments for the period March 1, 2013 through September 30, 2013 be reduced to achieve the required level of savings," the department said in a letter to claimants."[T]herefore, anyone in South Carolina who is receiving federal EUC benefits during this time frame will not receive benefits for claim weeks ending May 18th; July 13th; and August 31st."
States have been scrambling to implement the sequestration cut ever since the policy took effect in March. For some states, it's been a matter of simply reducing weekly compensation by a certain percentage; others might just cancel the benefits altogether because their computer systems are too old and unwieldy to make the change.
"Anyone in Congress who cares about keeping our economy moving in a positive direction should make repeal of the sequester sledgehammer an immediate priority," Christine Owens, director of the National Employment Project, a worker advocacy group, said in a statement Friday morning.
That's not likely. When sequestration's cuts to the Federal Aviation Administration's budget began causing delays at airports, Congress rushed to tweak the policy so as not to inconvenience air travelers, but members of Congress have said nothing about saving long-term unemployment insurance, which supports nearly 2 million workers like Campbell.
"They're getting paid big money to go to Washington to make these laws and it's affecting us, the little people," Campbell said. "It's irritating and it makes me mad."
HuffPost readers: Economy screwing you over? Tell us about it -- email arthur@huffingtonpost.com. Please include your phone number if you're willing to be interviewed.

Calling all HuffPost superfans!
Sign up for membership to become a founding member and help shape HuffPost's next chapter