Her positivity could be a result of a childhood spent roaming around Hawaiian islands. It could be a culmination of a post college, mind-altering, backpacking trip through Europe and the immediate triumph of the harsh corporate world following. Perhaps it's because Jocelyn Josef decided to drop all of those things and pursue her lifelong passion of art and innovation.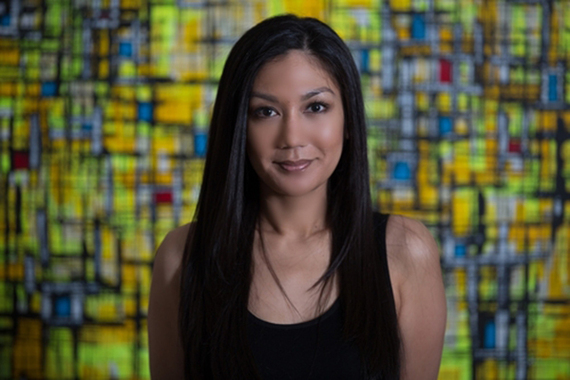 In March, 2013, Jocelyn Josef left her cozy, upper-middle class home in Oahu, Hawaii for the wonderful land we like to call Los Angeles. In between, she received her bachelor's degree in Interior Design from the Art Institute of Seattle and backpacked through Europe where she visited various, eye-opening art museums. Eventually, she found her inspiration in West Hollywood and settled there. Post college, she began her flourishing career as a sales executive where she briskly climbed that sturdy corporate ladder. Although content and financially stable, she knew deep down, like the handful of artists who skittishly place their talent in a box labeled hobbies, that she was destined to make art her career. For those unfamiliar with the art world, this is a frightening commitment. But it takes that bomb of self confidence to finally detonate in order to make a creative mark on this world. So, with that explosion, Jocelyn jumped into the art world.
"I was very successful in the corporate world and really believed that it was going to be my career. But art was somehow always on my path. A week before I was leaving for LA, the company I worked for offered me a higher position with more money. I didn't even tell them yes or no. I just left."
Heavily influenced by the Basquiat-Warhol combo, de Kooning and Pablo Picasso, Jocelyn inherently steered towards creating pieces in the Modern Abstract Pop Art genre. Impacted by her trip to the Musée Picasso and his dexterous use of Cubism, Jocelyn materialized her ambitious vision. Covering the immense self-stretched canvases is an artistic approach that is both authentically expressive and visually mesmerizing. As an innovative extension of the modern masters, Jocelyn's self-coined genre "Squarism" is bringing her to the forefront of the Los Angeles art scene.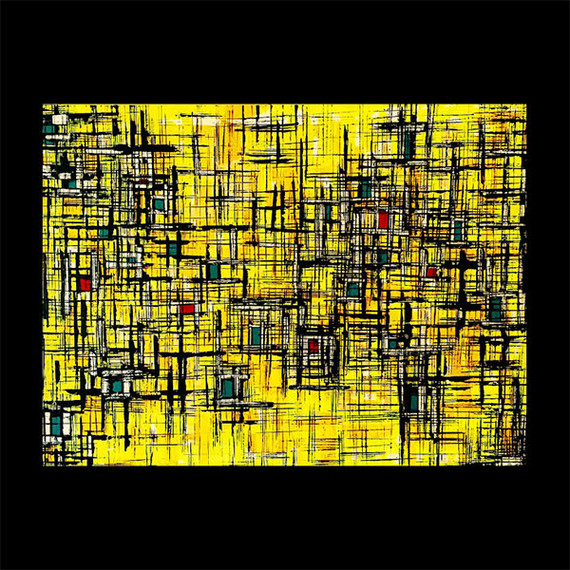 Squarism, as the name suggests, is composed of squares. All squares. Jocelyn taps into her aptitude for color perceptibility to convey her painting's subjects. Of course, for the majority of us, red is red, blue is blue. Some colors embody things in nature or purely represent familiarity. For the most part, we are used to the primaries and the secondaries. But for Jocelyn, things don't radiate color. On the contrary, people, places, things, emotions, moments -- all of these emit their own noteworthy hue and energy to her.
"Everything is represented by color. My paintings are about these remarkable energies that I feel when I meet a person or have an experience. I can see color in everyone. I will be talking to someone and just assess their color, almost like an aura. Usually, I can tell if someone is a good person just by their hues. I want my work to allow the viewer to have these moments with me. Squarism elevates my portraits in a way that can be ultimately uplifting and sensory."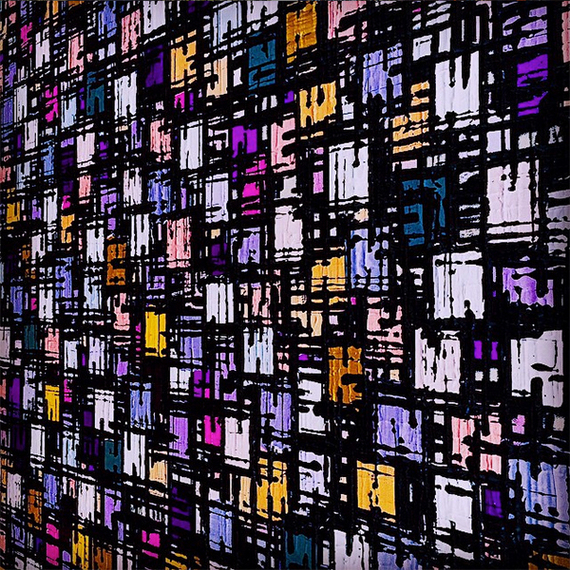 Due to what she refers to as "a tomboy lifestyle", Jocelyn grew up helping her father build things, fix things and spackle. As a little tot in Hawaii, Jocelyn basked in these days spent slapping spackle onto perforated walls. Little did she know, spackling would be the foundation of her future career as an artist. Each painting is produced with the help of acrylic paint (Jocelyn went on a tirade for 20 minutes about her hatred towards oil paints and turpentine) and three typical putty knives, ranging in size. Her distinct layering procedure in which each square consisting of multiple sheets of paint with a drying grace period between each coat, creates this unique, almost 3D effect if seen from a particular angle. Needless to say, her paintings take a good amount of time to complete, but that's another reason why they are impressive. Each right angle is so carefully crafted, each color so scrutinized, and each finished product abstractly cradling a distinct moment or person that Jocelyn wants you to meet.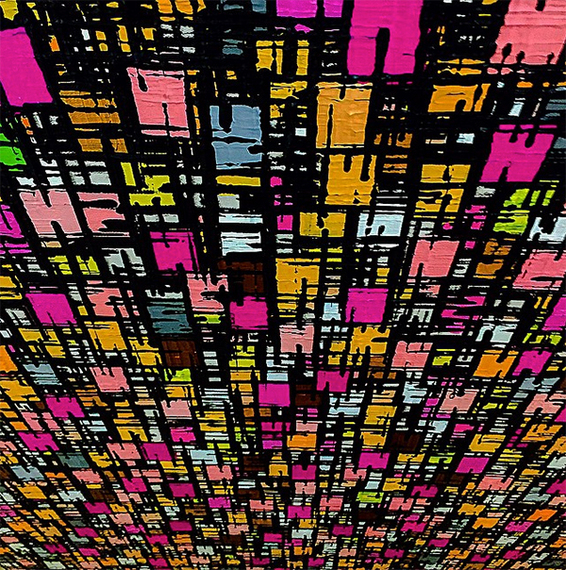 As one of the most popular vacation destinations, Hawaii has a pretty decent rep for being a relaxing spot where you can bury your toes in sand and drink piña coladas. Although her love for the islands is endless, she admitted that most of her inspiration comes from Los Angeles, where she is no longer reprimanded for drawing on her parent's walls. When you look into a Josef original, you can see a contrast of her rigid squares with the softness of her tropical upbringing.
"Without Hawaii, I wouldn't have been able to turn the knob on the door, so to speak. But it's hard to stay motivated in such a low key place. It's all sugarcanes and pineapple. There is something about the people of LA. They have an incomparable energy and everyone is all over the place. People are very good at what they do, especially in the art world. I'm inspired by it all."
And I'm sure LA feels the same way about Jocelyn. At the end of July, this thriving artist will have her big premier show in Los Feliz, featuring her profound Squarism pieces as well as her collages.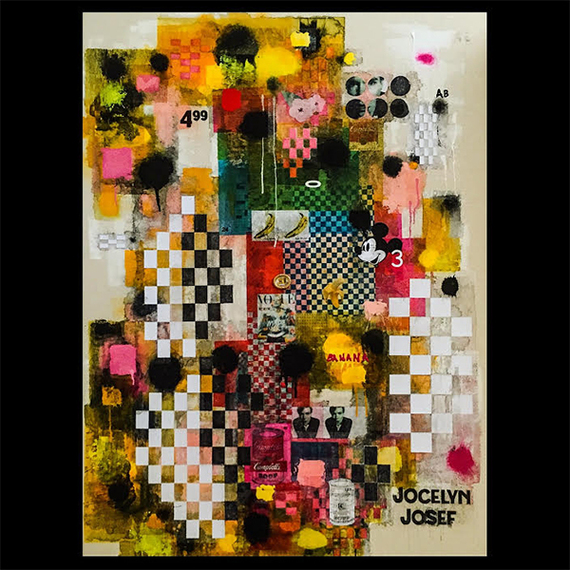 All photos courtesy of Raul Manuel
Calling all HuffPost superfans!
Sign up for membership to become a founding member and help shape HuffPost's next chapter