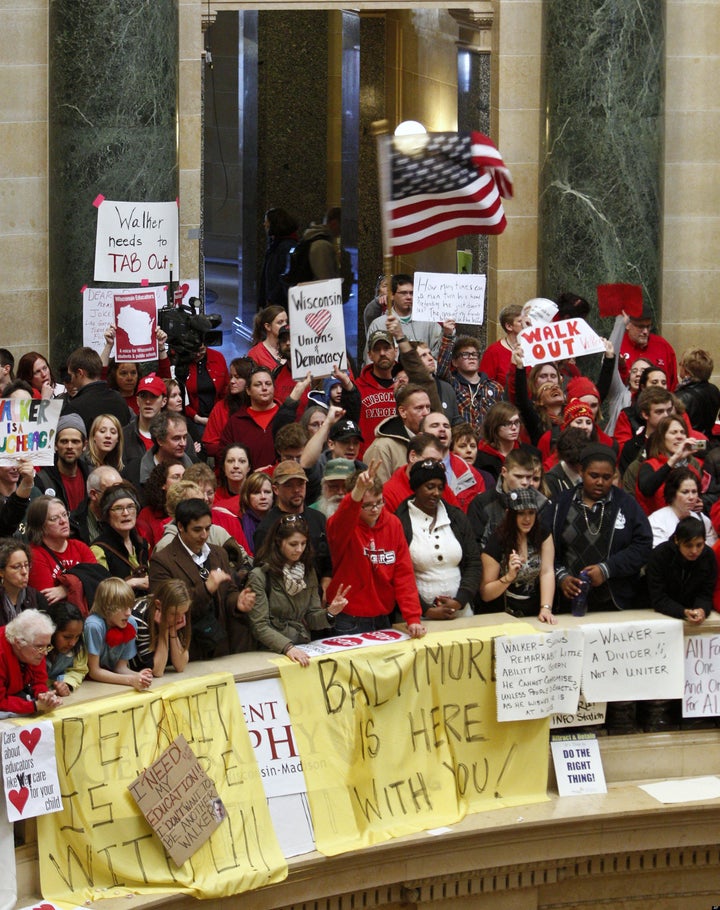 Unions across the country are standing with the workers of Wisconsin against the unprecedented attacks by Gov. Scott Walker. Count the National Basketball Association's Player's Association among their ranks. The NBAPA have been threatened with layoffs, contraction, and steep cuts in pay and benefits in their current collective bargaining negotiations with NBA commissioner David Stern and the assorted team owners.
Considering that no one ever bought a ticket to look at Mark Cuban, a Maloof brother or (shudder) Donald Sterling, their's is a struggle worthy of support. Well solidarity is a two way street and it is a very positive development to have NBAPA Executive Director Billy Hunter and Milwaukee Buck Keyon Dooling -- also an NBAPA VP speak out on behalf of Wisconsin's workers. Thursday's late night vote in the state assembly to strip the public sector employees of their very rights to collectively bargain was, for Hunter and Dooling, a bridge too far.
"Last night's vote by the Wisconsin Assembly was an attempt to undermine organized labor and the men and women across the country who depend on their unions for a voice in the workplace," said Hunter. "The NBPA proudly supports our brothers and sisters in Wisconsin and their stand for unequivocal collective bargaining rights."
Hunter, who earned his law degree from Berkeley while playing in the National Football League, has been part of the struggle for workers rights for many years. Keyon Dooling's voice, as a player in Wisconsin and a leader in the union is perhaps even more welcome.
"Wisconsin public-sector workers tirelessly deliver services on a daily basis to millions of Wisconsin residents," said Dooling. "The right of these hard-working men and women to organize and bargain collectively is fundamental. Wisconsin's workers deserve better than last night's vote. Today, our union stands proudly with our fellow union members throughout the state as they continue their fight."
Dooling, it's worth noting, has now officially taken a stronger stand than his team's owner, Wisconsin Democratic Senator Herb Kohl. It's a stand, at this critical moment, worth taking and worth defending. The EMTs, teachers, and child care workers of Wisconsin deserve nothing less.
When dealing with periods of profound protest, it always makes sense to get the point of view of those who've been there before. I spoke to Dr. John Carlos, the 1968 Olympian who along with Tommie Smith, raised a black gloved fist at the Mexico City Olympics. This is perhaps the most famous image in sports history. It also made Dr. Carlos an avatar of resistance for an era that shook the foundations of this country. John Carlos knows intimately the price that must be paid to speak truth to power. And as you'll read, he thinks that the actions of the resistance fighters of the Midwest are more than appropriate: they're righteous. Here is what Dr. Carlos said to me:
"I don't think Governor Walker realizes that workers are the people who built this country and workers are the people who keep the fabric of our communities together. Workers are the people of the grassroots. For him or any political figure to try and cut their wages, take their health care, crush their unions, or subjugate them in any way is just a travesty. And if he really, like I heard on that prank phone call, was thinking of sending disrupters and plants into the protesters, which could have caused people and even children serious harm.... Well that would be simply despicable. I read that the police might be investigating Scott Walker for those statements and I hope that this is in fact the case. I commend what the workers, students and all protesters are doing to stand up for their rights and I am with them 1000%. Every person from the world of sports with a heart or sense of humanity would say the same."


Related
Popular in the Community