She was a generous woman who "spoiled" her unruly great grandson by showering him with money and gifts. She even took him in when he'd run in to trouble at home. Now, family members are struggling to understand how the young Missouri man can be accused of killing the woman who had opened her home and heart to him..
Jacqueline Bell, 71, was found dead in her Portland-area home Saturday morning.
Her granddaughter, Brandi Bell-Gibson, was shocked both by the death and by the fact that her son, Jodah Cain, and his cousin, Micus Ward, were suspects.
"I lost my legs... I just fell," Bell-Gibson told the Oregonian. She told the newspaper that she feels as if she'd lost both her grandmother and her troubled son. "I'm thinking this is a nightmare, and I'm going to wake up. It's horrible."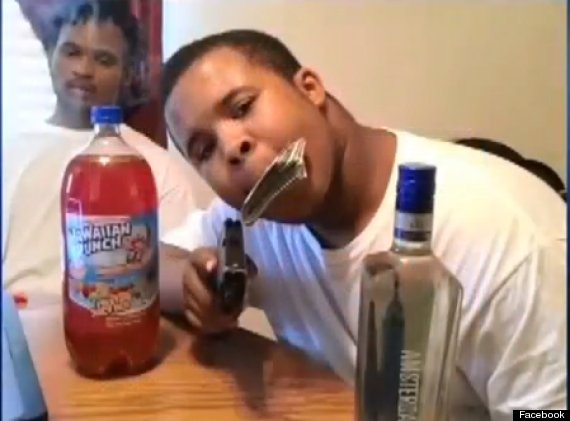 Suspect Jodah Cain, 17, poses in a Facebook photo with a gun. His mother said he'd been sent to Portland for a fresh start.
Cain, 17, and Ward, 19, were arrested after leading Oregon state troopers on a high-speed chase on Saturday. After troopers stopped them, they discovered the car was registered to Jacqueline Bell, whose body was found that same morning some 250 miles away.
Authorities believe Ward and Cain killed Bell, then stole her car in order to flee back to Kansas City, where they used to live, according to KSHB. Cain's mother said that her son had gone to live with his great-grandmother, with whom he'd had a loving relationship, to get a fresh start after running into trouble in Missouri. She told that station that Ward may have been a bad influence.
Police know that Bell died of blunt force trauma, but have not yet determined why the boys allegedly killed her. Washington County sheriff's spokesman Sgt. Bob Ray told the Oregonian that police had linked the young men to the killing "without the traffic stop involved."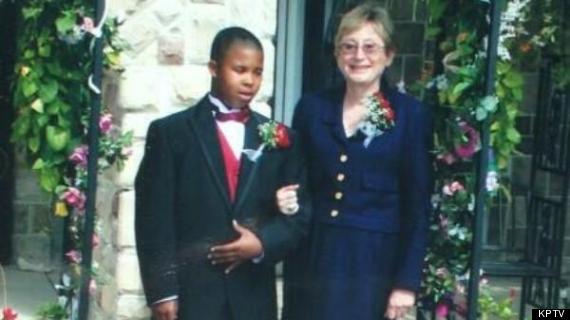 Jodah Cain (left) with his great-grandmother, Jacqueline Bell (right) in a 2010 photo.
KGW reported details that may shed light on the circumstances surrounding the 71-year-old woman's death.
A friend who attended high school with Cain said that the suspect had guests over on Oct. 4 and was planning a large party at the house for Saturday, to be followed by an extended trip out of town.
Students at Sunset High School in Portland were shocked by the accusations against Cain, and described him as a popular student, a nice guy who was "never mean" and played football. According to a separate report by the station, Bell also had a good reputation in her community, and was "well-known in Portland as a generous donor and volunteer at local nonprofit agencies."
Cain was taken into custody by Washington County Juvenile Services, and Ward was held in Union County Jail as a result of the high-speed chase. Ward had also been charged with homicide Tuesday, KPTV reported, but no murder charge had yet been filed against Cain.
A grandmother and aunt of Cain and Ward both told the station that they believe someone else killed Bell, and that the cousins then fled out of shock. Although details in the case are still emerging, the family's devastation is clear.
"I know I'm not going to stand by my son, if he murdered my grandmother," Bell-Gibson told the Oregonian. "She didn't deserve to die like that."
REAL LIFE. REAL NEWS. REAL VOICES.
Help us tell more of the stories that matter from voices that too often remain unheard.
BEFORE YOU GO
PHOTO GALLERY
10 Major Crimes That Shocked the Nation (SLIDESHOW)