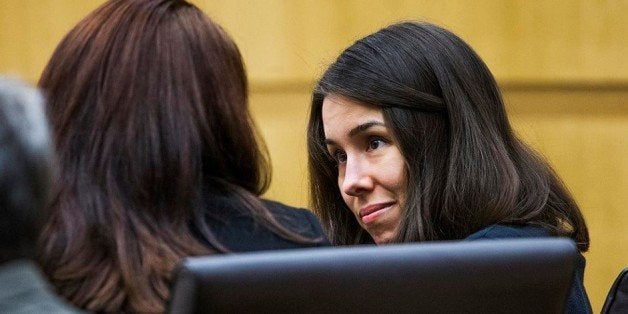 PHOENIX, Arizona -- The sexual undertone of the Jodi Arias penalty retrial surfaced early on day one, when Arias' defense attorney, Kirk Nurmi, warned jurors during opening arguments that they would see "sexually graphic" evidence during the trial.
"You will see photographs that Mr. [Travis] Alexander took of Ms. Arias," Nurmi said. "Not just any photographs. Some of them are nude photographs that were taken the very afternoon of his death ... Some are close up shots of Ms. Arias' genitalia. Some are close up shots of her anus. [The prosecutor] will show you these pics to shock you."
Nurmi said the photos should serve as "objective indicators" of what Arias and Alexander's relationship was about. It was an apparent attempt to convince the jury -- as the defense attorney had attempted to do during last year's trial -- that Arias was an emotionally and physically battered woman, forced to succumb to her boyfriend's every whim.
The body of 30-year-old Travis Alexander, the man Arias dated for months, was found on June 9, 2008, in a pool of blood in the shower of his Mesa apartment by friends. His throat had been cut from ear to ear, and he had been shot in the face and stabbed 27 times.
In 2013, a jury found Arias guilty of first-degree murder, but was deadlocked on whether to sentence her to life imprisonment or death, prompting the penalty retrial now in progress.
During the state's opening argument, prosecutor Juan Martinez described Alexander's death in graphic detail.
"She loved him so much that this is what she did to him," Martinez said.
The prosecutor contended Arias was a jealous woman who killed Alexander because he wanted to end their relationship.
"The only just punishment for this crime is death," he said.
Later in the day, jurors were shown photos of Arias naked and in various states of undress, exposing her breasts and genitalia from different angles. A photo of a nude Alexander in his bed was also shown in court.
The nude photos, as well as photos of Alexander in the shower prior to and following his murder, were shown during testimony by Michael Melendez, a member of the Mesa Police Department, who analyzed electronic devices collected during the investigation.
Melendez said the photos were recovered from a memory card that was found inside a digital camera in Alexander's washing machine after his murder. The detective said the images, which had been deleted, were recovered from the card.
The naked photos were taken around 1:45 p.m. on June 4, 2008, the day Alexander was murdered. The photos of Alexander in the shower were taken that same day, from about 5:22 p.m. to 5:29 p.m., Melendez testified. Those photos were followed by a snapshot of the ceiling in Alexander's home and a photo of his body in the shower at about 5:32 p.m.
Esteban Flores, a Mesa police detective, followed Melendez on the stand. The lead detective in the case, Flores testified he was at Alexander's house on June 9, 2008, after the victim's body was found.
Martinez questioned Flores about photos of the crime scene that were displayed in court, along with graphic photos of Alexander's autopsy.
Shortly thereafter, court was recessed for the day.
The retrial is scheduled to begin again Wednesday at 12:30 p.m. Eastern time.
Read below for minute-by-minute updates from court Wednesday and follow HuffPost senior crime reporter @David_Lohr on Twitter:
The Huffington Post is inside the courthouse and live blogging from gavel to gavel. Check back here for updates.
Calling all HuffPost superfans!
Sign up for membership to become a founding member and help shape HuffPost's next chapter
BEFORE YOU GO
PHOTO GALLERY
Travis Alexander - Jodi Arias Crime Scene And Trial Photos