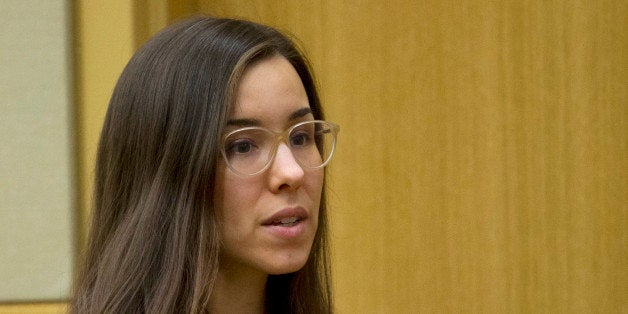 Jodi Arias will pay for killing her ex-boyfriend -- but will that crime cost the 34-year-old woman her life?
The Arizona jury now deliberating over her fate has three possible choices for a sentence: life in prison, life with the possibility of parole after 25 years or death row.
In 2013, Arias was convicted of first-degree murder in the 2008 slaying of her ex-boyfriend, Travis Alexander. Arias testified on her own behalf, claiming she stabbed Alexander more than two dozen times, shot him in the face and slit his throat in self-defense. Prosecutor Juan Martinez called it cold-blooded murder.
The jury of eight men and four women that convicted Arias and decided her crime qualified for the death penalty were ultimately left deadlocked on her punishment. In the aftermath, neither side was able to come to terms on a plea bargain, paving the way for the penalty phase retrial, which began in September. Deliberations began Monday.
Arias has been in one of Maricopa County Sheriff Joe Arpaio's jails since September 2008, but her sentencing will have a great impact on how she will serve the remainder of her time behind bars and the manner in which she will do so.
What follows is an in-depth look at each scenario, as provided by those familiar with prison life in Arizona.
If sentenced to death, Arias will basically live a twilight existence, a purgatory between this world and whatever comes next, according to Carl Toersbijns, the former deputy warden at Eyman Correctional Complex in Florence, Arizona.
"She'll basically be in solitary confinement," Toersbijns told The Huffington Post. "It's very restrictive, very secure and very isolated."
Martinez, the same prosecutor Arias faced, secured a conviction against Andriano in 2004 for the premeditated murder of her husband. Forde was convicted in 2011 for her role in a home invasion that claimed the lives of a 9-year-old girl and her father. No execution date has been set for either woman, as they are both still appealing their sentences.
While Arias would be housed in the same unit as Andriano and Forde, women on death row in Arizona live in individual 12-by-7-foot cells.
Each cell has a concrete bunk with a thin mattress, a stainless steel toilet and sink, a shelf that doubles as a desk and a small chair. Each cell also has a 6-by-30-inch window that looks out onto the prison yard and a 6-by-18-inch door-window that the guards can use to look in on the inmates.
"The cells are very bare," Toersbijns said. "The air is also restricted because it's an old ventilation system. It gets cold in the winter and hot in the summer."
Personal property allowed inside the cells is limited to hygiene items, two appliances, two books and writing materials, which must be purchased from the inmate commissary.
The only available appliances, according to Toersbijns, are a transparent television set, a fan and a radio.
Meals are provided to the inmates three times a day, Monday through Friday, and twice on the weekend. All meals are eaten inside the cell.
Time outside the cell is limited to a secure outdoor area commonly referred to by prison guards as a "dog run." Inmates are permitted to spend two hours a day, three times a week, in the dog run. They are also allowed out of their cell to shower three times a week.
Interactions with the outside world are limited on death row.
While death row inmates can send -- depending on their ability to purchase stamps and materials -- and receive an unlimited amount of mail, they are only allowed two 10-minute phone calls per week, made from a phone that is brought into the cell, and one two-hour visit per week.
"[Arias] would only have visits behind glass," retired Maricopa County Judge Donna Leone Hamm told HuffPost. "She would never have a contact visit and any time she is moved she would be in handcuffs, belly chains and leg irons."
There are no jobs or prison programs available for death row inmates. Other than visitation, showers and outdoor time, inmates remain in their cells, with the exception of medical or mental health treatment.
"Having worked in max custody isolation units for more than seven years, either as an administrator or officer, I believe the hardest thing I have seen prisoners cope with is the isolation," Toersbijns said. "Not being able to interact with or touch anyone is very difficult for them."
According to the Arizona Department of Corrections, the average stay for a death row inmate in the United States is 12 years.
The last woman executed in Arizona was Eva Dugan, in 1930. In that case, a hangman's mistake resulted in Dugan's decapitation by the noose.
The state no longer hangs death row inmates. The primary method, as of 1992, is lethal injection.
A death sentence, if that is what Arias receives, would be akin to a state of suspended animation -- the same deadening, structured routine week after week, year after year.
"It would be a miserable existence for her until the moment she takes her last breath and is put in a fiberboard coffin at the prison," Hamm said.
If Arias receives a sentence of natural life -- life without parole, that is -- she'll enjoy better living conditions, though not right away.
"If someone comes in with a [natural] life or 25-to-life sentence, they would start at max custody for the first couple years, so they would initially be in the same situation as someone on death row," Bill Lamoreaux, the public information officer for the Arizona Department of Corrections, told HuffPost.
So, for the first few years behind bars, Arias would face the same treatment as someone on death row, albeit in a different area of the prison. Time spent in maximum custody would depend on a number of factors, including her behavior.
In all probability, Arias would be moved to the less-restrictive "close custody" within two years, and to medium custody within five years of that, Toersbijns said. Given the nature of her crime, medium custody is the lowest classification Arias can earn. Compared to life on death row, medium custody comes with benefits.
"She'll be able to do time in general population, in a dormitory setting and could foreseeably get a good job," Toersbijns said. "Her notoriety and the money people keep putting on her books would also make her influential over other inmates."
There is much more freedom in medium custody and visitations are not restricted to behind glass. Physical contact is, of course, limited, but not altogether banned.
"She is already adjusted to the Joe Arpaio jail, so she won't suffer much [in medium security]," Toersbijns said. "She could basically make a new life for herself behind bars."
Life With The Possibility Of Release Eligibility After 25 Years
The best-case scenario for Arias -- and the least plausible outcome, according to Toersbijns and Hamm -- is life with the possibility of release eligibility after 25 years.
With that sentence, all the restrictions of a natural life sentence apply, but there is a bit of light at the end of the tunnel. However, just what that light means is yet to be seen.
"No one knows in Arizona what it means to say life with possibility of release eligibility after 25 years," Hamm said.
"That law went into effect in 1994, so we haven't had the first prisoner come up on that 25-year mark yet, and they won't until 2019," Hamm continued. "So will it mean parole eligibility? We don't know because parole was eliminated under the 1994 code. Some officials believe it means the inmate can apply for a reduced sentence, but no one knows how it will be handled."
Could Notoriety Be Arias' Downfall?
If Arias does escape death, there is a possibility that she could be forced to remain in maximum-security housing.
"She could theoretically be given a classification override by the department that would keep her in a higher-level facility, simply because of the notoriety of the case," Hamm said. "I don't know that they apply that often, but they certainly have the ability to do that."
Unlike the first trial, a deadlock this time will not buy Arias any more time. It would simply ensure she escapes death.
"The judge has to sentence her to life if they can't agree on a verdict this time," Hamm said. "The prosecution doesn't get a third bite at the apple to give her death. That's the law."
Calling all HuffPost superfans!
Sign up for membership to become a founding member and help shape HuffPost's next chapter
BEFORE YOU GO
PHOTO GALLERY
50 Shades Of Arias