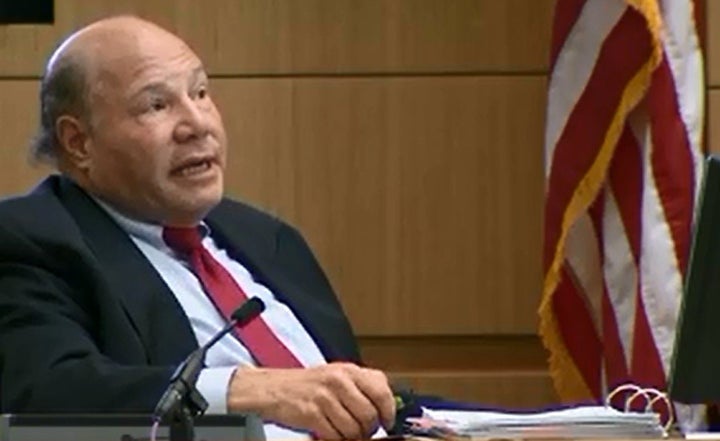 A psychologist who testified Thursday for accused murderer Jodi Arias was fined by New Jersey regulators for bartering counseling sessions for dental work, according to a consent order obtained by The Huffington Post.
Psychologist Richard Samuels was sanctioned by the New Jersey State Board of Psychological Examiners in 2000 after two people, identified only by their initials in the document, complained he made a child custody recommendation without examining the mother and "bartered services with [an individual in the case] so that [they] received psychotherapeutic services from respondent in exchange for respondent receiving dental services" from them, the document says.
The state board determined Samuels "entered into a relationship ... which a reasonable psychologist in similar circumstances would expect to limit objectivity, impair professional judgment or increase risk of exploitation," violating state administrative code, according to the consent order. The board fined Samuels $2,500 and ordered training for "ethics and boundary issues." Samuels also was directed to "cease crossing boundaries with clients and entering into relationships which may create conflicts of interest with his clients."
Samuels couldn't immediately be reached for comment.
Samuels testified during Arias' murder trial in Arizona on Thursday that she had an acute stress disorder during the June 2008 killing of her ex-boyfriend, Travis Alexander, 30. The psychologist said the disorder changed to post-traumatic stress disorder after the slaying, preventing her from accurately remembering her actions. Arias, now 32, is charged with first-degree murder and faces the death penalty if convicted.
It was unclear whether lawyers in Arias' trial were aware of the sanctions on Samuels.
According to Samuels' website, he became a licensed psychologist in New Jersey in 1975. The license number on his website, 1060, matches the one on the consent order. In 1989, he began practicing in Arizona.
The consent order says Samuels wanted to resolve the complaint without further proceedings.
Thanks to HuffPost reader Christine for the tip about the consent order.
Calling all HuffPost superfans!
Sign up for membership to become a founding member and help shape HuffPost's next chapter
BEFORE YOU GO
PHOTO GALLERY
Jodi Arias Timeline