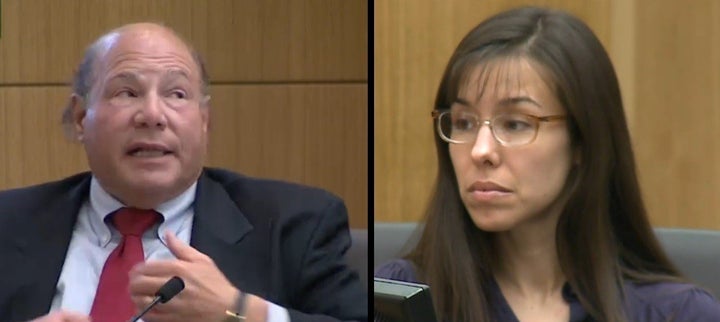 Jodi Arias, the Arizona woman on trial for the brutal murder of her ex-boyfriend, was depressed and in denial after the gruesome slaying, a psychologist told a jury in Phoenix Thursday.
Defense expert Richard Samuels testified at Arias' trial about her mental state before and after the June 2008 shooting, stabbing and slashing of Travis Alexander. Arias, 32, is charged with first-degree murder and faces the death penalty if convicted.
"She was not able to tell her family about what happened," Samuels said. "She was not able to tell anybody about what happened. And this is a classic symptom of an acute stress disorder."
Samuels said he met with Arias 12 times after her arrest and reviewed her murder case file and psychological test results. Arias was afflicted with acute stress disorder when she shot Alexander twice, stabbed him almost 30 times and cut his throat from ear to ear, Samuels testified. That disorder developed into post-traumatic stress disorder, or PTSD, he said.
Arias told jurors she killed Alexander in self-defense after he attacked her for dropping his camera. Prosecutors say the murder was premeditated and fuel by jealously.
Arias on Wednesday finished her 18th day on the witness stand. She claimed to have no memories of stabbing Alexander or cutting his throat. She said her mind went into a "fog" after she shot him.
Samuels said individuals suffering from dissociative amnesia may only remember bits and pieces of the trauma. He said they may also feel a sense of detachment, similar to an out-of-body experience.
"Perpetrators of horrible crimes can also develop post-traumatic stress disorder for having acted as the source of the crime," Samuels said.
"Everything that we've talked about that has anything to do with the crime … you somehow, in this fog of yours, manipulated," Martinez said.
The judge recessed court until 1:30 p.m. Eastern time on Monday, when the trial will resume.
Calling all HuffPost superfans!
Sign up for membership to become a founding member and help shape HuffPost's next chapter
BEFORE YOU GO
PHOTO GALLERY
Jodi Arias Timeline