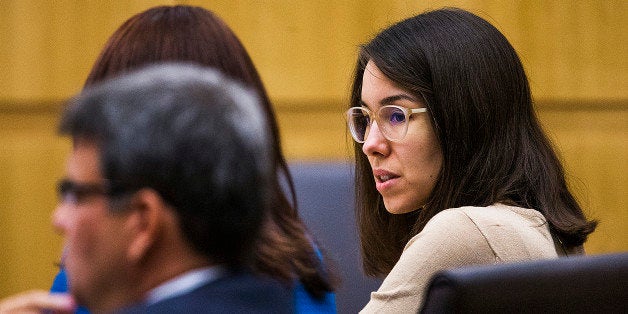 PHOENIX, Arizona -- A year ago, Jodi Arias left this courthouse a convicted murderer. Now, she returns to find out if her next stop will be death row.
The 2013 trial of the 34-year-old photographer became a national sensation, with much of the testimony focusing on her sex life and the gruesome killing of her ex-boyfriend, Travis Alexander. Cameras will not be allowed to live stream the trial this time around, but HuffPost will provide live updates from the courtroom as the trial begins.
This legal proceeding was necessitated after the jury deadlocked on whether Arias deserved the death penalty. After five months of testimony, it took jurors just 15 hours of deliberations to find her guilty of first-degree murder. How she should pay for her crimes is now the question at hand.
Arias had no serious brushes with the law before the night of June 4, 2008, when Travis Alexander was shot in the head, stabbed more than two dozen times, and had his throat slit from ear to ear. Pictures found later confirm that Arias and Alexander had engaged in intimate play on the night before the killing.
From the start, Alexander's friends described Arias as a jealous and scorned lover, who couldn't deal with her boyfriend breaking up with her.
Police immediately focused on Arias. But her story would shift drastically as the case unfolded. Initially, she denied any knowledge of the crime. She claimed she was far away from the crime scene. She even went to a memorial service for Alexander to honor his memory.
When damning photographs -- from Alexander's own camera -- placed her at the crime scene on the day of the murder, she changed her story. In her second version, Arias claimed masked intruders killed Alexander during a home invasion and she kept silent for fear of reprisals.
By January 2013, when the trial began, Arias' story had changed yet again. Now, she was claiming to be a battered and humiliated woman, who was forced to succumb to Alexander's sexual desires. On the night of the killing, she testified that she went into a "fog."
The jury didn't buy it. Two weeks later, however, during the sentencing phase, the same panel of four women and eight men couldn't decide how to sentence her.
Under Arizona law, prosecutors are allowed to ask a new jury to reconsider the death penalty. Though Arias' guilt is no longer in question, the outcome of these proceedings will determine whether she's sentenced to death, life in prison or life in prison with the possibility of release after 25 years.
If the jury once again deadlocks, the death penalty will be off the table and the judge will decide whether or not Arias will ever be eligible to get out of jail.
The retrial is scheduled to begin at 1 p.m. Eastern time.
Read below for minute-by-minute updates from court Tuesday and follow HuffPost senior crime reporter @David_Lohr on Twitter:
The Huffington Post is inside the courthouse and live blogging from gavel to gavel. Check back here for updates.
Calling all HuffPost superfans!
Sign up for membership to become a founding member and help shape HuffPost's next chapter