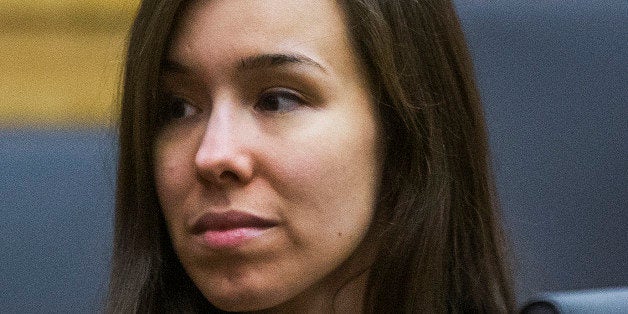 The sex life of Jodi Arias took center stage at her murder trial, and most of the lurid details -- the sex games, the role playing, the dirty pillow talk -- came directly from the defendant's lips in 18 days of testimony on national TV.
Arias, now 34, sought to convince the jury that she was an emotionally and physically battered woman, forced to succumb to her boyfriend's every whim. On the night of June 4, 2008, when she shot Travis Alexander in the head, stabbed him more than two dozen times, slit his throat from ear to ear, and left his naked body on the floor of his shower, she was in a "fog," she said.
Prosecutors depicted her as a liar and a narcissist, obsessed with the man who tried to break up with her.
The five-month-long murder trial in Phoenix ended after more than 15 hours of deliberations. In May 2013, the jury found Arias guilty of first-degree murder, although they deadlocked on whether to send her to death row.
If claims of abuse couldn't help Arias in the guilt phase of her trial, her gender could be a major factor in the retrial of the penalty phase, in which a newly impaneled jury will consider whether she should face execution.
"Conventional wisdom says it is harder for a jury to sentence a woman to death," said retired Maricopa County, Arizona, Judge Donna Leone Hamm. "There is a softer quality to a woman, even one who commits a crime like this. They are not the stereotypical killer people imagine, and they present a more attractive package in court."
Three possible fates now await Arias -- death row, life in prison or life with eligibility for release after 25 years. While the prosecution is again pushing for the death penalty, it is an unlikely outcome, according to experts The Huffington Post spoke with this week.
In the aftermath of her trial last year, the two sides were unable to reach a plea bargain on sentencing, paving the way for the penalty phase retrial, which starts next week in Phoenix.
"The previous jury was unable to reach a unanimous decision on death, and they heard every graphic detail of the crime," Bremner continued. "Women don't come out ahead in life in many respects, but there are far fewer women on death row than there are men."
According to the Arizona Department of Corrections, just two women sit on death row in that state, compared to 121 men facing execution. It's not clear how often women facing the death penalty actually receive that sentence.
"The statistics aren't large enough to draw a clear conclusion, but it is true that women commit about 10 percent of the murders and only 2 percent of those are on death row," Richard Dieter, executive director of the Death Penalty Information Center, told HuffPost.
Dieter added, "We are all products of predispositions, so that might have an effect."
According to the Associated Press, Arias' defense has cost Arizona taxpayers an estimated $2.5 million already and that figure continues to mount. While the prosecution has declined to reveal its costs, Hamm said based on her experience that the numbers for both sides are likely similar.
"I think you can safely say whatever it's costing defense, it's costing at least the same for prosecution and that would be a safe conservative estimate," she said.
The retired judge added, "Because it's a high-profile case, there are a lot of people making political hay over this case. Those prosecuting the case have nothing to lose. If they get death, they win. If they don't, they will likely get natural life, and that's the next best thing. It isn't their money, so they don't have to make choices based on money."
If Arias does receive the death penalty, she will likely spend the next 12 to 15 years on death row as her appeals work their way through the courts.
The other two options are life in prison without the possibility of release and life in prison with release eligibility after 25 years. The latter, all three experts agree, is unlikely.
"No one should feel cheated if Jodi Arias does not get the death penalty," Hamm said. "I don't think she has a hair's breadth of a chance of getting the 25-year sentence, and there is no doubting that a life sentence is a severe penalty."
PHOTO GALLERY
Jodi Arias' Three Possible Fates
Calling all HuffPost superfans!
Sign up for membership to become a founding member and help shape HuffPost's next chapter