Jodi Arias, the bespectacled murderess who tried to turn her elaborate sex life into a defense for the brutal killing of her ex-boyfriend, Travis Alexander, will not pay for her crime with her life.
The jury of eight women and four men, which deliberated for 26 hours over a six-day period in a Phoenix courtroom, announced Thursday it was unable to reach a decision on her punishment.
Under Arizona law, the prosecution does not get to present the case to a jury again. The judge will now have to decide whether to put Arias in prison for life or make her eligible for parole in 25 years. The judge cannot sentence Arias to death.
The judge set April 13 as the date for Arias' sentencing.
Jurors told HLN they were split 11-1, with only one juror opposed to sentencing Arias to death. Some jurors felt that the woman holding out had made up her mind before deliberations even began.
"It was very upsetting that there was a juror ... that had a position before they entered the room," a male juror told HLN.
Arias, 34, was convicted of first-degree murder in May 2013 for Alexander's death. But when the trial reached the penalty phase, the same panel of jurors was deadlocked over whether to spare her life or give her the death penalty. The indecision prompted a penalty phase retrial, which began in September.
The Alexander family was in court for the jury's announcement, and a sister openly sobbed when the judge announced the jury's decision.
Afterward, the family released a statement through a spokesman that read in part: "Travis Alexander's surviving brothers and sisters ... are saddened by the jury's inability to reach a decision on the death penalty. However, they understand the difficulty of the decision, and have nothing but respect for the jury's time."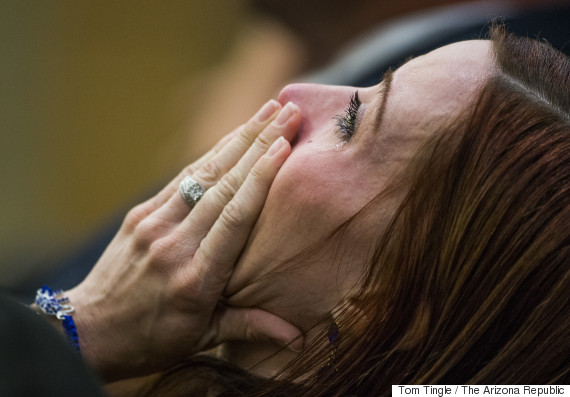 Tanisha Sovenson, sister of Travis Alexander, sobs as she hears a hung jury verdict in the Jodi Arias sentencing phase retrial Thursday in Maricopa County Superior Court.
Arias did not appear to shed any tears in the courtroom Thursday. As the judge dismissed the court, one of Arias' defense attorneys, Jennifer Willmott, gave her a side-hug.
Outside the courthouse, CNN reported, defense attorney Kirk Nurmi told reporters: "Obviously, as I said during the closing arguments, during the opening statements and several times during the trial, the events of June 4, 2008, were a tragedy. No verdict ultimately could repair that sadness. I don't think today's victory will repair any sadness or change anything but we hope it can begin the closure process for all those who were affected by that tragedy."
For the past five months, the brutality of Arias' crimes and the same salacious evidence presented at her murder trial has been rolled out for a new jury, which was tasked with determining her punishment -- life in prison or the death penalty.
COURT PHOTOS: (Story Continues Below)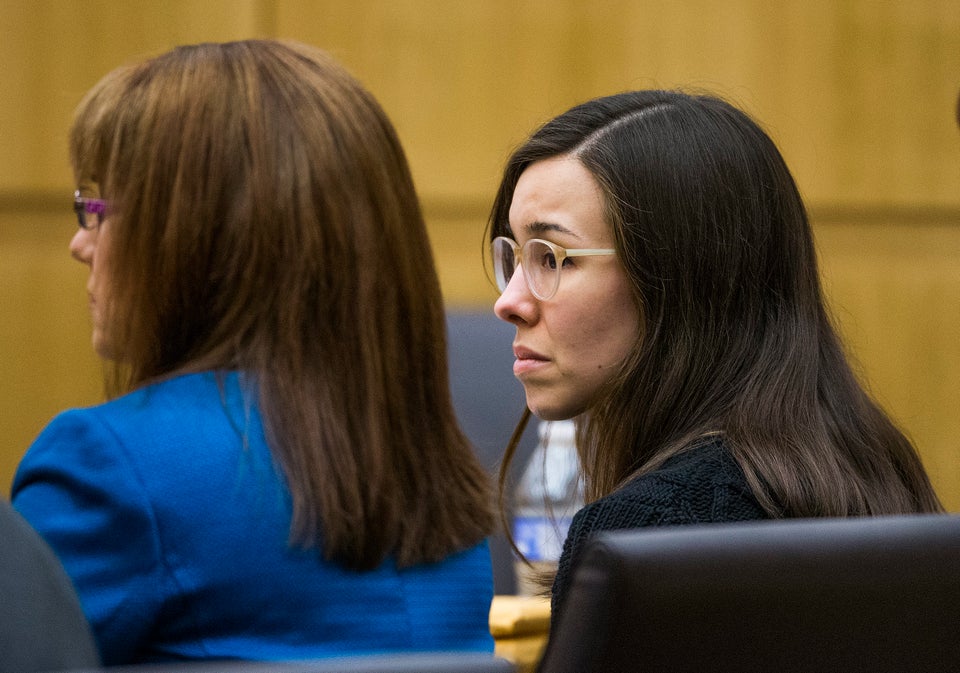 Jodi Arias Verdict
Throughout the penalty retrial, Nurmi tried to convince the jury that Arias was a victim of "physical and emotional abuse."
"Jodi Arias was always the girl behind closed doors in [Travis Alexander's] bedroom," Nurmi said.
Prosecutor Juan Martinez balked at the defense team's allegations, which were never corroborated. He also alleged Arias was just as sexual as Alexander.
"She was shaving her pussy so it could be nice and soft for him and [told him] that if he was good, she would give him a blow job and he could come on her face," Martinez said.
Martinez argued Arias was left scorned when Alexander ultimately broke up with her and became an obsessive stalker.
Arias' over-the-top jealousy, Martinez said, came to a boil on June 4, 2008, when she attacked Alexander in the shower of his Mesa, Arizona, home. The 30-year-old was found dead several days later. He had sustained more than two dozen stab wounds over his naked body, his throat had been cut from ear to ear, and he was shot once in the head.
"The murder was committed in an especially cruel manner," Martinez said in closing arguments last week.
The prosecutor also pointed to Arias' actions after the killing.
When Arias was arrested, she told police she wasn't there when Alexander was killed. She even reached out to her ex-boyfriend's family to mourn with them. Then, when damning photographs tied her to the crime scene, she maintained that masked intruders stormed Alexander's home and that she kept silent in fear of reprisals.
When her case went to trial in 2013, she told jurors that she'd been so abused by Alexander, she couldn't recall specific details of the incident. An expert called to the witness stand by her lawyers attributed this to post-traumatic stress disorder.
Arias' changing story no doubt played a part in the jury finding her guilty of first-degree murder.
"She's the one that used the knife," Martinez said last week. "She's the one that used the gun."
Arias chose not to plead with the jury to spare her life. That task fell to Nurmi, who displayed a childhood photo of Arias in court last week and asked the jury to show mercy.
"If you sentence Ms. Arias to death, you are killing this girl," Nurmi said. "She is remorseful. She regrets what she did and the pain she caused."
This post has been updated with reactions from the courtroom and statements from Nurmi and the Alexander family.
Popular in the Community