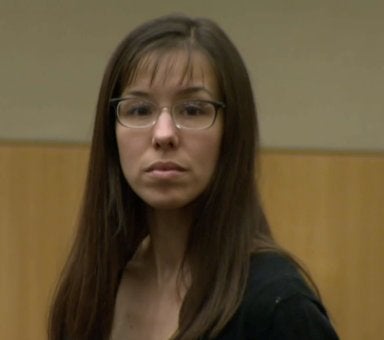 Mormon friends of Travis Alexander were in the dark about his sex affair with Jodi Arias, a jury in Arizona has heard.
Daniel Freeman, a close friend of Alexander's, testified Thursday that Alexander shielded Arias from his Mormon friends and apparently did not invite her over to his home when they were there.
Arias, a 32-year-old photographer, is accused of shooting Alexander, her ex-boyfriend, in the face, stabbing him 27 times and slitting his throat from ear to ear in the shower of his Mesa apartment on June 4, 2008. She has pleaded not guilty to murder, contending she was a victim of domestic violence and killed Alexander in self-defense. Prosecutors allege Arias was jealous and did not want Alexander to see other women.
At the hearing today, Freeman also testified about a trip to the Grand Canyon that Alexander invited him on in 2007, so that he could act as an apparent sexual buffer between Alexander and Arias.
"I don't know that I can say he didn't want to be alone with her, but he liked when I was there and … They weren't as physical," Freeman said in court.
Freeman said he was aware Alexander and Arias spent time together but did not know they were having sex. He said that it would have gone against the virtues of the Mormon religion, of which all three were members.
During cross-examination by Maricopa County prosecutor Juan Martinez, Freeman was asked if he knew Alexander and Arias engaged in oral sex at the time of her baptism. Freeman replied, "No."
Freeman first took the stand on Wednesday, at which time he recalled an incident when Arias packed too many items in her backpack before a hiking trip at Havisupai Falls, and Alexander became angry with her. Freeman testified that Alexander raised his voice, Arias ran upstairs crying and they continued to argue. When everyone got into the car to start their trip Alexander and Arias were not talking to each other, but within 30 minutes all was forgotten and they were joking and talking.
The defense is apparently attempting to use Freeman's testimony to attack Alexander's character and argued that he was controlling, dishonest, and not living up to the principles of his church. How the testimony ultimately sat with the jury remains unclear, however Freeman was asked if he had ever seen Alexander physically harm Arias, to which he said, "No."
Following a lengthy afternoon recess, Lonnie Dworkin, a computer forensic examiner, was called to the stand. He highlighted YouTube activity that occurred on a computer recovered from Alexander's home and was asked to view two photos of a penis, taken from another laptop that was found to be damaged. It remains unclear where the defense was going with the penis photos as court was recessed directly thereafter until Monday morning.
If convicted, Arias' faces the possibility of the death penalty.
Calling all HuffPost superfans!
Sign up for membership to become a founding member and help shape HuffPost's next chapter
BEFORE YOU GO
PHOTO GALLERY
Travis Alexander - Jodi Arias Crime Scene And Trial Photos