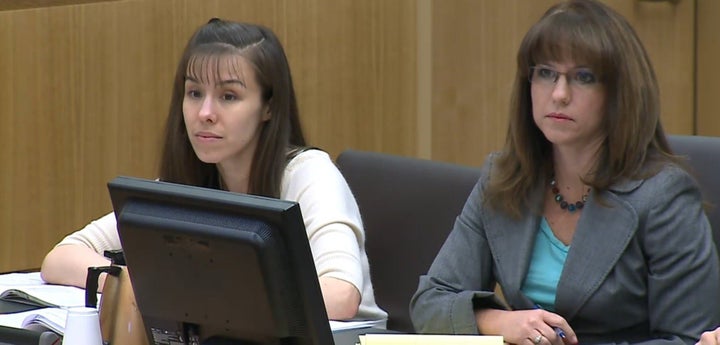 The defense rested its case in the murder trial of Jodi Arias Tuesday, and the prosecution began their rebuttal case.
The defense team in the Phoenix courtroom rested at the start of the day without calling any additional witnesses to testify.
"At this point, the defense rests," attorney Kirk Nurmi told the judge.
The decision came after about 2 1/2 months of testimony.
Prosecutor Juan Martinez started the states rebuttal by calling Arizona clinical psychologist Janeen DeMarte.
DeMarte testified she conducted an evaluation of Arias and administered several tests on reading, intelligence and memory.
"She performed well on it," DeMarte said of the memory test she gave Arias.
In regard to the IQ test, DeMarte said Arias scored a 119.
Arias, a 32-year-old photographer, is accused of shooting Alexander in the face, stabbing him 27 times, and slitting his throat from ear to ear in the shower of his Mesa apartment on June 4, 2008. She has pleaded not guilty to murder, contending that she killed Alexander in self-defense.
Prosecutors allege Arias was jealous and did not want Alexander to see other women.
DeMarte said she reviewed an evaluation of Arias by Dr. Cheryl L. Karp, the Vice-Chairperson for the State of Arizona Board of Psychologist Examiners. DeMarte said Arias indicated more episodes of alleged abuse to Dr. Karp than she did to herself and the other defense experts.
"She told me there were four distinct episodes of alleged abuse," Demarte said of her evaluation of Arias.
Martinez then asked DeMarte how many incidents of alleged abuse Arias recounted to Dr. Karp.
"I can't even count [them] ... there was numerous reports of frequent abuse and threatening behavior," DeMarte said.
DeMarte said she diagnosed Arias with borderline personality disorder. She also testified she found no evidence to believe Arias' claims about her memory problems or that she was a victim of domestic violence and suffers from post-traumatic stress disorder.
"There wasn't symptoms that were consistent with that diagnosis," she said of the PTSD.
During cross-examination by defense attorney Jennifer Willmott, DeMarte stood her ground. She did not flinch when the attorney suggested she was too young or lacked experience. At one point Willmott asked DeMarte about her knowledge of Alyce LaViolette, the defense teams domestic violence expert.
Willmott pointed out that DeMarte had not been born when LaViolette got her Masters degree in 1980.
Willmott is expected to continue her redirect of DeMarte on Wednesday, at 12:30 p.m. Eastern time.
Calling all HuffPost superfans!
Sign up for membership to become a founding member and help shape HuffPost's next chapter
BEFORE YOU GO
PHOTO GALLERY
Travis Alexander - Jodi Arias Crime Scene And Trial Photos