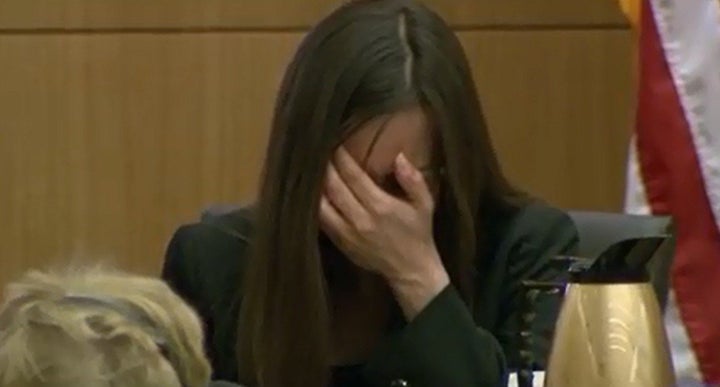 Accused murderer Jodi Arias underwent more fiery cross-examination Thursday, with Maricopa County prosecutor Juan Martinez demanding to know if she was crying when she shot, stabbed and cut the throat of her ex-boyfriend.
Arias, 32, sobbed as the prosecutor showed her a picture of Travis Alexander's crumpled body. Martinez, grilling Arias for a fourth day of cross-examination, showed no sympathy.
"Were you crying while you were shooting him?" Martinez asked.
"I don't remember," Arias said.
"Were you crying when you were stabbing him?" Martinez asked.
"I don't remember," Arias replied.
"How about when you cut his throat, were you crying then?" Martinez asked.
"I don't know," Arias sobbed.
The exchange was one of many Thursday that left Arias looking haggard and beaten by the close of court.
Arias is accused of the June 2008 slaying of Alexander inside his Mesa, Ariz., apartment. She faces the death penalty if convicted. Alexander was stabbed 27 times, shot twice in the face and his throat was slashed. The prosecution contends Arias was motivated by jealousy. Arias told the jury she killed Alexander in self defense after his increasing sexual demands and after she caught him masturbating to a picture of a little boy.
Earlier Thursday, Martinez questioned Arias about her activities on June 4, 2008 -- the day of the killing. Who deleted photos on Alexander's digital camera, later found in his washing machine?
"I might have deleted them ... It could have been me," Arias said.
Later, during a follow-up question, Arias said, "I believe it was probably" Alexander who deleted the photos.
Arias memory problems caused obvious frustration for Martinez.
"We're here because you killed him, right?" Martinez asked.
Arias said Alexander became enraged when she dropped his camera on the bathroom floor.
"I dropped it ... It landed on the mat ... and sort of did a little double bounce on the tile," Arias said. "He said that I'm a f--king idiot."
Alexander was so upset that he slammed her to the bathroom floor, Arias said.
"I got the wind knocked out of me and I hit my head," Arias said.
Alexander chased after her and she ran to a walk-in closet, Arias testified. She said she grabbed a .25-caliber pistol off a shelf.
"You chose to escalate this didn't you, even though you had the … head start, didn't you?" Martinez asked.
"No, I didn't choose to escalate it. I was trying to deescalate it," Arias replied.
"And you chose to deescalate the situation by … getting a handgun, right?" Martinez asked.
Arias said she ran to the bathroom with the gun and held it out with both hands as Alexander charged her like a "linebacker."
"He's lunging at you and he's almost on you and the gun goes off, right?" Martinez asked.
"Something like that," Arias replied.
ARIAS DEMONSTRATING ALEXANDER'S ALLEGED ATTACK: (Story Continues Below)
"The last memory you have of him is after you shot him, right?" Martinez asked.
Arias said that her mind went into a fog after she shot Alexander and that she has no memory of stabbing him 27 times or cutting his throat from ear to ear. She acknowledged she was likely the killer.
"You say you went into a fog ... This gun, you tell us you took it out to the desert ... If you were in a fog ... would you agree there would be no need to take the gun?" Martinez asked.
"I would not agree with that," Arias replied.
"Why would you even think of taking the gun unless you really knew what was going on?" Martinez asked.
"I can only speculate ... I don't remember taking the gun," Arias said.
Arias said the next thing she remembers is being in the desert, about an hour from Hoover Dam. She said she tossed the gun and cleaned herself with bottled water.
Martinez then played a recording a message Arias left on Alexander's voicemail after the killing.
"This fog is not so deep that it stops you from attempting to fabricate evidence, right?" Martinez asked.
"That would be correct," Arias replied.
"All of these lies ... are meant for your benefit, so that you can escape responsibility," Martinez said.
"Yeah, so I could escape whatever for the time being," Arias replied.
Martinez then played a recording from a 2008 interview with the CBS news show "48 Hours." Arias said in the interview that no jury would convict her of killing Alexander.
"You believe you're going to be acquitted because you came in and told those stories, don't you?" Martinez asked, referring to Arias' claim that Alexander sexually exploited and abused her.
"I can't predict the future," Arias replied.
The trial is scheduled to resume at 12:30 p.m. Eastern time on Monday, when the cross-examination of Arias will resume.
REAL LIFE. REAL NEWS. REAL VOICES.
Help us tell more of the stories that matter from voices that too often remain unheard.
BEFORE YOU GO
PHOTO GALLERY
Jodi Arias Timeline