A lot of time Monday –- too much time, some might argue –- was spent by the defense questioning Jodi Arias about her sexual encounters with ex-boyfriend Travis Alexander.
After numbering how many times she had anal sex prior to meeting Alexander –- approximately four times –- Arias said the first time Alexander had sex with her she had not asked for it and it hurt.
The defense has been trying to prove that Arias was humiliated and bullied by her ex-boyfriend, whom she is accused of murdering. Her lawyers say she acted in self-defense.
Asked by Nurmi if Alexander had used lubricant, Arias replied: "Not to my knowledge. I think he might've spit on his hand … it was painful."
Nurmi asked Arias if she enjoyed it when Alexander used Tootsie Pops in their sexcapades.
"When he was using the tootsie pops on you, was it physically pleasurable to you?" Nurmi asked.
"There was some physical pleasure I guess. It wasn't uncomfortable," Arias replied.
"What other pleasure did you derive from that?" Nurmi asked.
"His attention I guess. It sounds simple, but it was just about us. We shut the door and it was our own space and our time together. So I enjoyed that," Arias said.
Arias then testified about receiving facials from Alexander during oral sex.
"Sometimes it hurt if it got in my eyes," she said.
While the sex testimony may have been of interest to some, the momentum in the trial slowed significantly throughout Nurmi's redirect of last week's cross-examination.
Arias, 32, is accused of the June 4, 2008 slaying of Alexander inside his Mesa, Ariz., apartment. She faces the death penalty if convicted. Alexander was stabbed 27 times, shot twice in the face and his throat was slashed.
There was, much to the chagrin of court watchers, more recesses and sidebars than actual testimony in the case Monday.
One of the few highlights of the day was a demonstration defense attorney Kurt Nurmi had his co-council, Jennifer Willmott, participate in with Arias.
Nurmi had Willmott and Arias stand side-by-side and instructed Arias to place her arm around Willmott's neck. Nurmi was recreating a pose seen in a photo that was previously submitted by the prosecution, in which Arias had her arm around her sister's neck.
Prosecutor Juan Martinez had shown the jury the photo of Arias and her sister during cross-examination and pointed out Arias finger did not appear injured at the time. Martinez was attempting to show Arias finger was actually injured on June 4, 2008, the day Alexander was killed inside his Mesa, Ariz., home.
ARIAS DEMONSTRATING THE FINGER POSE: (Story Continues Below)
Nurmi then spent much of the afternoon session detailing Arias' journal entries about her relationship and her suicidal thoughts.
The trial is scheduled to resume at 12:30 p.m. Eastern time on Tuesday, when the re-direct of Arias will resume. MONDAY'S LIVE BLOG: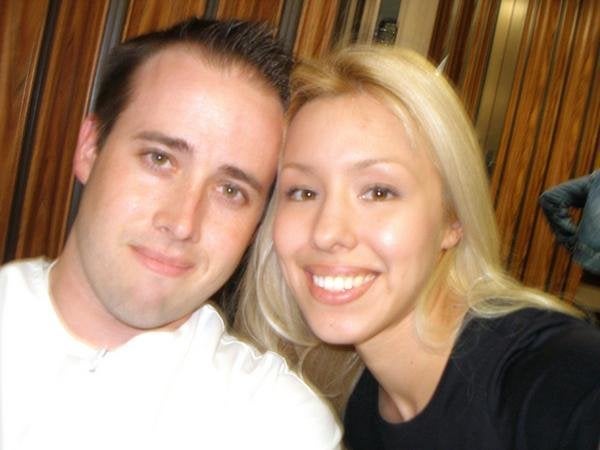 Jodi Arias Timeline
Popular in the Community