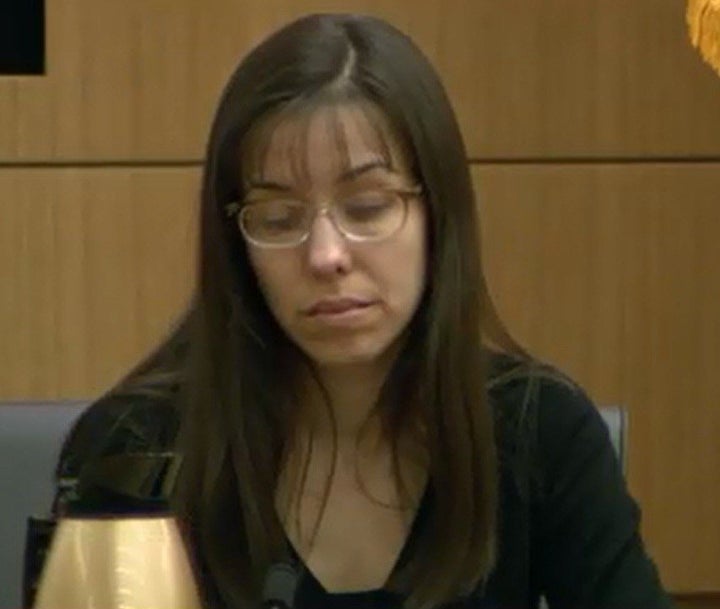 An Arizona prosecutor on Monday cast grave doubt on the credibility of Jodi Arias, the 32-year-old photographer accused of first-degree murder in the brutal 2008 slaying of her ex-boyfriend, Travis Alexander.
During cross-examination, Arias faced Maricopa County Prosecutor Juan Martinez's questions about her activities following her July 2008 arrest for Alexander's murder. During this line of questioning, Arias claimed God was the only witness to what went through her mind at the time.
"God's not here. We can't subpoena him," Martinez replied.
Arias, on the witness stand for a ninth day, is on trial for the June 4, 2008, slaying of Alexander inside his Mesa, Ariz., apartment. She faces the death penalty if convicted. She testified last week that she shot and stabbed Alexander in self-defense after he attacked her in a dispute.
Martinez pointed to what he called Arias's multiple lies to police following her arrest, specifically her initial story that two intruders were responsible for Alexander's murder.
"The whole interview was a lie," Martinez said.
When Arias suggested she may have been confused by some of the questions police asked, Martinez seemed skeptical. "He was speaking English to you right?" he asked.
At one point Martinez briefly lost his composure and showed his obvious annoyance with Arias. Throughout his cross-examination, she has tried to side-step his questions.
"Can you imagine how much you must have hurt Mr. Alexander when you stuck that knife in his chest? That must have really hurt, right?" Martinez asked.
Arias's attorney, Kurt Nurmi, objected to the statement, calling it argumentative. Judge Sherry Stevens sustained the objection.
Martinez later asked Arias if she went out of her way to contact Alexander's family after his death. She said she did contact them and confirmed that on June 13, 2008, she sent Alexander's grandmother flowers and a note saying that she was in her prayers.
"You felt badly for her," Martinez said.
Martinez then asked Arias if she sent a letter to Alexander's family on July 28, 2008, Travis Alexander's birthday. She confirmed that she had.
Afterward, Martinez played a video clip from an interview Arias gave to the CBS program "48 Hours" in August 2008. In the video, Arias said she wrote to Alexander's family members because they deserved answers.
Martinez noted the letter was 18 pages long. In it, Arias told Alexander's family that he was killed by unknown male and female intruders.
"So you lied to them, didn't you?" Martinez asked.
Martinez spent much of the remainder of the day going over details of alleged abuses Arias previously testified to suffering at Alexander's hands. Martinez pointed out that for each alleged instance, there were no witnesses, police or medical reports to substantiate any of Arias's claims.
The judge recessed court until 12:30 p.m. Eastern time on Tuesday, when the cross-examination of Arias will resume.