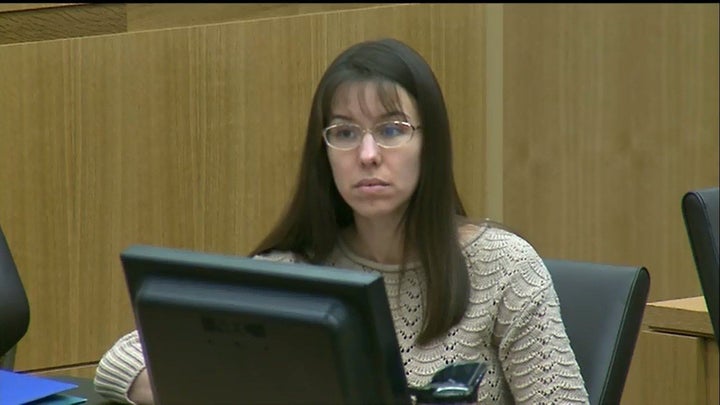 Prosecutors at the start of Day Six of Jodi Arias' murder trial focused on a .25 caliber handgun that was stolen from her grandparents' home days before the slaying of her ex-boyfriend Travis Alexander.
"[The gun stolen] is a .25 auto ... it just happens to be the same [caliber gun] that was used to kill Travis," Esteban Flores, a Mesa, Ariz., police detective said to Arias in a videotaped interview from July 15, 2008, that was played in court Monday.
Arias, a 32-year-old photographer, is accused of shooting Alexander in the face, stabbing him 27 times and slitting his throat from ear to ear in the shower of his Mesa apartment on June 4, 2008.
"We're just playing games here ... That gun was in your possession ... What did you do with the gun?" Flores asked, after Arias expressed shock that Alexander had been shot with a .25 caliber automatic handgun.
"I don't have a gun ... I've never seen it ... I don't even know what a .25 looks like," Arias said on the video.
The video was admitted into evidence by the state after prosecutors called Kevin Friedman, a police officer with the Yreka, Calif. Police Department to the stand. Friedman had investigated the reported theft of a .25 caliber gun, $30 in cash, a stereo and a DVD player from Arias' grandparents on May 28, 2008.
During his testimony, Friedman noted that several other guns, stored in the same cabinet as the .25 caliber gun that was stolen, were left untouched, as well as a large amount of quarters that were on top of the cabinet.
"I believed it was unusual that small items worth money, for instance the change, was not taken," Friedman testified. "I also felt it was strange that only one of the firearms was taken from the cabinet."
During cross-examination by the defense, Friedman was asked if other burglaries had been committed in the community around the time the handgun and other items were stolen.
"There had been a rash of burglaries in our town ... around that time," Friedman testified.
GRAPHIC CRIME SCENE PHOTOS: (Article Continues Below)
PHOTO GALLERY
Travis Alexander - Jodi Arias Crime Scene And Trial Photos
The final witness to testify before the jury was released for lunch Monday was Michael Melendez, a Mesa police officer assigned to computer forensics unit.
Before court was recessed, Melendez explained how one creates mirror images from computer hard drives and digital memory cards.
Testimony is expected to resume at 3:20 p.m. ET.
Calling all HuffPost superfans!
Sign up for membership to become a founding member and help shape HuffPost's next chapter
BEFORE YOU GO