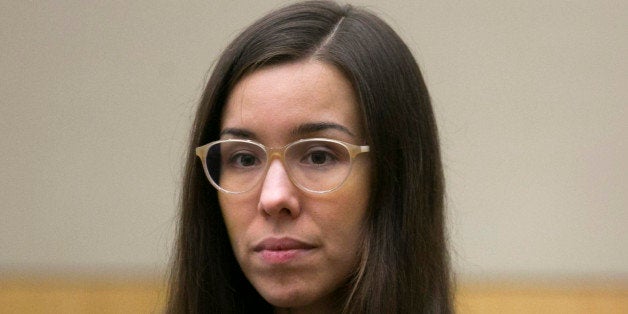 PHOENIX (AP) — Testimony that was expected to resume Monday in Jodi Arias' sentencing retrial was postponed to let lawyers interview a witness whose identity hasn't been revealed.
Jurors were sent home Monday shortly after they returned to court following a more than two-week holiday break.
Although the witness's identity hasn't been revealed, prosecutor Juan Martinez said in court papers that he wanted to interview a defense witness who examined a laptop belonging to Arias' former boyfriend, Travis Alexander.
Arias was convicted of murder last year in Alexander's 2008 death, but jurors deadlocked on whether she should be sentenced to life in prison or receive the death penalty. A new jury has been picked to decide her sentence.
Prosecutors said Arias attacked Alexander in a jealous rage after he wanted to end their affair and planned a trip to Mexico with another woman. Arias has acknowledged killing Alexander but claimed it was self-defense after he attacked her.
Arias' attorneys are seeking to dismiss the case by alleging that authorities destroyed thousands of files on Alexander's computer — including files from pornographic websites — that would have been beneficial in defending Arias. Her attorneys, who alleged Alexander had treated their client in a sexually humiliating manner, say the missing computer files deprived Arias of a fair trial.
Maricopa County Superior Court Judge Sherry Stephens and the case's lawyers held private discussions Monday before the judge announced that jurors were sent home for the day. The trial will not be in session Tuesday.
Attorneys for Arias also have asked the Arizona Supreme Court to put the trial on hold while they appeal a lower court's ruling over Stephens' Oct. 30 decision that barred the public from watching the testimony of Arias' first defense witness, who was later revealed to be Arias herself.
Stephens had said the move was necessary because Arias' first witness was skittish and wouldn't testify unless the hearing was closed to the public.
Despite her reservations during the penalty phase, Arias has actively courted the spotlight since she was arrested in 2008, including interviews on "48 Hours" and "Inside Edition" after her arrest, and a series of media interviews after the jury convicted her of murder.
The Arizona Court of Appeals threw out Stephens' ruling and ordered transcripts of Arias' secret testimony to be released, though they haven't yet been made public. A hearing over the transcript is set for Thursday morning.
Arias attorney Jennifer Willmott said in court papers that the appeals court ruling lets the media's First Amendment rights trump her client's right to a fair trial.
Calling all HuffPost superfans!
Sign up for membership to become a founding member and help shape HuffPost's next chapter