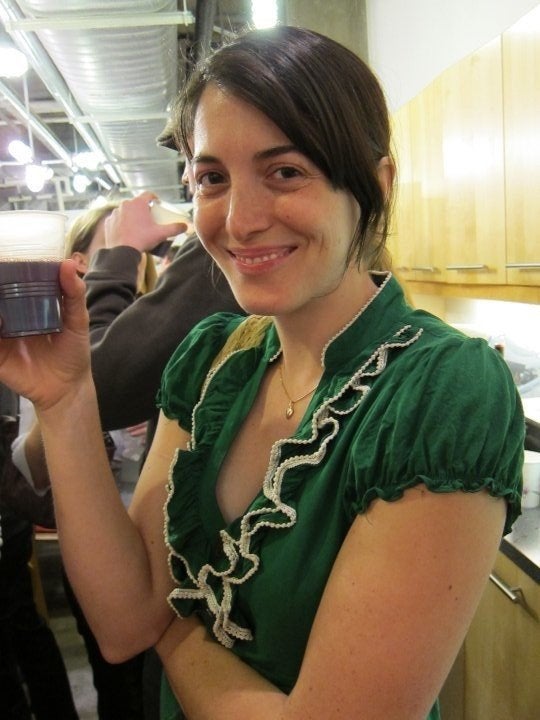 Her new book, Tiger Lily, a new take on the Peter Pan story, came out on Tuesday.
"It's a grown-up retelling of Peter Pan from a new perspective," Anderson told HuffPost. "That of the native princess Tiger Lily of J.M. Barrie's original. I am reimagining the relationship between Peter (who's an enticing mess), Tiger Lily (who's large-hearted and strong-willed) and Wendy (who's dainty, and loves to picture herself as a Jane Austen heroine)."
We caught up with Anderson to find out more about her life in D.C. and how much Neverland resembles the nation's capital:
The Huffington Post: What's a typical day like for you?
Jodi Lynn Anderson: Walk the dog. Eat. Procrastinate. Write. Watch the Bachelorette. Tear out hair. Write.
HuffPost: Where do you live and how long have you lived there?
Anderson: I've been in Dupont Circle for about a year. Before that, it was Mount Pleasant.
HuffPost: How long have you been in the D.C. area?
Anderson: About six years. But my extended family has lived here forever.
HuffPost: What's your commute like?
Anderson: I walk from my bed to the kitchen table, sometimes in pajamas, sometimes in real clothes if I'm feeling particularly fancy.
HuffPost: What's your favorite local spot to take out-of-town visitors?
Anderson: The Roosevelt Memorials (Franklin and Theodore). And Glen Echo Park, at night.
HuffPost: What's your position on D.C. statehood?
Anderson: We pay taxes, we have residents in the armed services…why on earth wouldn't we have votes on the floor? So yes. Plus it would be fun to see how a flag designer handles the 51st star.
HuffPost: What's your favorite local neighborhood?
Anderson: I love Mount Pleasant. It's so friendly and seems to be its own little world.
HuffPost: What's your favorite local restaurant?
Anderson: Sushi Tono in Woodley Park. Every time my husband and I go, we promise ourselves we won't order three entrees again.
HuffPost: Should D.C. lift its height restrictions on buildings?
Anderson: No…no…please, no
HuffPost: What do people in D.C. complain about too much?
Anderson: The heat. But wow, it is hot.
HuffPost: What local issue should D.C.-area residents pay more attention to?
Anderson: AIDS. Our AIDS stats are through the roof.
HuffPost: Do you have to get inside the heads of teenagers to write young adult novels? How do you do that, if so?
Anderson: To me, people don't elementally change all that much past their teens (or at least I haven't), so I just try to write what feels real and genuine to me as an adult. I think YA literature is often more tightly paced than adult lit, and often less detailed and stylized –- but the good YA lit, I think, is relevant regardless of age. Then again, vampires!
HuffPost: What hobbies or talents do you have that your typical reader might not already know about?
Anderson: I just invested 100 more dollars in Claymation tools, which is kind of ridiculous! And the banjo: so far I can officially pluck three songs, which I like to do over and over and over, much to the chagrin of my dog. I am also a really good Googler –- I can find the impossible. Yesterday I found an old local bar that my husband's great grandfather used to patronize in 1916 –- we went to see it. It's part of the Spy Museum now…at least it's not a Chipotle!
HuffPost: Is D.C. like Neverland?
Anderson: I think the interesting thing about Neverland is that there are all these really different settlements right on top of each other. Everything -- the pirate's cove, Tiger Lily's village, the Lost Boys' burrow -- is close together. So I guess maybe, in that way, D.C. is the same.
Email us at dc-tips@huffingtonpost.com if there's someone you think would make a good "My D.C." interview.
REAL LIFE. REAL NEWS. REAL VOICES.
Help us tell more of the stories that matter from voices that too often remain unheard.