 The following is an excerpt from the new book Why We Write: 20 Acclaimed Authors on How and Why They Do What They Do. The book is compiled of essays from famous authors, all explaining why they love writing. Below is New York Times bestselling author Jodi Picoult's response. Picoult has published 20 books over the last 20 years. She has a new book coming out in February, The Storyteller. In this excerpt, Picoult also includes some great tips for aspiring authors
:
I write because I can't not write. Just ask my husband. If I have an idea circling in my brain and I can't get it out, it begins to poison my waking existence, until I'm unable to function in polite company or even hold a simple conversation.
When I'm actively writing, in the thick of a book, I'll find myself hiding up in my attic office to get just one more scene down on the page before I go downstairs to dinner. A lot of times, that one scene will turn into two or three.
But beyond the itchiness I'd feel if I weren't able to write, I write because it's a way of puzzling out answers to situations in the world that I don't understand. The act of writing a book gives me the same experience that I hope reading it gives readers. It forces me to sort through the various points of view on a given issue or situation and ultimately come to a conclusion. Doing that might not change my mind, but it almost always gives me a stronger sense of why my opinion is what it is—a question we rarely ask ourselves.
Riding a bike down a hill
The way I feel about writing changes on a daily—or an hourly—basis. Sometimes it's like riding a bicycle down a hill, with the wind whipping through my hair and my hands in the air. And then there are the times when writing feels like slogging through the mud that was left behind after Hurricane Irene.
I've always seen writing as a job. Granted, it's one I love to do, but it requires me to park my butt in a chair even when I don't feel particularly motivated.
Sometimes, it's magical. The characters seem to breathe and take over. I hear their voices very clearly in my head. That's why I've always called writing "successful schizophrenia": I get paid to hear those voices. But at a certain point in every book, something happens that I never saw coming—at least, not consciously—and it's exactly the puzzle piece the story is missing, the element that ties the threads of the book together. Characters seem to pick their own paths. They have an agenda that I don't even know about until the conversation or the plot begins inching its way across the typed page. Even though I know the end of my books before writing a single word, I often find that the middle section—how I get from point A to point Z—is a delightful surprise.
I'm often asked if I cry when I write. Of course I do! There are some scenes I've written, often between moms and kids, where I find myself sobbing at the keyboard. I know the characters better than I know anyone else, so it stands to reason that I'm emotionally invested in them.
Physically, when I write, I feel the years. I've been a writer for two decades and like every other writer I know, I have tendinitis. A good day writing can mean a very bad day for my arm or shoulder. I remind myself it's a pretty sweet problem to have.
My hardest time as a writer was when I realized that I'd grabbed the brass ring. I'd published a bunch of books, and I still wasn't a success.
A lot of writers think of the publishing contract as the Holy Grail, but it's not. It's a huge mistake to think that just because your book is being printed, your publisher will publicize it. If you're a new author, it's much more likely that they won't. You have to stump yourself and find book clubs to talk to and go to book fairs and set up signings at bookstores and libraries—anything to get word of mouth going. Your publisher's more likely to pay attention to your book if it starts magically selling. Then they might put some money into promoting it. It's a vicious cycle.
That's why I was really disheartened when I was a young mom of three kids, and I'd had multiple books published, but I was still toying with the idea of getting a job application from Home Depot so I could help support my family.
The best time I've had as a writer is every time I've found out that a book of mine is debuting at number one on the New York Times bestseller list. It's happened a few times, and it never gets old. I have to pinch myself to say, Wow, look how far I've come. When I'm number one, I know it's not just my mom and her friends buying the book. I can remember the precise moment when my editor called with the good news. I'd write even if no one ever read my stuff, but it's so gratifying to know that people do.
Another amazing moment was when I did an event at the Margaret Mitchell House in Atlanta. Gone with the Wind is the book that made me want to be a writer. To sit at the desk where it was written had me trembling.
Jodi Picoult's Wisdom for Writers:
Take a writing course. It's how you'll learn to get and give feedback, and it'll teach you to write on demand.
There's no magic bullet that'll make you a success. If you write because you want to be rich, you're in the wrong business. Write because you can't not write, or don't write at all.
Write even when you don't feel like writing. There is no muse. It's hard work. You can always edit a bad page, but you can't edit a blank page.
Read. It'll inspire you to write as well as the authors who came before you.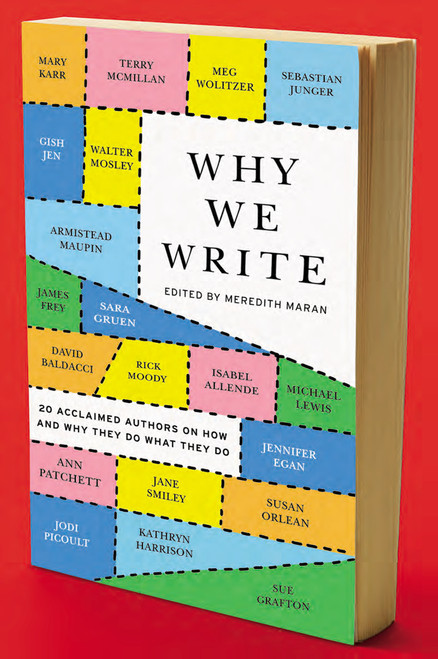 Support HuffPost
The Stakes Have Never Been Higher
Related
Popular in the Community