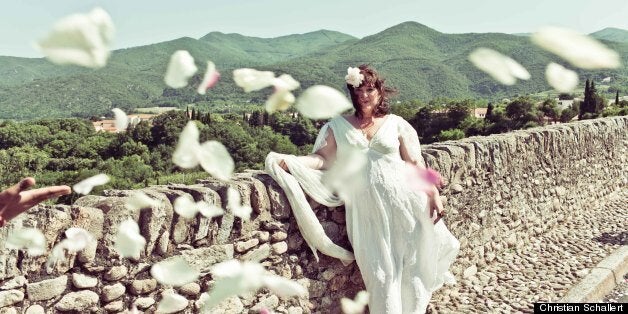 Good vibrations led one smitten woman to marry a bridge.
Jodi Rose, an Australian artist who travels the world recording the vibrations of bridge cables for her "Singing Bridges" music project, knew it was true love the first time she laid eyes on Le Pont du Diable, a 600-year-old bridge in Southern France.
On June 17, the intimate affair was held at the entrance of her groom with around 20 guests in attendance, including the mayor of Arles-sur-Tech, a neighboring town. The beaming bride kept it traditional on her not-so-traditional wedding day, wearing a floor-length ivory dress and carrying a beautiful bouquet, Oddity Central reported.
Rings were exchanged to the Johnny Cash version of "Bridge Over Troubled Water."
"Our wedding night was very special, although we didn't have time alone together right after the ceremony, as he is a workaholic so couldn't leave the river banks. I left him with a loving kiss and my friends joined me in helping to celebrate the union with a swim in the River Tech which flows beneath him," Rose told the Huffington Post in an email.
Though the new couple's union is not legally recognized in France, Rose said it's just as strong as any other marriage.
"While I respect those whose romantic and sexual feelings are oriented towards objects, mine is a symbolic affair, a pagan / animist view of the spiritual vibration in everything," she wrote on her blog, Bridgeland. "He understands that I love other bridges — and men — ours is a love that embraces the vagaries of life, as materialized in the swirling currents of the river that flows beneath his magnificent body."
Their love certainly has a strong foundation, but let's hope the bridge feels the same about the open relationship.
On her blog, Rose gushed about her new beau:
The story of our romance is a modern love fable – I have travelled the world for over ten years, making music with the sound of bridges, and as he felt my vibrations coming nearer he drew me to him. Our wedding is arranged with the help of friends from Barcelona, the community and artists in Arles-sur-Tech & Ceret, who give their blessing and support to the ceremony.

Although he is made of stone, the resonance of his being is very present, and I feel at peace in his strong embrace. He makes me feel connected to the earth and draws me to rest from my endless nomadic wanderings.
Le Pont du Diable, also known as "The Devil's Bridge," was first erected by Benedictine Monks in the 11th century and has shown resilience in the face of harsh times over the Hérault river gorge, according to Geekosystem.
"[He] is everything I could desire in a husband - sturdy, trustworthy, sensual, kind and handsome,"Rose wrote. "There is longevity in the arch of his back, he has stood for 600 years and he will stand for 600 more."
Related
Before You Go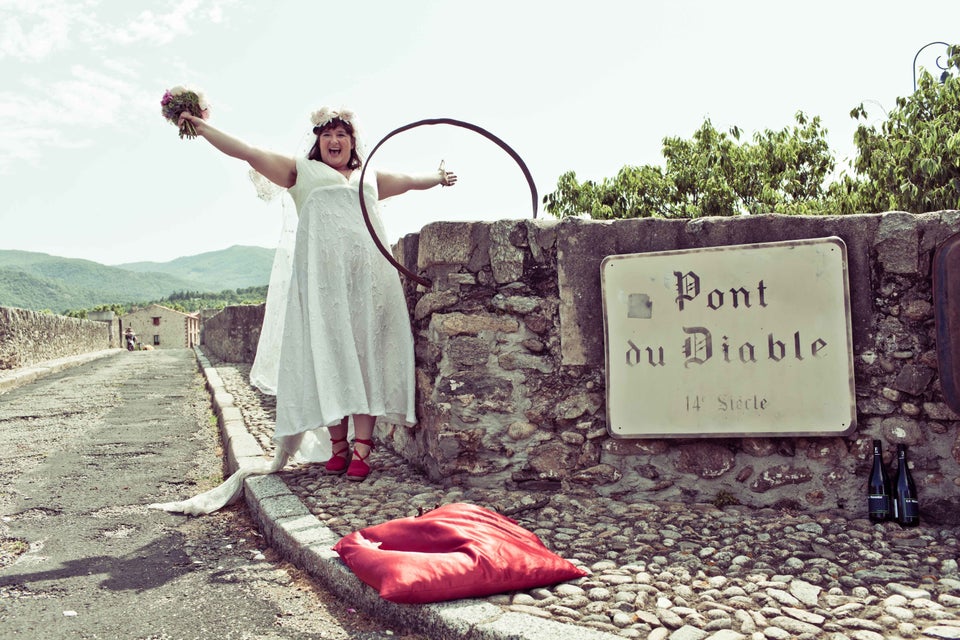 Woman Marries Bridge
Popular in the Community