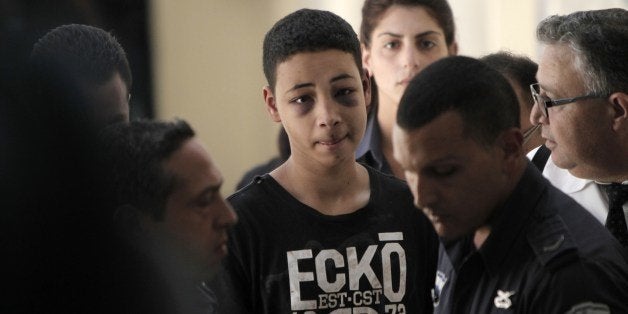 NEW YORK -- Jodi Rudoren, the Jerusalem bureau chief for The New York Times, has defended her reporting on a 15-year-old American beaten by undercover Israeli police last week.
"Anti-Israel activists attacked me for practicing stenography, not journalism, and just parroting what public officials say," Rudoren wrote Sunday on Facebook, adding that she's spent many hours "talking to actual Israelis and Palestinians, not just typing statements from the authorities."
Rudoren wrote the post in response to criticism from people on Twitter whom she labeled "anti-Israel." Several tweets directed at Rudoren suggested that she had uncritically promoted police claims about the the beating of the boy, Tariq Abu Khdeir.
There may be no issue that galvanizes critics of The Times more than the Israeli-Palestinian conflict. Public editor Margaret Sullivan has noted that it's one of the subjects she hears most about, "with readers on both sides convinced that The Times is biased." Rudoren herself drew scrutiny for tweets about the conflict that she wrote before becoming bureau chief in 2012.
The latest controversy stems from a report by Rudoren that appeared online Saturday and in Sunday's print edition. Rudoren reported on how Muhammad Abu Khdeir, a 16-year-old Palestinian boy, was burned alive on Wednesday, in apparent retaliation for the recent killing of three Israeli teens.
Rudoren also cited reports that Tariq, a 15-year-old American cousin of Muhammad who was visiting relatives for the summer, "had been brutally beaten and then arrested by Israeli police officers during a violent clash" on Thursday.
In the article, she quoted Israeli police spokesman Micky Rosenfeld, who said a video appearing to show Tariq being beaten while restrained on the ground was "edited and biased." Rosenfeld offered no evidence to support that claim.
He also told Rudoren that Tariq was arrested for fighting with Israeli police during a clash in East Jerusalem, an allegation that critics viewed as a weak justification for punching and kicking someone already subdued on the ground.
Tariq has denied attacking police, telling reporters that he wondered at the time of the beating, "Why is this all happening?" Hassan Shibly, an attorney for the Abu Khadair family, told HuffPost Live Monday that Tariq, who has not been charged with a crime, remains under house arrest and cannot yet return to the United States.
Yousef Munayyer, executive director for The Palestine Center, a Washington, D.C.-based think tank, took issue Sunday with Rudoren's coverage -- and her defense of it.
In a response to her Facebook post, Munayyer told Rudoren that her "job as a journalist is not merely to tell us what officials said, they have press releases for that, but rather to ask critical questions of those in official positions especially when their statements are obvious BS."
Munayyer said that Rosenfeld "should have been asked what any activity Abu Khdeir might have been involved in has to do with his brutal beating AFTER he was clearly subdued." By not asking this question, he wrote, Rudoren provided "an uncritical platform for a statement that justifies police brutality."
Times foreign editor Joe Kahn defended the Times' coverage of the incident Monday in an email to The Huffington Post.
"The Times' story about the killing of the Palestinian boy is balanced and fair," Kahn wrote. "The Israeli spokesman is quoted in the story, but the story clearly defines what is shown in the video and the issues it raises before an Israeli official is asked to comment on what happened."
Rudoren's article mentioned the video, but did not link directly to it online. The Times published a separate online-only story featuring videos of the beating from two vantage points.
Kahn told HuffPost that the failure to link to the video was a "production issue" and pointed out that it appeared in another story. "We generally aim to link to relevant documents and videos in stories, but it does not always happen on deadline," Kahn said. "In this case, Times readers who wanted to see the video had access to it through our website."
More broadly, Kahn praised Rudoren's recent coverage of escalating tensions, and violence, following the killings of four teenagers.
"Jodi has done an outstanding job covering both sides of the conflict over the kidnapping and killing of three Israeli teenagers and the apparent revenge attack against a Palestinian youth," he said. "These are highly charged issues and Jodi has been working night and day on her coverage online and in print. She has broken news and contextualized events, as she always does."
Popular in the Community