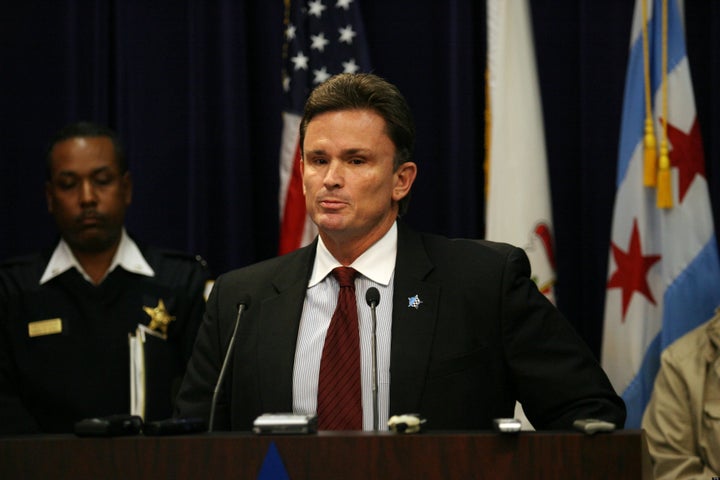 On Wednesday morning, members of Chicago's Fraternal Order of Police gathered outside of Chicago Police Headquarters and demanded that Superintendent Jody Weis resign.
Several hundred police officers showed up Wednesday to voice their displeasure with the department's leadership and with what they call a dangerous staffing shortage, the Associated Press reports. Many officers at the Wednesday rally carried signs demanding the resignation of Superintendent Weis. The signs read "More Police. No Weis", "Resign", "No Manpower No Weis", "Dump Weis" and "Free Cozzi"--referring to jailed Chicago Police Officer William Cozzi.
Cozzi was sentenced to prison last year after beating a man who was handcuffed and shackled in a wheelchair, NBC Chicago reported. Some officers felt that Cozzi should not have been jailed for beating the detained man suffering from stab wounds and that Weis didn't "have their backs."
"If they are asking him to resign, that is not going to happen," police department spokesman Roderick Drew told NBC Chicago.
Weis, a career FBI agent, has been unpopular among union leadership since he was hired by Mayor Daley in 2008. Many officers considered Weis an outsider who had no business running the department, and have publicly called him a "coward" and accused him of causing department morale to plummet.
"The buzz saw taking J-Fled down is of his own making," writes the Second City Cop, a popular (an anonymous for obvious reasons) CPD blogger. "A litany of bad decisions; a complete inability to self-evaluate and adapt to the situation; the arrogance typical of an FBI product too wrapped up in his own importance; a history of attacking the messenger . . . and of course, running from the sound of gunfire."
Weis, however, told NBC Chicago on Tuesday that he has done what Mayor Daley asked him to do when hired:
He says crime has dropped for several months straight and that after he was hired in response to a series of embarrassing incidents involving officers there have been no major scandals since he took over in 2008.
Weis told reporters Tuesday that he would not stop the FOP from protesting, being that "this is America"--but he has no intention of stepping down. He also said he did not want to play into the "media soap opera" surrounding his battle with the FOP. Some have speculated that he could be shown the door after a new mayor is elected in 2011, but Mayor Daley has repeatedly come to his defense.
"This man came in and did the job that was necessary," Daley said last week, according to NBC Chicago. "He's done a very, very good job, and I'm very proud that I appointed him."
WATCH Weis react to the planned FOP protest here:
REAL LIFE. REAL NEWS. REAL VOICES.
Help us tell more of the stories that matter from voices that too often remain unheard.