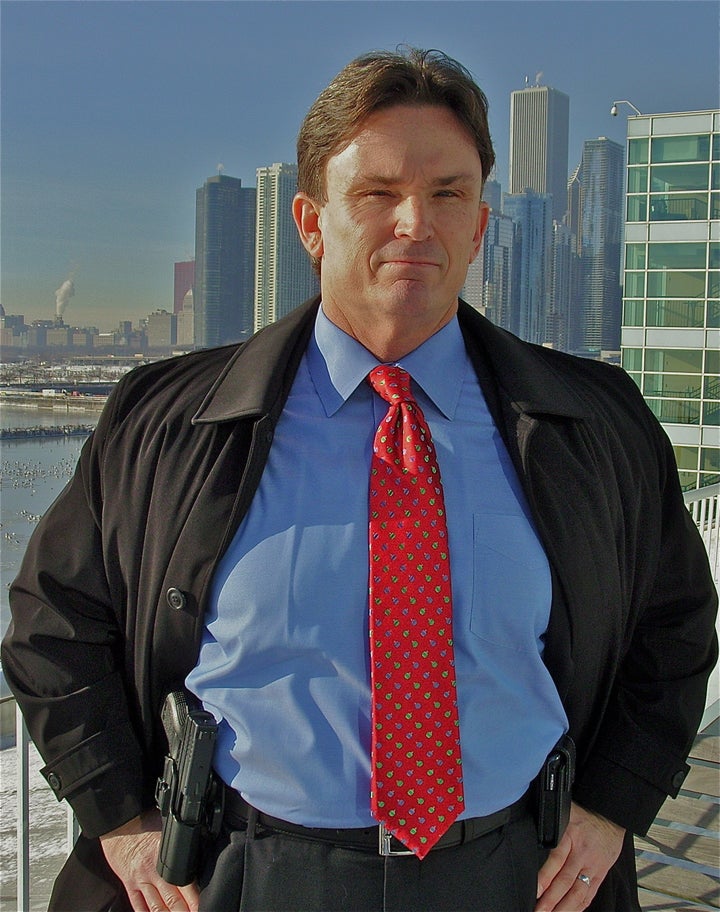 This year, Chicago will see its first new mayor in 21 years. And whoever wins the election will immediately be saddled with some serious issues: the ugly budget, struggling schools and, of course, crime.
For as long as most Chicagoans can remember, the city has had a reputation of violence and corruption. The Prohibition-era gangsters made way for modern gangs--and it's not uncommon for outsiders to fear venturing past the Magnificent Mile.
In reality, however, 2010 marked the city's lowest murder rate in 45 years, and crime has been down in virtually all categories for 23 straight months.
Despite the progress, Chicago Police Supt. Jody Weis has been continually hammered publicly by members of the police union and even mayoral candidates.
HuffPost Chicago spoke with Weis about his work with CPD, how he handles union criticism and what will happen when Mayor Daley leaves his post in May.
In 2008, after a series of embarrassing scandals involving the CPD, Mayor Daley did the unthinkable: he hired an outsider to run the police department.
After reaching out to another FBI leader, who ultimately declined the position as Chicago's top cop, Daley met with Weis, a 23-year FBI veteran and former U.S. Army Captain.
Weis grew up in Florida, and joined the military to help pay for college. After his first tour of duty, he was approached by the FBI--they needed some help removing a bomb from the water. He ultimately decided to leave the military and stuck with the FBI doing everything from dismantling bombs to running one of the agency's largest field operations before coming to Chicago. An athlete who enjoys riding Harley's, water skiing and scuba diving found himself in a city known for its cold winters--and sometimes, its cold shoulders.
Almost immediately after Daley announced Weis, the criticisms began. Why was an FBI guy running the CPD? Why didn't Daley hire from the inside? Does this guy know anything about Chicago?
Weis said he talked about his new gig with former Los Angeles Police Chief Bill Bratton--who acknowledged that it would be "an uphill battle." Bratton could relate. Though crime fell for six consecutive years under Bratton's leadership, he was often rejected by Los Angeles natives, who were not so keen on his Boston accent.
Even without the support of the Fraternal Order of Police, Weis decided he would do what he was hired to do: reduce crime, reduce complaints against the police department and weed out corruption. Almost immediately after taking office, Weis overhauled much of the department's command staff, to the dismay of the union and some alderman.
Then, there was the Bill Cozzi case.
Cozzi, a former Chicago cop, was caught on tape beating a stab victim while he was handcuffed to a wheelchair in the emergency room of Norwegian American Hospital in Humboldt Park.
Cozzi served 18 months of probation and was about to return to work when federal prosecutors charged him with a civil rights violation. The police union blamed Weis for turning the case over to the Feds, and said he didn't have their backs. Weis publicly denied that he was behind the push to charge Cozzi federally, but did not spend any time defending the officer's actions.
"We cannot have officers brutalizing the public," Weis said. "And quite frankly, beating someone who's been wounded, who has been shackled in a chair...handcuffed in a chair with a weapon, it's just unacceptable."
Weis said the Cozzi case is just an example of the union's desire to return to "business as usual" at the Chicago Police Department, and though it makes him unpopular at times, he said he has absolutely no intention of doing so.
"In the Spring of '09, I was speaking with one of the representatives to the union," Weis said. "He said 'Hey, I'm going to send you a letter with at least ten things you can do right now, that [won't] cost any money, that will improve morale in the department.' I said, 'Fantastic, I look forward to hearing that.' At [a] memorial service in DC in 2010, I said 'I'm still looking for that letter. But you know what, I'll make it easy on you. Tell me one thing. You've been around for 25 years, just tell me one thing that you'd like me to do differently.' No response, no answer."
In September, more than 100 members of the Fraternal Order of Police called for Weis' resignation outside of police headquarters, and the vocal group has managed to get several mayoral candidates on their side. Candidate Gery Chico has vowed to hire 2,000 officers if elected, and told the police union he would hire a superintendent from within the department.
Weis said that Mayor Daley hired him for a reason: it was time to challenge the status quo at the police department. He said he can handle the criticism, because he is more concerned with results.
"Right now, we're having terrific results, but we're doing it with 1,100 less officers," Weis said. "If we just focused on the status quo, we would have never made any adjustments of how we do business and we probably would not achieve these same results...I pride myself on being the enemy of the status quo."
Weis did say he hopes that new union leadership can change the relationship between the FOP and the department.
"We could have done so much more if we had a true partnership with the union," he said. "Not to steal a line from the president, but, I will extend a hand if they will unclench their fist."

Despite criticism from the union, Weis is proud of the work he has done so far. In the past 34 months, he was able to push through major changes. For years, he said, officers were unhappy with their schedule. He changed it. Officers wanted an alternative to using deadly force when dealing with a combatitive suspect, he put Tasers in every beat car. Officers were given assault rifles to put them on an even footing with some of the city's most violent offenders. Three new police stations were built, and the department is in the process of replacing all the old police vehicles.
"We've made a lot of advances," Weis said. "Just pushing the rifles through for example. We went from nothing to authority to carry a rifle with a new training program in 90 days. It took this department over seven years to approve a Glock."
Aside from the additional resources, Weis has tried to change how the department approaches crime in general.
"It's not about arrests," he said. "It's about impact."
One way the department could make a major impact--even on an international level--is with their new Predictive Analytics division. The division is run by former OpenTable computer whiz Brett Goldstein, who uses the immense amount of data collected by CPD to literally predict where and when crimes will occur in certain neighborhoods.
While the division is in its early stages, the program is already being used by the police department. Officials from Rio de Janeiro have already reached out to CPD about the program, hoping it can help them get crime under control in time for the World Cup and the 2016 Olympics.
On Monday, the Chicago Police Department announced their 2010 crime statistics, which showed a 10.1 percent drop in overall violent crime. Also, they closed the year with the lowest homicide rate since 1965. Weis said he was happy with the results, but that is a lot more work to be done.
"Crime in all categories is down with the exception of motor vehicle theft," Weis said. "We can talk about all that and that's a good thing...but we still average over five shootings a day. We still average more than one human being killing another human being every day."
"Every department head in the city should anticipate being replaced," he said. "Chicago is a little unusual. In most cities, this event happens every eight years. Sometimes every four years, depending upon the success of the mayor. This is kind of shocking for us right now because it's been 21 years since a new mayor's come in here. But every department head should [plan on] submitting their letter of resignation."
What voters might want to consider is who will replace Weis.
"Some of the candidates have said that they will go to the [Fraternal Order of Police] and ask who they think the new superintendent should be. OK, then, you're probably going to get something that's going to be business as usual. Then we have to go back to: what was that business? Before I got here, there were a lot of scandals. The Hanhardt scandal, where you have the chief of detectives basically involved in jewelry theft... You go back to the Jefferson Tap case, you go back to the Abbate case, you go back to Cozzi case. Was that business as usual? I don't know."
Weis said he will sit down with Mayor Daley in March and plot his next move. Daley has praised Weis publicly, and said he wants him to remain top cop so long as he's in office.
As for Weis, he has been relatively unscathed by the haters. He said it bothers his wife that the union spends its money defending the likes of Jon Burge while slamming him, but he hopes to make as much of an impact here as possible.
And even though he can't ride motorcycles in the winter or do much scuba diving in Lake Michigan, he said he is continually in awe of Chicago:
"I firmly believe Chicago is the best big city in the United States."
Calling all HuffPost superfans!
Sign up for membership to become a founding member and help shape HuffPost's next chapter