WASHINGTON ― When Joe Arpaio, the former Maricopa County sheriff, announced his Senate candidacy on Tuesday, he became the fourth viable Republican 2018 congressional candidate who's been convicted of a crime. And like two of the other GOP cons running for office, he has cited his criminal record as a partial justification for his candidacy.
The other convicted criminals running for office as Republicans are Don Blankenship, the former head of the coal mining company Massey Energy who is running in the Republican primary to challenge Sen. Joe Manchin (D-W.Va.); former Rep. Michael Grimm, who is challenging incumbent Rep. Dan Donovan (R-N.Y.) to reclaim the Staten Island congressional seat he once held; and Rep. Greg Gianforte (R-Mont.), who is running for re-election.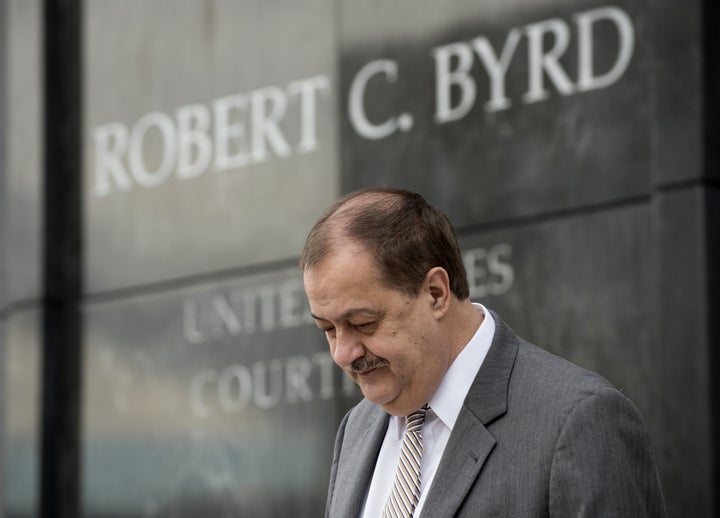 Blankenship served one year in prison on a misdemeanor conviction for conspiring to evade safety laws after the death of 29 miners at his Upper Big Branch Mine in 2010. Grimm, a former FBI agent, pleaded guilty to felony tax evasion in 2014. And last year, Gianforte also pleaded guilty to misdemeanor assault for body-slamming a reporter days before winning a 2017 special election. So far, the national Republican Party has said it supports Donovan over Grimm, but it is also backing Gianforte, who is the only one of these convicted candidates currently in office. The party has not endorsed anyone in either West Virginia or Arizona.
The only Democrat with a record running for office is David Alcorn, convicted of stalking, who is one of nine candidates for the party's nomination in New Mexico's 2nd Congressional District. The Democratic Congressional Campaign Committee would not support Alcorn, saying "he is not fit to run for office."
The 'Politically Incorrect Prisoners' Brand
Three of these men — Arpaio, Blankenship and Grimm — have suggested that their convictions show they were persecuted by the Obama administration for their political beliefs. The actual evidence suggests otherwise.
Blankenship referred to himself as a "political prisoner" of the Obama administration and is seeking to rehabilitate his image through an electoral run. Grimm claims that he was a victim with "the entire Obama Justice Department weaponized against me." And Arpaio called his conviction for refusing to follow a lawful court order a "political witch hunt by holdovers in the Obama justice department." At a rally in Phoenix before Trump issued his pardon, the president asked the pro-Arpaio crowd, "Was Sheriff Joe convicted for doing his job?"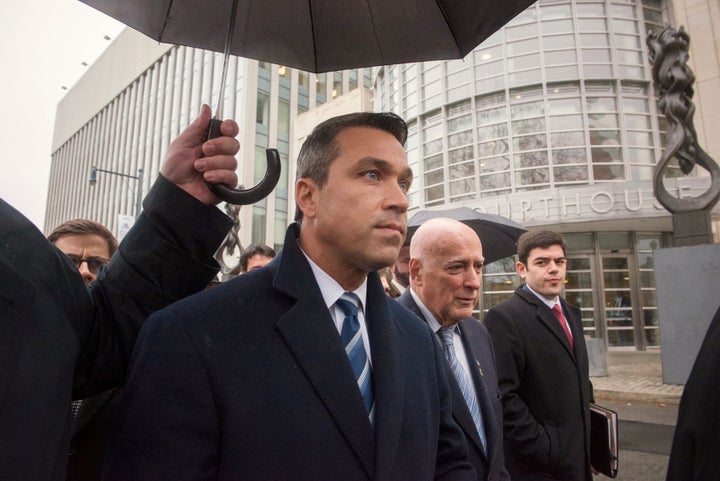 It's not uncommon to see politicians attempt to spin investigations or convictions as some kind of attack on their politics or identity. But there is a certain type of Republican political candidate whose campaign rationale is directly wrapped up in their criminal or rule-breaking identity. These candidates claim, whether in truth or not, that they have been personally persecuted by the liberal establishment for either trying to run a business or defending the American people.
The trailblazer for this type of candidacy was Oliver North, the National Security Council staffer under President Ronald Reagan who shot to conservative stardom after his defiant congressional testimony about how he helped illegally fund the right-wing Contras militias in Nicaragua by selling arms to Iran. North was convicted of three felonies for his part in the scandal, although the convictions would later be vacated after an appeals court found that his immunized congressional testimony had been improperly used in his criminal trial. He captured the Republican Party nomination for a Virginia Senate seat in 1994 off his Iran-Contra fame.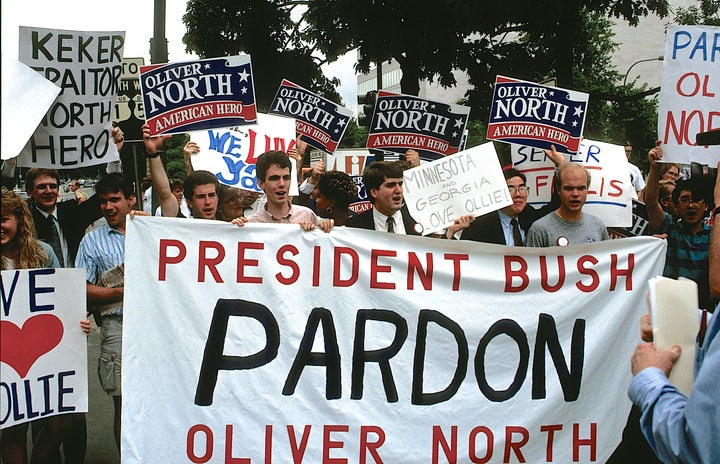 And although former Alabama Supreme Court chief justice Roy Moore was never convicted or charged with any crime, his political star rose after he was kicked out of his judicial seat twice. He was first removed from office in 2003 for refusing to comply with an order to remove a monument to the Ten Commandments from courthouse property. Then in 2016 he was kicked off the state court for refusing to acknowledge the Supreme Court's ruling legalizing same-sex marriage nationwide. These actions, which he and his supporters perceived as anti-Christian persecution, made him a star among a large enough group of conservatives in the state to win the Republican nomination for Senate in a 2017 special election.
Among the current crop of convicted criminal candidates claiming political persecution, Arpaio stands out as the one with the most convincing appeal to right-wing Republican voters. Many of these voters agree with Trump that Arpaio was convicted for just doing his job. While the Arpaio pardon has polled poorly overall, strong supporters of Trump back it. A national poll by YouGov found that 61 percent of strong Trump supporters approved of the Arpaio pardon. A poll of Arizona residents by OH Predictive Insights found 50 percent of respondents opposed to the pardon, but did not release data based on partisan affiliation or presidential approval. Republican politicians in Arizona including Gov. Doug Ducey and Rep. Andy Biggs praised Trump for pardoning Arpaio. But Sen. Jeff Flake (R-Ariz.), whom Arpaio is running to replace, said he wished Trump had not pardoned the ex-sheriff.
Like Ollie North, Arpaio was just trying to protect Americans, in the eyes of this block of voters. They support his lawless brand of law enforcement. Like Roy Moore, Arpaio's crime was being politically incorrect. (Moore may have committed other, real crimes, but his devotees didn't find out about those allegations of sexually assaulting teen girls until after he'd won the Republican nomination.) Arpaio's crime and the conviction fit his brand. A poll released Tuesday night found Arpaio jumping to a statistical tie for first place in the Republican primary.
However, Arpaio lost his 2016 re-election campaign in Maricopa County by 11 points even as Trump narrowly won the county in the presidential election. North and Moore also lost in their general election races. It appears general election voters don't tend to care much for the persecution narrative branding.
Before You Go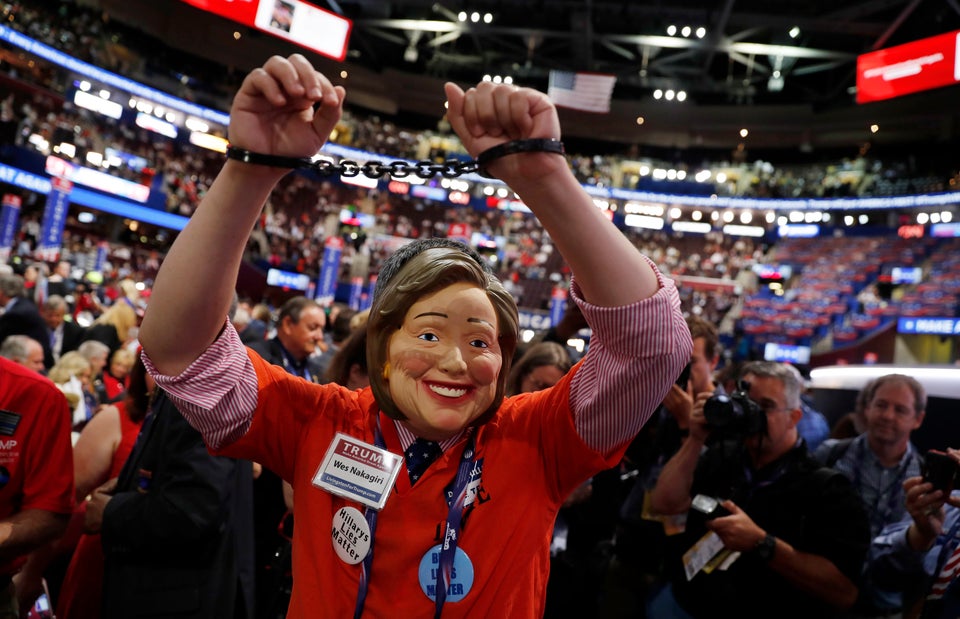 Republican National Convention Sideshow
Popular in the Community