WASHINGTON -- Maricopa County Sheriff Joe Arpaio said Monday night that the Supreme Court's decision to strike down most of Arizona's controversial immigration law won't have any real effect on the methods used by police officers to determine who may be an undocumented immigrant.
"Well, nothing changes," Arpaio said during an interview with Univision's Jorge Ramos. "We are well trained, we do that without racial profiling, regardless of what the critics and some politicians in the U.S. Justice Department accuse me of."
The Supreme Court struck down three portions of the state's law, SB 1070. The court ruled it unconstitutional to make it a state crime for an immigrant not to be carrying his or her immigration papers, to allow for arrests without a warrant in some situations, and to bar an undocumented immigrant from working in Arizona. But the high court upheld the most contentious piece of the law, which requires a police officer to check the immigration status of a person stopped, detained or arrested if there is reasonable suspicion that the person is in the country illegally.
Arpaio, a proponent of the law, SB 1070, pushed back on charges that he is racist and that the Supreme Court gave him legal protection to continue what some say is racial profiling.
"I don't think the Supreme Court decision had anything to do with racial profiling, and to answer your question for the millionth time, I am not a racist," he told Ramos. "I am going to leave it at that."
Arpaio said he will be watching to see how the Justice Department makes the case that Arizona's police are engaged in racial profiling under the law. The Supreme Court left the door open for more challenges to the portion of SB 1070 it left in place.
"When we go to court, they are going to have to come up with all the evidence where they are accusing me and my dedicated deputies of racial profiling," Arpaio said. "It's always easy to throw the race card in there and that's what they're doing in Washington today, that they're concerned about racial profiling."
He knocked the "arrogance" of the Justice Department for signaling it may now be selective about which undocumented immigrants it takes off the hands of state law enforcement, perhaps refusing to take minor violators into custody.
"That means, what do you do with the illegal alien? Dump them on the street? Probably, so that's a form of amnesty," Arpaio said. "As far as I'm concerned, it shows the arrogance of the Justice Department to now stop law enforcement from cooperating with ICE."
Ramos wrapped up the interview by thanking Arpaio for sharing his views, despite the fact that they don't see things eye to eye. At all.
"Thanks so much, even though we don't agree on anything," Ramos said.
Below, reactions to the Supreme Court's ruling on Arizona's immigration law from around the political world: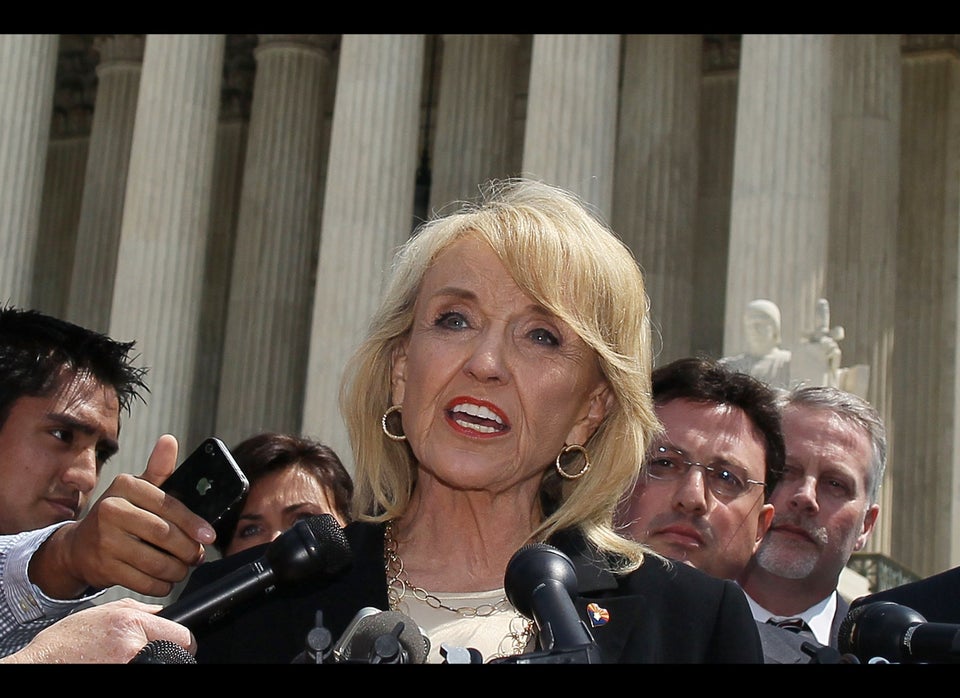 Political Reaction To SB 1070 Ruling
Support HuffPost
The Stakes Have Never Been Higher
Popular in the Community