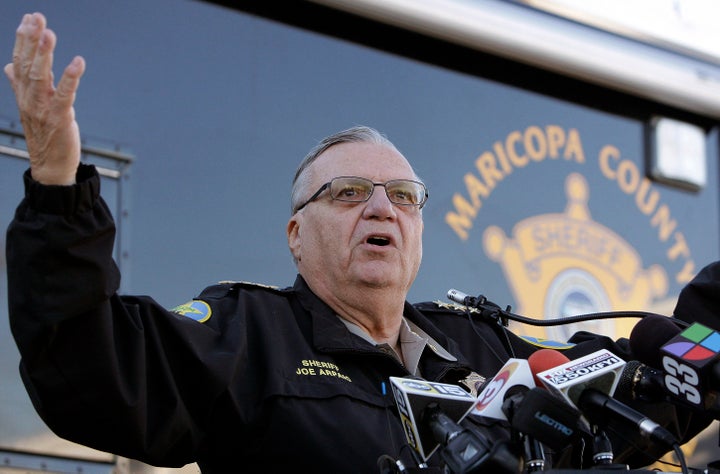 Joe Arpaio, the sheriff of Arizona's Maricopa County, calls himself "America's Toughest Sheriff." More likely, he is its most self-promotional. Arpaio has written two books about himself, appeared on reality TV and the "Colbert Report," and won crowds of detractors and admirers by both forcing inmates of his jails to eat spoiled food and wear pink underwear.
He's been particularly tough, or at least dramatic, when it comes to illegal immigration. Between 2007 and 2010, when Arizona's stringent law on immigration was enacted, his office deported or otherwise forced out of the country more than 26,000 illegal immigrants -- about a quarter of the national total deported in that same period.
Last July, as a courtroom hearing challenging that law got underway, he showed up to one of his trademark immigration sweeps in the Arizona desert with a belt-fed .50-caliber machine gun capable of killing someone from a mile away.
"I am trying to send a message to Mexico," he said.
Some wondered whether he wasn't more concerned with sending a message to the local press.
Now comes the news that some of Arpaio's own employees have been perpetuating the very scourge of illegal immigration he's made such a show of trying to stamp out. On Tuesday morning, following a nearly year-long investigation initiated by Arpaio's office, the sheriff announced that one of his deputies and two of his detention officers had been arrested on a number of charges, including drug trafficking and, yes, human smuggling.
When Arpaio's officers raided the home of Alfredo Navarette -- a deputy who'd been with Arpaio for more than a decade and had worked for his anti-human-smuggling task force -- they found two illegal immigrants hiding there, along with 10 pounds of heroin. They also arrested the detention officers Sylvia Najera and Marcella Hernandez, the latter eight months pregnant with the child of Lorenzo Arce-Torres, a lieutenant in Mexico's notorious Sinaloa cartel.
It seems that it's been a tough couple of months for Arpaio.
Last month, auditors found that his office took nearly $100 million that taxpayers set aside for funding jails, and used it instead for a more high-profile activity: rounding up suspected illegal immigrants. They'd also used the money to investigate Arpaio's political foes.
And on April 27th, Arpaio's right-hand man, Chief Deputy David Hendershott, stepped down after a six-month internal investigation that found that top aides to the sheriff had engaged in nepotism, intimidation, and abuse of power.
For critics, this was ample proof that Arpaio was either corrupt or incompetent.
The sheriff, who's running for reelection in 2012, saw things differently.
Now, with these latest charges against members of his own staff, critics from across the political spectrum are saying that Arpaio actually timed the arrests in order to deflect attention from all the other bad things that have happened under his watch.
"He wants to show that he's in control," said Danny Ortega, a Phoenix lawyer and prominent critic of Arpaio's immigration raids, "especially in light of the fact that everybody's saying, 'look, either you're incompetent or you have no control over management.'"
Dan Pochova, the legal director of the American Civil Liberties Union of Arizona, didn't go as far as to say that the arrests were a publicity stunt, but he argued that Arpaio is generally more concerned with PR than management. "He's obsessed with being able to put out press releases," Pochova said.
And when Arpaio needs material for a good press release, Pochova added, he's found it convenient to round up immigrants. "He's used a great amount of resources on that and took resources from other departments."
It isn't just bastions of liberalism like the ACLU that have taken shots at Arpaio. In a 2008 report, the Goldwater Institute, a conservative Phoenix-based think tank, blasted Arpaio for allowing violent crime to soar under his watch while redirecting resources from "basic law-enforcement functions to highly publicized immigration sweeps."
Bill Richardson, a retired Arizona cop who writes about law-enforcement for local papers and was one of several experts brought in by the Goldwater Institute to review its report, said Thursday that Arpaio's recent arrests are in keeping with those findings.
"He's very skillful at manipulating the media," Richardson said. "If he needs to make a press release, he'll send his deputies out to make an arrest."
"He had a raid that morning on a small dry cleaner's and arrested six women that worked in the Laundromat, and that took center stage," the retired cop said, referring to day the story about Arpaio's misappropriation of the $100 million in jail funds went public.
In an instance of Arpaio missing an opportunity to broadcast his message to the press, the sheriff's office did not respond to a request for comment.
Popular in the Community