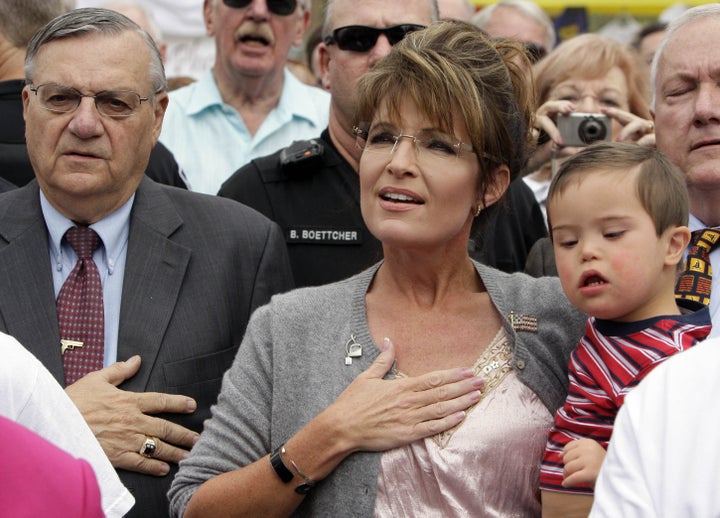 Maricopa County, Ariz. Sheriff Joe Arpaio weighed in Tuesday on the aftermath of Saturday's shootings in Tucson, saying that any blame assigned to Sarah Palin for the incident was misdirected and that Pima County Sheriff Clarence Dupnik had been too eager to turn the situation political.
"Why are they blaming her?" Arpaio asked of Palin, who has faced criticism for her use of a campaign image that featured crosshairs on a number of congressional districts. "They put me in [crosshairs]. They put me in KKK uniforms. They call me Hitler and everything else. They say I should be dead. They've got rewards out for me. So why isn't anybody talking about this sheriff? I'm talking about the Democrats. They're investigating me, the Justice Department, but why aren't they concerned about this sheriff?"
Arpaio also accused fellow Sheriff Clarence Dupnik of helping to fuel the politicization of the tragedy by blaming "vitriol" from commentators such as Rush Limbaugh for the attacks, a stance that has led to his rebuke by some Republican legislators.
"But I think this has gone into politics now. People are using this for their own political agenda. I don't think that's right," Arpaio said. "I think we should let the criminal justice system do its job and not have too much pretrial publicity to help this guy and give him a chance to defend himself, and probably utilize statements that have been made to his benefit to try to get out of this."
Arpaio said, however, that the final decision rests with Dupnik.
"Sheriffs are elected, like I am, thank god. I'm sure if he was a police chief he'd probably be fired tomorrow," he said. "I'm not trying to defend him, but he's the one that runs that sheriff's office. I do not."
While Arpaio took the stance that lawmakers shouldn't react with new legislation concerning First or Second Amendment rights, the controversial sheriff appeared to urge caution in the words that public figureheads chose to use going forward.
"I think we have to very careful about what we say, especially law-enforcement officials or government officials," Arpaio said. "I think right now I think we ought to shut our mouth and let the justice system take its course."
Calling all HuffPost superfans!
Sign up for membership to become a founding member and help shape HuffPost's next chapter