PHOENIX (Reuters) - U.S. prosecutors said on Tuesday they will seek a criminal contempt charge against Maricopa County, Arizona Sheriff Joe Arpaio, known for his tough stance on illegal immigration, for violating a court order in a 2007 racial profiling case.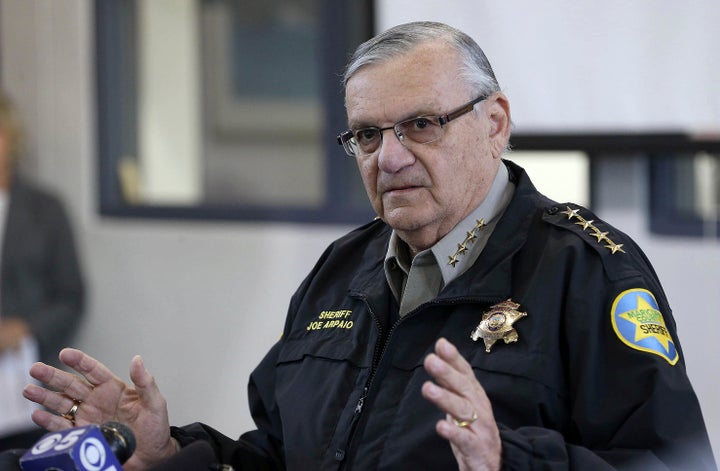 John Keller, a trial attorney with the Public Integrity section of the U.S. Department of Justice, told Judge Susan Bolton in U.S. District Court in Phoenix that Arpaio, who did not attend the hearing, should be criminally charged.
Keller said they are seeking no more than six months incarceration for 84-year-old Republican Arizona lawman, citing his age and other factors. Bolton directed Keller to file a formal complaint against Arpaio by Wednesday.
The case centers on U.S. District Judge Murray Snow's ruling that Arpaio intentionally violated a 2011 court order barring the sheriff's office from stopping and detaining drivers solely based on the suspicion that they were in the country illegally. The stops continued for another 18 months.
In August, Snow recommended Arpaio face criminal charges for ignoring court orders arising out of the judge's ruling that the sheriff and his deputies were guilty of racial profiling of Latino motorists. The case was assigned to a different judge after the recommendation.
Arpaio's criminal defense attorney, Mel McDonald, said outside the courthouse that he was not surprised by the prosecutor's intentions.
"I expected the government would want to proceed so we will be ready and proceed and defend the sheriff," he told Reuters.
Keller said prosecutors will seek a bench trial rather than a jury trial. He declined to comment further after the hearing. Bolton set a trial date of Dec. 6.
Prosecutors said it was not appropriate to pursue contempt charges against three people who worked with Arpaio, cited in Snow's criminal contempt recommendation.
However, prosecutors left open the possibility of other charges being filed against Arpaio, as well as his second-in-command Gerard Sheridan, Maricopa County Sheriff's Captain Steve Bailey and an Arpaio attorney, Michele Iafrate.
Arpaio, famous for keeping jail inmates in tents, is seeking election to a seventh term as the top lawman for the area around Phoenix, the most populous county in the state.
Arpaio, who styles himself as America's toughest sheriff, previously said his legal battles had no effect on his reelection chances. He has admitted to civil contempt in the case, but maintains his conduct was not willful or intentional, key standards for criminal prosecution.
(Reporting by David Schwartz; Editing by Chris Reese, Jeffrey Benkoe and Bill Rigby)
REAL LIFE. REAL NEWS. REAL VOICES.
Help us tell more of the stories that matter from voices that too often remain unheard.