 By NICHOLAS RICCARDI, THE ASSOCIATED PRESS
PHOENIX -- Arizona lawman Joe Arpaio is gearing up for what he expects will be the toughest of his five re-election campaigns.
He is facing a determined effort from immigration rights activists to push him out. A ruling may come any day in a lawsuit that alleges his department violated the civil rights of Hispanics. A second lawsuit filed by the Justice Department is making its way through the courts.
And in TV ads, he doesn't mention the signature issue that helped bring him to national prominence – a sign, people in both parties say, that illegal immigration is losing its potency.
"Issues in campaigns are like flowers: They bloom, go away and then they bloom again," GOP lobbyist Stan Barnes said. "The bloom is off illegal immigration."
Arpaio, who retains a massive $4.2 million campaign treasury, remains the favorite in the November election. In an interview, he was defiant and confident as always, and disagreed that illegal immigration has lost its political punch.
"I get hundreds of people coming up to me and thanking me," said Arpaio, the sheriff in Maricopa County, the state's largest, which includes much of the Phoenix metropolitan area.
Whatever the relevancy of the issue at a time when the number of undocumented immigrants has declined, the last several tumultuous years has trimmed the cadre of anti-illegal immigration crusaders here.
Two allies – tough-talking former lawman Russell Pearce, who authored many of the state's strict immigration laws, and Andrew Thomas, a telegenic Harvard law graduate and once the county's top prosecutor – are out.
Thomas was stripped of his law license by a state court panel. Pearce was recalled, then lost a bid to return to the statehouse last month. "There were three prime movers behind the immigration crackdown" in Arizona, Thomas said. "Two of them have been sidelined, and they're gunning for the third."
Arpaio, who usually wins re-election by double-digit margins, allowed he may have a tighter race ahead of him. "It might be a little bigger challenge because I have people coming after me – the Justice Department," he said, adding that he believed the federal probes were politically motivated.
Both began during the Bush administration. One was closed on Aug. 31, with prosecutors announcing they would not file criminal charges over allegations that the sheriff and Thomas abused their offices' power.
Barnes noted that Arpaio, 80, was already famous for forcing jail inmates to sleep in tents and wear pink underwear before he signed up in the fight against illegal immigration. "He's got so many goodwill chips in the bank with voters he can afford to make a few mistakes," Barnes said. "His brand is solid, not just because of illegal immigration."
Arpaio's new national role has been cemented, however, by his stance on illegal immigration. His tactics have been emulated by some law enforcement agencies and shunned by many others. His endorsement is much sought after in Republican primaries -- Arpaio backed Mitt Romney in the GOP presidential one -- and the sheriff often campaigns for other immigration hardliners. He and his state have become a symbol to both sides in the acrimonious debate.
Arizona remains the most popular route for undocumented immigrants from Mexico, but the number has steadily dropped as the economy bottomed out and drug violence and more Border Patrol agents have made it tougher to cross.
"There aren't as many of them coming," said Republican State Rep. John Kavanagh, a legislative ally of Pearce and advocate of tougher immigration laws. Still, Kavanagh noted that many politicians – including Gov. Jan Brewer, a hero to illegal immigration foes after she signed Pearce's anti-illegal immigration bill in 2010 – continue raising the issue.
"It's alive and well," he said, adding: "Now it has competition from the economy."
Eight years ago, there was no competition. Phoenix became a hub for human traffickers. And amid reports of a rise in car thefts and kidnappings, voters picked Thomas to be the county's top prosecutor.
As he vowed an illegal immigration crackdown, a Pearce-backed ballot measure was passed to deny undocumented immigrants benefits and ensure they did not register to vote.
In April 2005, Arpaio's deputies arrested an Army reservist who held at gunpoint a group of Hispanics whom he believed were undocumented immigrants. The sheriff said the reservist had no right to take that step.
"Being illegal is not a serious crime," Arpaio said at the time.
Thomas declined to prosecute the reservist. Over the ensuing few months, Arpaio moved to Thomas' view.
They teamed up to use a law against human smugglers to arrest immigrants being smuggled. The sheriff launched "sweeps" that sent deputies into neighborhoods – often heavily-Hispanic ones – to detain people on sometimes minor violations and check their citizenship.
Arpaio said the change came about because of the avalanche of new measures from the statehouse.
"I used to be their hero when I locked up that reservist," Arpaio said of Hispanic activists. "I didn't switch. The laws were passed."
Paul Penzone, a former Phoenix police sergeant and Democrat challenging Arpaio in November, said it was well known that if Pearce would get a law passed, Arpaio would use it to arrest as many undocumented immigrants as possible and Thomas would prosecute them.
"That's a very powerful and dangerous pact," Penzone said. "It has all been taken apart except for the sheriff, who's the last man standing."
The trio's fortunes began to sour as Arpaio and Thomas got into a tangled battle with the largely-Republican Maricopa County Board of Supervisors.
Arpaio arrested one GOP supervisor twice, even though a judge quickly dismissed the charges Thomas filed. Both men publicly accused a second supervisor of corruption and filed criminal charges against a judge who ruled against them.
Those charges were quickly dismissed as groundless, and the county is expected to pay millions of dollars to settle lawsuits filed by the exonerated public officials.
Many expect Arpaio to win in November, despite his other attention-getting actions, which include a probe into whether President Barack Obama was born in the U.S. and his agency's failure to investigate a series of sex crimes.
Randy Parraz, the activist who masterminded Pearce's recall, scoffed at the expectation that Arpaio will survive. "He's had too much unchecked power for too long," Parraz said.
Before You Go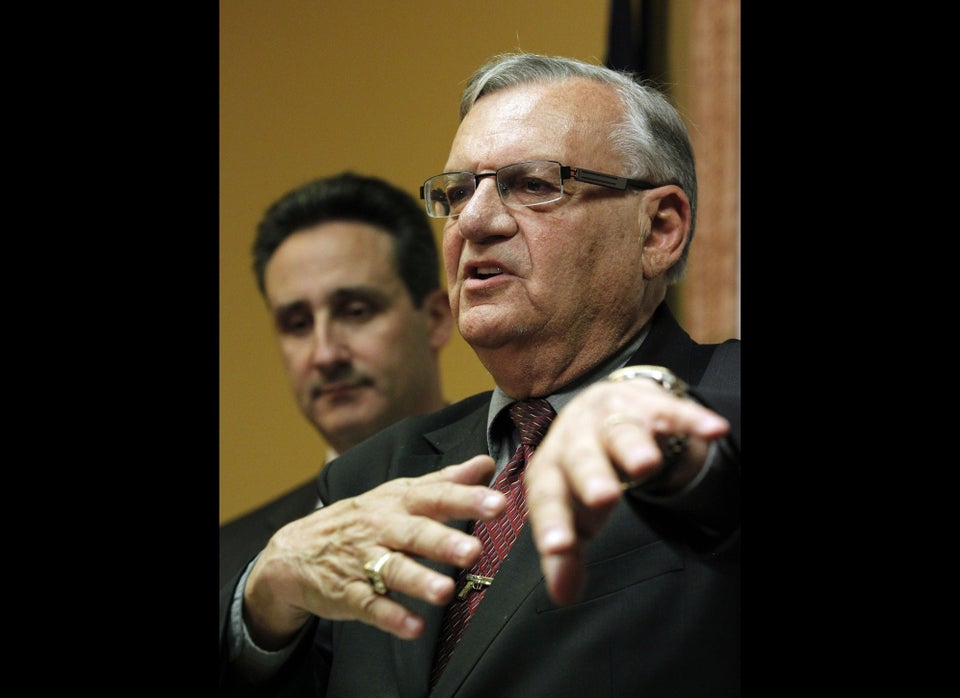 DOJ Lawsuit Allegations Against Arpaio
Popular in the Community