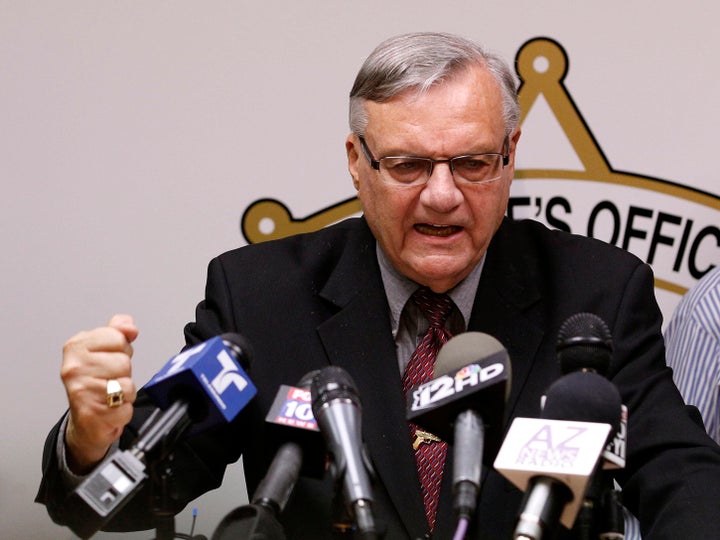 WASHINGTON -- Joe Arpaio won a sixth term on Tuesday as sheriff of Maricopa County, Ariz., after a long and controversial run that has included birther investigations, immigration raids, uninvestigated sex crimes, and accusations of racial profiling.
His Democratic opponent, Paul Penzone, conceded at around 10 p.m., the Arizona Republic reported. But Arpaio's critics aren't dropping the matter and are concerned that many ballots -- possibly hundreds of thousands -- were not counted.
Randy Parraz, who heads Citizens for a Better Arizona, said his group will meet outside the county election board office on Wednesday morning to insist that all provisional ballots be quickly reviewed.
"We're not conceding anything until every vote is counted," he said. "They're just going to act like, 'Oh, the election's over, Arpaio wins.' Hell no."
The county has given its residents some reason to be distrustful. The election office put out multiple documents that listed the wrong election date in a Spanish-language version and correct one on an English-language one, an error they said was unintentional. They launched a campaign to ensure Spanish-speaking voters knew the correct day, and Latino voter outreach groups even said it may have increased turnout. Now, though, they think many Latinos were made to vote with provisional ballots, meaning their votes not yet have been counted.
Still, it's likely Arpaio won. He led Penzone in the polls, although the sides differed as to how large of a lead it was. (There isn't much independent polling for the sheriff's race.) Arpaio raised $8.5 million to Penzone's $530,000, much of it from donors outside the state.
Arpaio is 80 years old and is relatively popular in his county and well-known around the country for his conservative stunts. Arpaio campaign manager Chad Willems said in October that voters there like him for the things that cause less national attention, such as his efforts to stop animal abuse.
Penzone, a former police officer, was considered Arpaio's best opponent to date, but in the end was forced to concede.
"Our sheriff needs to be transparent, he needs to treat everyone with dignity and respect," Penzone said in his concession speech, according to the Republic. "People in this community are going to be watching. They're going to be holding him accountable."
Arizona voters overall slanted Republican, with GOP presidential nominee Mitt Romney and senate candidate Jeff Flake winning in the state. That was despite major opposition from Latinos, who supported President Barack Obama and Democratic senate candidate Richard Carmona by nearly 60-point margins.
Before You Go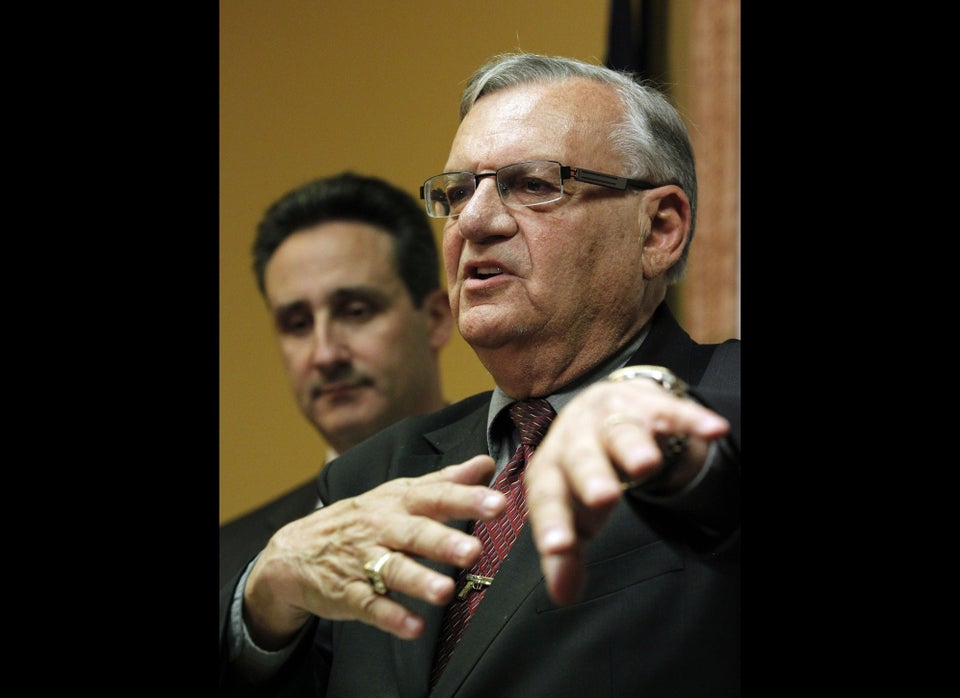 DOJ Lawsuit Allegations Against Arpaio
Popular in the Community