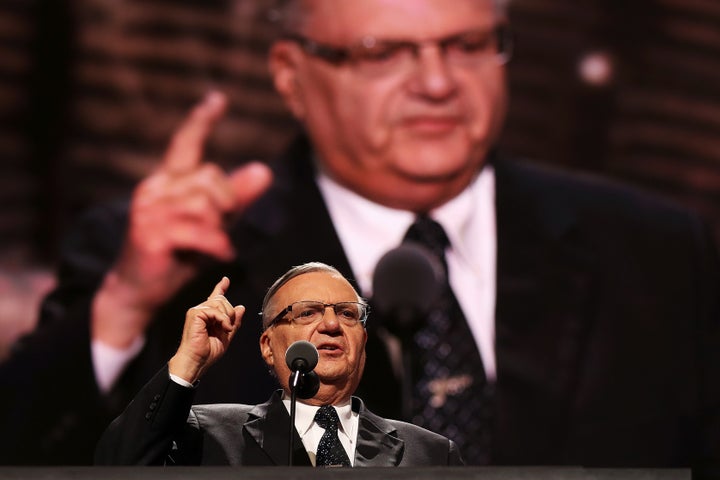 Two weeks after he announced his candidacy for a U.S. Senate seat in Arizona, former sheriff Joe Arpaio gave an interview to a far-right publication that has pushed wildly anti-Semitic claims that the Holocaust was a hoax and that the Sept. 11, 2001 terror attacks were the result of a Jewish plot.
Arpaio talked to the American Free Press on Jan. 21, arguing for his viability as a Senate candidate and defending President Donald Trump's agenda, according to a report from the liberal media watchdog group Media Matters. It's at least the fifth time Arpaio has talked to the newspaper, which the Anti-Defamation League describes as "an anti-Semitic conspiracy-oriented publication."
In an interview with HuffPost, Arpaio wouldn't condemn American Free Press for saying that the murder of 6 million Jews and millions of other people never happened. And although he appeared to acknowledge that the Holocaust was a historical event, he said he wouldn't comment on American Free Press or its articles claiming the Holocaust was a hoax.
"I talk to anybody," he said. "I have an open-door policy. I don't research every company that talks to me."
HuffPost emphasized to Arpaio that American Free Press is an extremist and anti-Semitic publication.
"Alex Jones," Arpaio replied, referring to the infamous InfoWars conspiracy theorist who has claimed the massacre of children at Sandy Hook Elementary School was a hoax, that 9/11 was orchestrated by the U.S. government, and that juice boxes make kids gay. "Is he extreme?"
HuffPost replied that yes, Jones is pretty extreme.
"Well I go on his show," Arpaio said. HuffPost, he added, is a "very controversial" paper too, that "isn't nice" to him.
American Free Press has served as a platform for Holocaust denial, a prominent anti-Semitic movement often promoted by neo-Nazis that either denies or downplays the well-documented genocide of Jewish people during World War II.
American Free Press published an article with the headline "Meet The Man Who Invented The Holocaust" in 2015, referring to Nobel Peace Prize winner and Holocaust survivor Elie Wiesel. That same year, it published an article with the headline "Why Can We Question Anything But The 'Holocaust?'" In 2012, the paper published an audio interview titled "Holocaust Hoax Exposed." In 2011, it published one titled "Jewish Fingerprints All Over 9/11," about a supposed Jewish "plot" to attack America.
And the publication's bookstore once sold a book titled The Holocaust Never Happened & The CIA Killed JFK, which claims to "destroy the hoax of the 6 million Jewish victims of Nazi Germany."
What happened in World War II, Arpaio told HuffPost, was a "sad" part of history.
"I'm not contesting that," he said, adding that he has a "deep respect for the Jewish people."
HuffPost listed the American Free Press' Holocaust-denying headlines, and asked whether he would condemn the publication.
"I'm not even commenting on that," he said. "I don't know what [those articles] said."
Arpaio and his office gained national notoriety during his 24-year tenure as sheriff in Maricopa County, Arizona, for terrorizing the area's Latino population, unlawfully rounding up and detaining people he accused of being in the U.S. illegally. In a jail he called a "concentration camp," Arpaio often marched Latino inmates into a segregated tent city surrounded by an electric fence. An estimated 160 people died in Arpiao's jails, many by suicide.
Despite his claims of having an "open-door" policy with the media, The Phoenix New Times — which has diligently covered Arpaio for years — claims Arpaio banned its reporters from press conferences, ignored requests for county records, and threatened to arrest reporters. In 2007, Arpaio orchestrated the arrest of the paper's co-founders on misdemeanor charges, but prosecutors declined to prosecute. The co-founders sued over the arrest and won a $3.75 million settlement.
Last year, Arpaio was convicted of criminal contempt for violating a court order mandating his department stop unlawfully detaining individuals based on suspicions of their legal status. Trump pardoned Arpaio in July 2017, sparing him jail time. This month, he announced his bid for U.S. Senate.
Ryan Lenz, a senior investigative writer for the Southern Poverty Law Center, which tracks extremism in the U.S., called American Free Press one of "the most prominent and insidious far-right publications out there."
By granting American Free Press interviews, Lenz said, Arpaio assigns an "imprimatur of legitimacy to conspiracy theories and racist and extremist thought."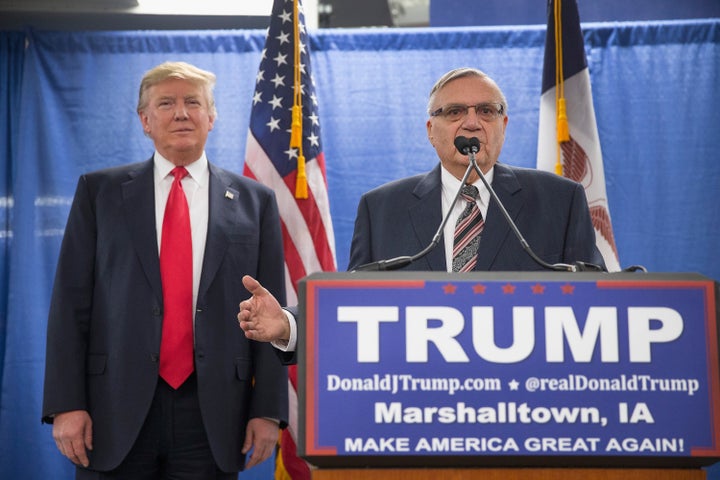 Arpaio is a hero to many in the far right, and when thousands of his supporters across the country see he talked to American Free Press, the publication's ideas can appear "legitimate" in their eyes, Lenz said.
"The interview serves as a vehicle for these ideas to travel from the margins into the mainstream."
Arpaio is not the only public official to have granted American Free Press an interview in recent years. Last week, CNN's KFile uncovered an interview Rep. Lou Barletta (R-Pa.) did with the publication in 2006. Like Arpaio, Barletta is now running for Senate.
And Jon Feere, now a senior adviser at Immigration and Customs Enforcement, gave an interview to American Free Press in 2012, when he still worked at the Center for Immigration Studies, an anti-immigrant think tank.
Arpaio has spoken to American Free Press on at least four other occasions, including in 2014, when he granted an interview to writer Victor Thorn, author of books The Holocaust Hoax Exposed: Debunking the 20th Century's Greatest Fabrication and Made in Israel: 9-11 and the Jewish Plot Against America.
America does not do a good job of tracking incidents of hate and bias. We need your help to create a database of such incidents across the country, so we all know what's going on. Tell us your story.
CORRECTION: A previous version of this story misstated the date of the Jon Feere interview referenced. It took place in 2012, not 2006.