(Adds comment from Arpaio and plaintiffs attorneys, details and background)
PHOENIX, Oct 2 (Reuters) - A U.S. federal judge on Wednesday ordered a monitor be appointed to oversee the work of hard-line Arizona sheriff Joe Arpaio to ensure that his officers no longer use racial profiling, especially of Latinos, when cracking down on illegal immigration.
U.S. District Judge Murray Snow had in May ordered the Maricopa County sheriff to stop using race as a factor in law enforcement decisions, in response to a lawsuit brought by Hispanic drivers that tested whether police could target illegal immigrants without profiling U.S. citizens and legal residents of Hispanic origin.
On Wednesday, the same judge ordered parties in the case to agree on the selection of a monitor within 60 days to oversee the work of the 81-year-old lawman, who styles himself as "America's toughest sheriff."
Arpaio, who was elected to a sixth term as sheriff last year, has helped make Arizona a touchstone in a bitter national debate over illegal immigration. The sheriff, who is facing a lawsuit and investigation from the U.S. Justice Department accusing him of civil rights abuses, vehemently denies that he or his officers profile Latinos.
Under a portion of a controversial Arizona immigration law that was upheld by the U.S. Supreme Court, police in the state may ask people they stop about their immigration status.
The monitor's duties are to include reviewing the sheriff office's policies and procedures, as well as making sure that its operations are carried out in a "race-neutral fashion," the ruling said.
The judge also ordered audio and video recording of all traffic stops, increased training of sheriff's office employees and the implementation of comprehensive record keeping.
The ruling requires the Maricopa County Sheriff's Office, or MCSO, to create a community advisory border to bolster its public outreach efforts, and mandates that deputies must tell dispatchers the reason for any traffic stops before approaching a vehicle.
"In conducting its activities, MCSO shall ensure that members of the public receive equal protection of the law, without discriminating based on actual or perceived race or ethnicity, and in a manner that promotes public confidence," Snow wrote in his ruling.
Arpaio has been a lightning rod for controversy with his get-tough stance on illegal immigration in Arizona, which borders Mexico, and an investigation into the validity of President Barack Obama's U.S. birth certificate.
In a statement, Arpaio said he was discussing the court order with his attorneys, who had identified "areas that are ripe for appeal."
"To be clear, the appointed monitor will have no veto authority over my duties or operations. As the constitutionally elected sheriff of Maricopa County, I serve the people and I will continue to perform my duties and enforce all laws."

'IMPORTANT VICTORY' FOR LATINOS
Cecillia Wang, director of the American Civil Liberties Union Immigrants' Rights Project and the plaintiffs' counsel, called the order "an important victory" for Latinos.
"It means the sheriff's office needs to stop balking and start complying with the Constitution," Wang said.
Nancy Ramirez, counsel for the Mexican American Legal and Educational Defense Fund (MALDEF), said the ruling would bring "accountability" to the sheriff's office.
"The Latino community has waited a long time for the court-mandated reforms that will provide accountability and transparency .... and prevent the abuse of authority that has been so prevalent," Ramirez said in a statement.
MALDEF said rights groups would continue the legal fight if Arpaio appeals, and would closely monitor the office's activities as the judge's order goes into effect.
Arizona has long been a cauldron of controversy over immigration issues. Republican Governor Jan Brewer signed a 2010 crackdown on illegal immigration that was subsequently challenged by the federal government and partly struck down by the U.S. Supreme Court.
A landmark immigration overhaul passed by the Democratic-led U.S. Senate in June seeks to tighten security on the U.S border and a path to citizenship for millions of unauthorized immigrants living in the shadows, although it faces scant chance of passage in its current form in the Republican-controlled House of Representatives. (Reporting by David Schwartz; Writing by Tim Gaynor; Editing by Cynthia Johnston and Diane Craft)

Before You Go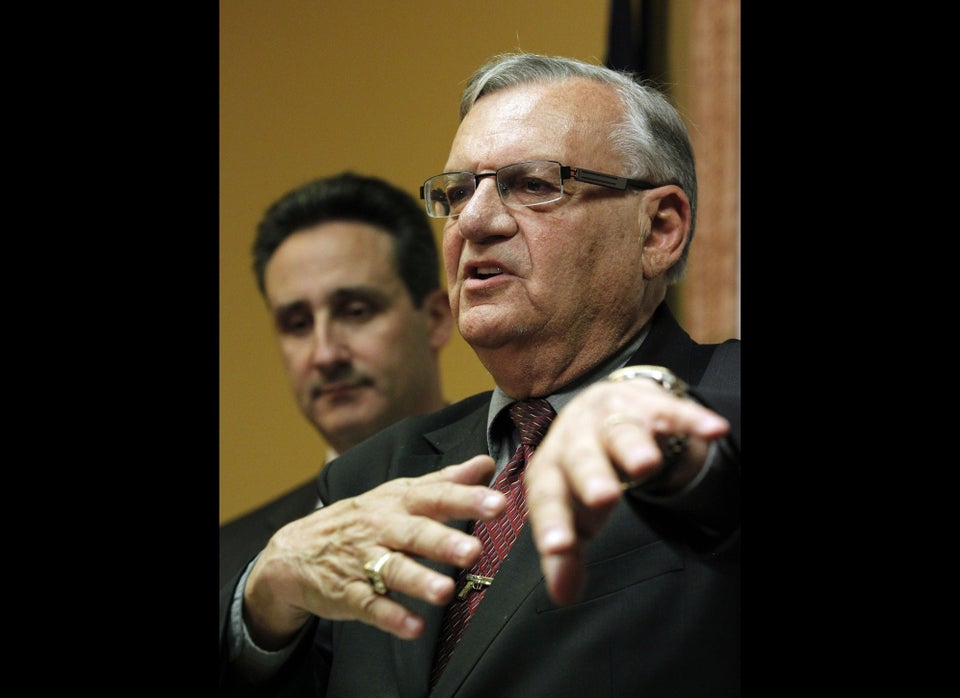 DOJ Lawsuit Allegations Against Arpaio
Popular in the Community