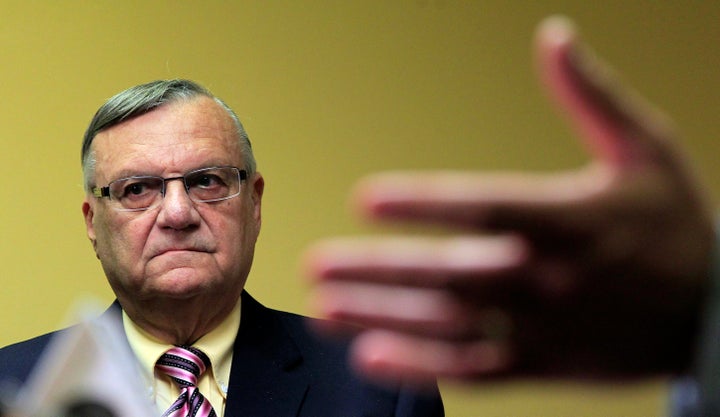 Maricopa County Sheriff Joe Arpaio has made a name for himself as a birther and an immigration hardliner. A new ad from his Democratic opponent, Paul Penzone, goes at him for something else: his office's mishandling of 400 sex crimes.
In the ad, which was posted to YouTube on Tuesday, features a child's voice talking about being sexually abused by her uncle, which the ad says is based on a real story.
"Mommy told me there were a lot of kids like me that Sheriff Joe didn't help," the voiceover says. "He says he's tough on crime, but I don't believe him. My uncle could come back."
Arpaio minimally investigated or ignored more than 400 sex crimes, including dozens of reports of child molestations, in the three years leading up to 2007, the Associated Press reported in December. East Valley Tribune won a Pulitzer for a 2008 investigation of the sheriff's office's handling of criminal investigations, also finding that many sexual assault cases were ignored.
"Children are our most precious assets," says Penzone, a longtime law enforcement officer. "This will never be tolerated under my watch."
Penzone spoke to The Huffington Post earlier this year, emphasizing his concern that the sheriff is spending his time on the wrong things -- illegal immigration, for example -- instead of keeping his focus on dangerous criminals. Although Arpaio has been popular, he said the tide may be turning on the sheriff. A poll released last week by progressive group Citizens for a Better Arizona found that Arpaio's approval rating fell to 53 percent, and 65 percent of those polled disapprove of his investigation of President Barack Obama's birth certificate.
"People are more aware of what's occurring behind the scenes as opposed to what's occurring on TV," Penzone said then. "Over time, much like a bad relationship, you realize it's unhealthy."
Calling all HuffPost superfans!
Sign up for membership to become a founding member and help shape HuffPost's next chapter
BEFORE YOU GO
PHOTO GALLERY
DOJ Lawsuit Allegations Against Arpaio