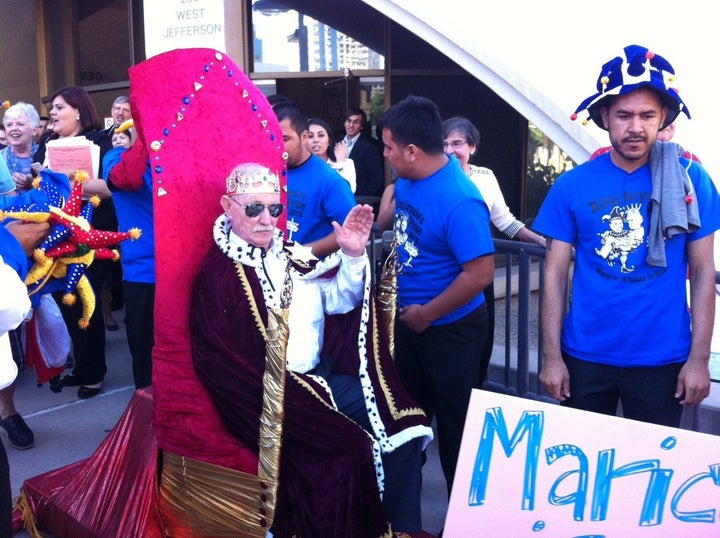 PHOENIX -- The nation's self-professed "Toughest Sheriff" Joe Arpaio is pretty good at getting attention, be it through birther investigations or keeping undocumented immigrants in a tent city and forcing them to wear pink underwear.
Some of his constituents in Maricopa County, Ariz., are sick of it. And on Wednesday, they proved they're capable of creating a spectacle, too.
Anti-Arpaio protesters carried a man posing as "King Arpaio" into a Maricopa County board of supervisors meeting Wednesday morning to protest the board's failure to condemn the sheriff. The "king," a grey-haired and balding man wearing a gold crown, aviator sunglasses and a red velvet cape, was carried by a "royal posse" wearing jester's hats. He yelled that he would win four more years -- Arpaio has been in office for two decades and is 80 years old -- and that he has plenty more pink underwear to distribute.
One hundred or so other protesters, organized by progressive group Citizens for a Better Arizona and led by the group's president, Randy Parraz, yelled back that Arpaio will be ousted soon. They followed the "king" in disrupting the meeting with prayers, chanting and singing until the frustrated chairman, Republican Max Wilson, finally adjourned it and said he would meet with Parraz and a small group of others.
The group wasn't having it. They wanted the chairman and others on the board to speak publicly, and the whole group, carrying "King Arpaio" on his throne, walked the block to administrative office. They huddled in the hallway outside Wilson's office, and demanded that their meeting be public and include everyone -- an effort that was ultimately unsuccessful, but they vowed to keep trying.
The protesters had several complaints. One was Arpaio's office's failure to adequately investigate -- or investigate at all -- 400 sexual assault allegations between 2004 and 2007. They wanted the sheriff to refund the county for money used on investigating President Barack Obama's birth certificate, and criticized the time he spends trying to find undocumented immigrants rather than investigating other crime. They also demanded more justice for a woman, Deborah Braillard, who died in 2005 after the sheriff's office denied her diabetes medication for three days.
At the meeting, the board was set to approve giving Braillard's family a settlement of $3.2 million. In protesting the fact that it took so long to settle with the family, the group ended up delaying the vote and making the family wait even longer, if only by a matter of hours or days. Parraz and protesters took issue with that assessment when asked about it by reporters, saying the board could have continued the meeting and held the vote.
The protesters expected arrests at some point during the action, but it didn't happen, even though Maricopa County Sheriff's Office deputies were in the room at the board of supervisors meeting and were seemingly ready to act.
Three of Arpaio's critics stood up during the meeting to voice their dissent. Wilson listened calmly, but didn't say much, other than asking them to wrap it up when the large red countdown clock showed their two minutes had passed. When Parraz stood up, he asked Wilson how he is able to sit there "silently" when pressed about the crimes that went uninvestigated.
"It ain't your agenda, it's our agenda," Parraz said to Wilson, demanding that the board add their concerns to its plans for an upcoming meeting. "It ain't your county, it's our county."
The group stood and prayed for Arpaio to stop and for the board of supervisors to hear them. They sang, "Arpaio, it's time for you to go," and "Glory, glory Hallelujah." Wilson called a recess, but they didn't stop, and he didn't leave, although he started toward the door. Finally, looking somewhat exasperated, the chairman returned to his seat and listened as the protesters prayed and chanted for a few more minutes.
They finally stopped when the supervisor from District 5, Democrat Mary Rose Wilcox, told them they could have a meeting with Wilson and said she recognizes their concerns. Although they did not end up meeting with Wilson or hearing from him publicly, the group had one other victory: Wilcox promised the board would investigate how much the lawsuit with Braillard's family cost the county -- in addition to the $3.2 million settlement -- and release the figures.
"They adjourned the meeting because they don't want to do business," Parraz told the protesters before they finally disbanded outside the board offices.
The group has held several other actions against Arpaio in recent weeks, including delivering chickens to his office to demand he debate. He has said debates are not necessary because voters already know him from his long tenure in office.
Arpaio's campaign didn't seem impressed by the group's showing on Wednesday.
"Disrupting a public meeting, being rude to the people attending, and making fools of themselves will no doubt win over the hearts and minds of undecided voters," Arpaio campaign manager Chad Willems said in an email. "We wish all the protesters well."
Read Citizens for a Better Arizona's requests to the board of supervisors:
A ban on all gifts and private donations to fund political and criminal investigations by Sheriff Arpaio and MCSO;

Reimbursement from Sheriff Arpaio's campaign contributions or MCSO general fund of some $30,000 that has already been spent on Arpaio's investigation of President Obama's birth certificate;

Reimbursement from Sheriff Arpaio's campaign contributions or MCSO general fund of the $600,000 that the Board of Supervisors allocated in 2007 for Special Victim Unit Detectives. MCSO administrators still cannot account for that money.

A public apology from the Board of Supervisors to all the victims of these sex crimes and to the tax payers for not placing the issue of uninvestigated sex crimes on the agenda in 2008 when pressured by Maricopa Citizens for Safety and Accountability.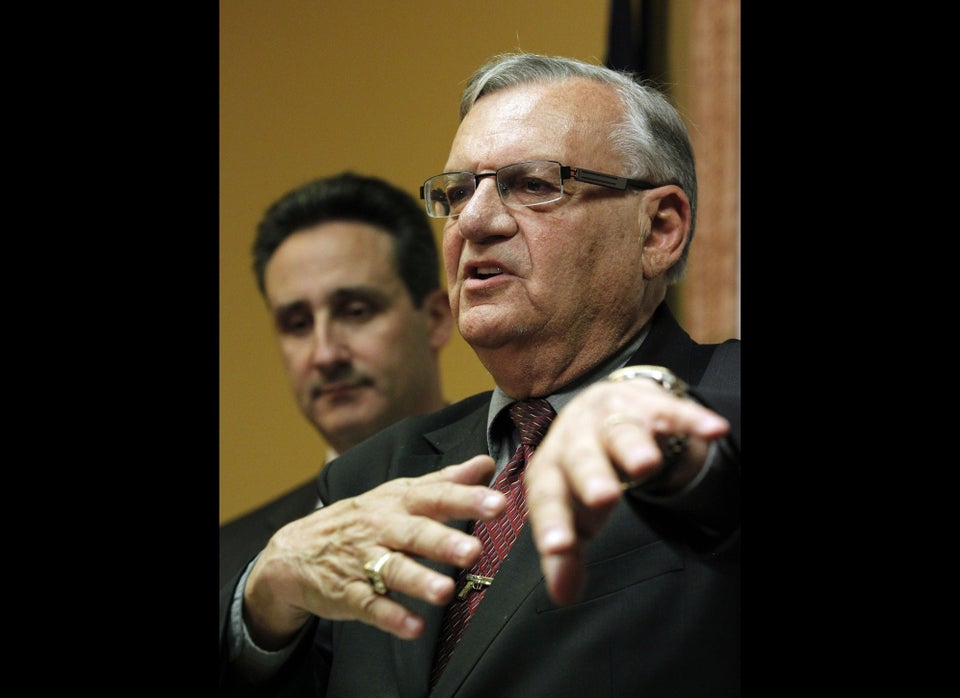 DOJ Lawsuit Allegations Against Arpaio