 By Griselda Nevarez, VOXXI
Among the governors, the members of Congress, the local politicians and other party leaders speaking at the Republican National Convention this year will be one of the nation's most sought-after Republican speakers: The self-proclaimed America's toughest sheriff.
Maricopa County Sheriff Joe Arpaio is scheduled to address a large audience of Republican National Convention delegates from western states at a special reception on August 30th. The event is invitation-only.
Tom Morrissey, chairman of the Arizona Republican Party, said in a statement Monday that Arpaio — who is awaiting judgement on accusations that his sweeps policies lead to widespread racial profiling — is a former member of the Electoral College representing Arizona. He described the Sheriff as "a good friend and a great Republican" who is "wildly popular not just in Maricopa County but throughout the state and the country."
"He's done a lot for the Republican Party already and we're overjoyed that as always he is willing to join us as we visit some of our 'fellow elephants' while in Tampa," Morrissey added.
The Republican National Convention will run from Aug. 27-30 in Tampa, Florida.
Arpaio was recently in trial defending his office against allegations of racial profiling and discrimination of Latinos.
During the seven-day trial that ended earlier this month, four of the five Latino residents from Arizona who filed the class action lawsuit told U.S. District Judge Murray Snow that they were racially profiled by Arpaio's deputies during traffic stops. Some also claimed they were subjected to unlawful search and seizures.
But attorneys representing Arpaio and his office said in their closing arguments that the plaintiffs "have not proven that the defendants had, or have, a policy, pattern, or practice that was motivated by an intentionally discriminatory purpose."
The judge has yet to rule. The trial is seen as a preview of the U.S. Department of Justice lawsuit against the Sheriff's office. Though both lawsuits overlap, the DOJ case is broader in scope because it includes other claims, such as discrimination against Latinos in the jail system.
Before You Go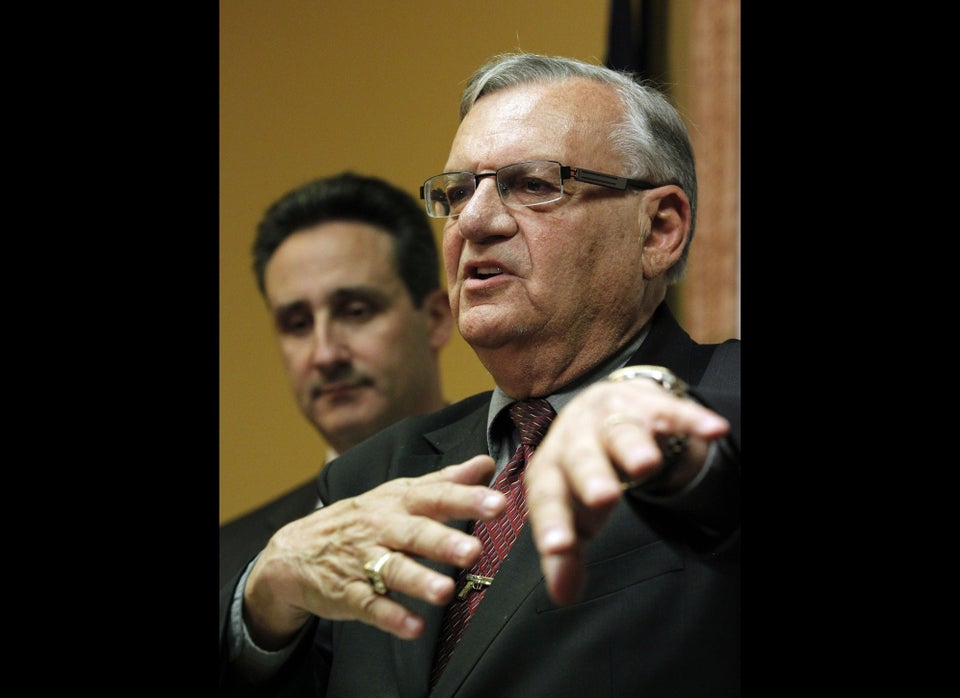 DOJ Lawsuit Allegations Against Arpaio
Popular in the Community