 Opponents of controversial Maricopa County, Ariz. Sheriff Joe Arpaio (R) are hoping that a new super PAC launched last week and backlash from Arpaio's embrace of the birther movement will unseat the longtime lawman.
A bipartisan coalition of Phoenix-area politicos led by state Rep. Ruben Gallego (D-Phoenix) said that the new group, called Citizens for Professional Law Enforcement, will be a grassroots-based organization looking to raise funds and educate county voters about Arpaio's record, outside of immigration and jail issues. Gallego said he believes that while Arpaio is known for his immigration policies -- and support for the state's controversial immigration law, SB 1070 -- it will be Arpaio's decision to investigate President Barack Obama's citizenship that will be his downfall.
"I think the birther issue will have the most impact," Gallego told The Huffington Post. "SB 1070 has been an issue for years. The birther issue is something that is bipartisan in Arizona, across the board not popular."
Arpaio, who has been in office for two decades, is being challenged by Democrat Paul Penzone, who new polls show six points behind the incumbent. Gallego said the polling information is what he and his allies believe will give them an opening to bring down the sheriff. He also cited Arpaio's declining approval rating among county voters.
Gallego said Arpaio's use of tax funds for an investigation into Obama's birth certificate, during which he sent his "cold case posse" to Hawaii, will hurt the sheriff. The birther issue is part of the group's decision to label Arpaio as a poor manager of the sheriff's office. Though Arpaio is known for his tent city jail and his bare-bones jail conditions, Gallego points to 400 child sex crimes not being investigated by the office, while the president's birth certificate is.
"The citizens of Maricopa County are not that naive," Gallego said. "They know this sheriff is not a good administrator of his office. You can't be the sheriff of Maricopa County, one of the biggest counties in the country, and mismanage."
Arpaio was a federal drug enforcement agent and administrator before his 1992 election to the sheriff's office. Penzone is a retired Phoenix police officer.
The group has organized fundraisers in Arizona, Colorado and Texas, and is looking to build a grassroots coalition to bring down Arpaio, according to Gallego. Though he believes they will likely be outspent by Arpaio, noting their late start and Arpaio's advantage as a two-decade incumbent, Gallego said that if the group reminds voters of "waste, fraud and abuse" under Arpaio's watch, it can prevail.
The Arizona Republic reported in July that Arpaio had $6.8 million in his campaign account, with large amounts of donations coming from outside of Arizona. The report did say that Penzone had been doing better with donors from within the state.
Apraio's campaign manager, Chad Willems, said he and the sheriff are not worried about Gallego's group, noting that several other anti-Arpaio groups have been active and that Arpaio manages to defeat them.
"This is just another group out there of people lining their pockets," Willems told HuffPost. "It seems like a full-time employment group for these guys."
Before You Go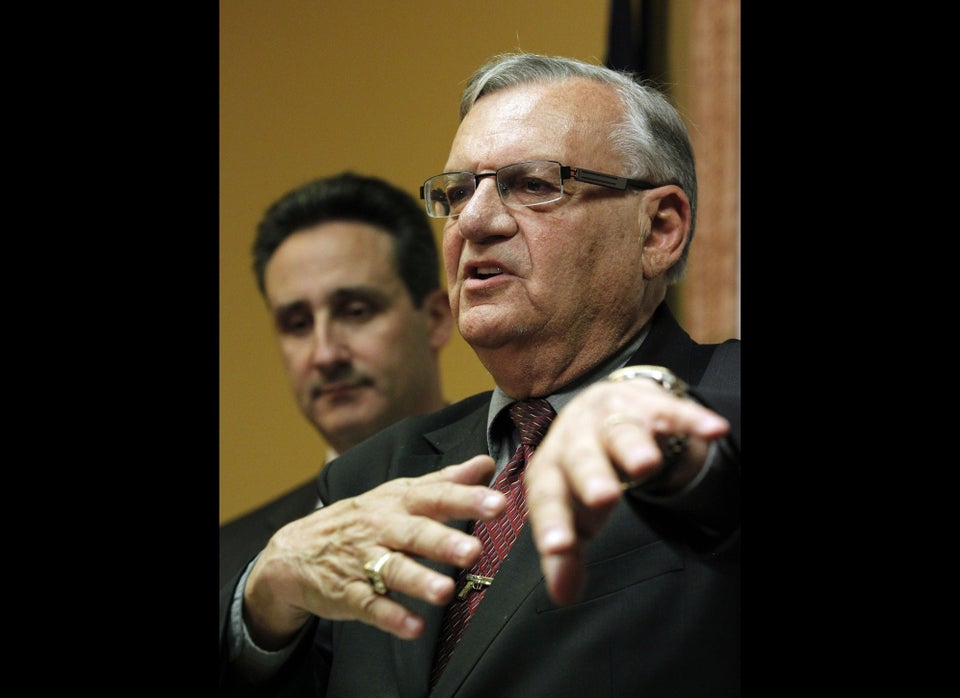 DOJ Lawsuit Allegations Against Arpaio
Popular in the Community