Maricopa County Sheriff Paul Penzone said Tuesday he'll close the "tent city" jail in Phoenix, erasing one of the most controversial symbols of his conservative predecessor.
Penzone said at a news conference Tuesday that he'd carried out a "methodical review" of the facility and concluded it was unnecessary. Shuttering it will save the county some $4.5 million, he said.
"This facility is not a crime deterrent, it is not cost-efficient and it is not tough on criminals," Penzone told reporters. "That may have been in the intent when it was first opened and there was a need. But this facility became more of a circus atmosphere for the general public. Starting today, that circus ends and these tents come down."
The change marked another in Penzone's efforts to roll back the policies of former Sheriff Joe Arpaio, an immigration hard-liner who targeted undocumented immigrants in the Phoenix area using tactics that repeatedly landed him in federal court for racial profiling. Arpaio lost last year's election in a surprise defeat organized largely by Hispanic opponents.
Since taking office, Penzone has adopted a so-called sanctuary policy of refusing to hold undocumented immigrants in custody for federal immigration authorities, in cases where they would otherwise be free to go.
"We applaud Sheriff Penzone making the decision to close Arpaio's tent city," Carlos García, leader of the Phoenix-based Puente Movement, said in a statement. Still, García said he hoped Penzone will do more to distance himself from federal Immigration and Customs Enforcement.
"The next step in removing Apraio's stain from the Maricopa County Sheriff's Office is to remove federal deportation agents from its main jail," García said. "Phoenix will be marching on May 1 to keep progress coming to Maricopa Count and urge Sheriff Penzone to remove Trump's deportation force from his jail."
Arpaio, who branded himself as America's "toughest sheriff" over the course of his 24-year career heading the Maricopa County force, built his tent city two decades ago, claiming to save taxpayer money by cutting operating costs as much as possible. The claim failed to take into account the tens of millions of dollars spent defending it from lawsuits.
For Arpaio's critics, the tent city symbolized disregard for human rights and dignity. Inmates live in the outdoor facility in Army surplus tents without temperature controls, despite the fact that the heat in the summer often exceeds 100 degrees. They receive two daily meals valued around 30 cents each, according to a 2012 Rolling Stone magazine profile of Arpaio. Male inmates were made to use pink underwear.
The media-savvy Arpaio publicized tent city widely, seemingly equally content with kindling liberal outrage as winning praise from tough-on-crime conservatives. He insisted on keeping it open, even as the number of state prisoners declined.
Even before the November election, the 2,000-bed jail's population had plummeted, according to The Arizona Republic. In September, only 400 inmates were locked up there full time, the paper reported. Some 400 others slept there after working at off-site jobs.
Closing the jail was recommended by an advisory committee of law enforcement professionals and community leaders, Penzone said.
Before You Go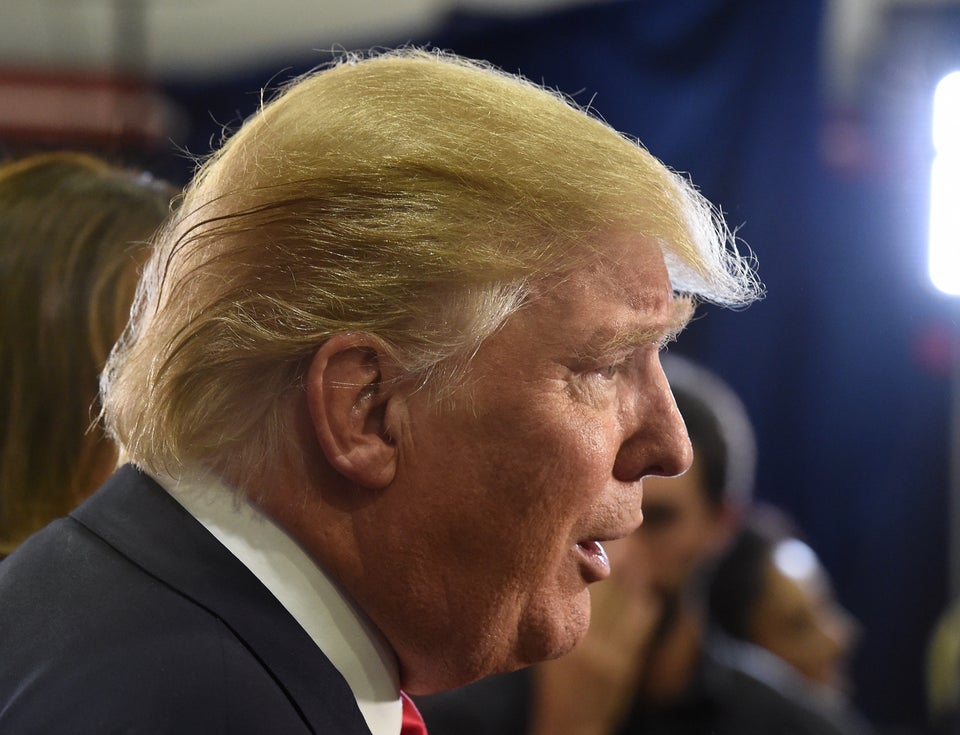 How Donald Trump Talks About Undocumented Immigrants
Popular in the Community