 Maricopa County Sheriff Joe Arpaio defended his controversial Tent City jail on Sunday, insisting that he has no plans on shutting down the extension of the Phoenix county jail.
On Saturday, approximately 3,000 demonstrators gathered outside the jail to protest what they see as inhumane conditions. However, as UPI reported, Arpaio sees no problem with housing incarcerated men and woman in canvas tents, even in Arizona's typically hot weather.
"They worry about the heat but I say this over and over again, our men and women are in Iraq, Afghanistan, it's about 115 degrees ... serving our country," Arpaio said.
The sheriff said that as long as he is in charge in Maricopa County, Tent City will remain in place. He also threatened to send the organizers of Saturday's protests a bill for the extra security he put in place during the demonstration.
"This cost a lot of money," he said. "You can thank these demonstrators. I am going to check the law and see if I can charge them. I am sure I can't get by with it. We are here defending our tent city, my officers, the Phoenix police."
The Associated Press reported on the protests earlier on Sunday:
"We are with you," protesters chanted in both English and Spanish, in hopes that inmates could hear them.

Most protesters held candles and wore yellow T-shirts that read "Standing on the side of love," a slogan of the Unitarian Universalist Association, which was holding its annual convention in Phoenix this weekend.

The rally was the latest effort by the association to promote social justice, association spokesman John Hurley said. The Unitarians organized the rally along with the immigrant rights group Puente Arizona.
Arpaio is known for his contentious positions on immigration and his often controversial policing practices. In May, the Department of Justice filed a suit against the sheriff and his office for discriminating against Latinos.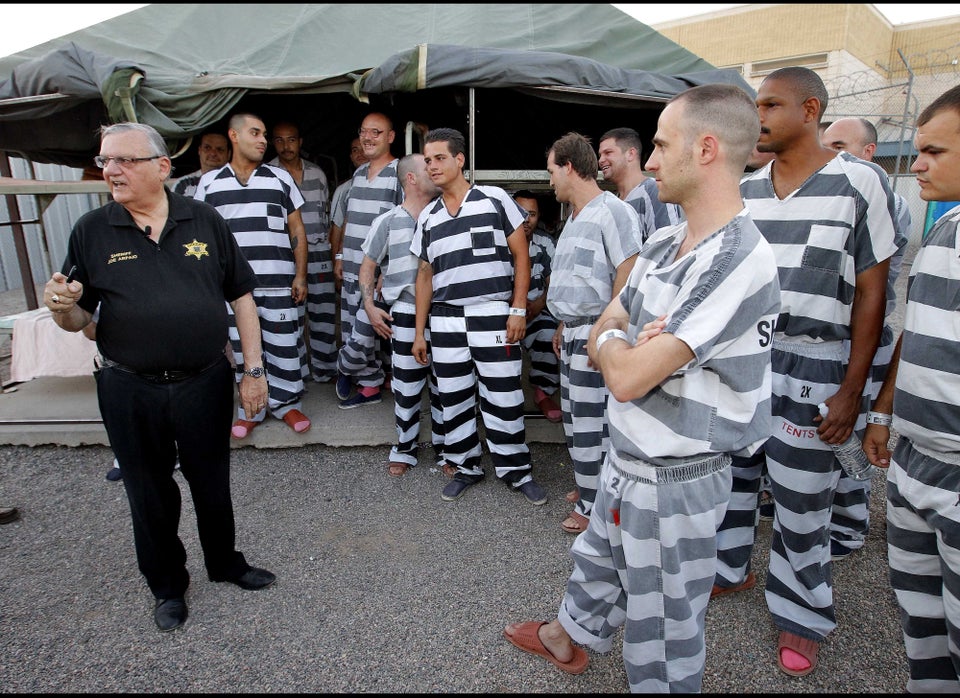 Joe Arpaio Tent City Protests
Popular in the Community