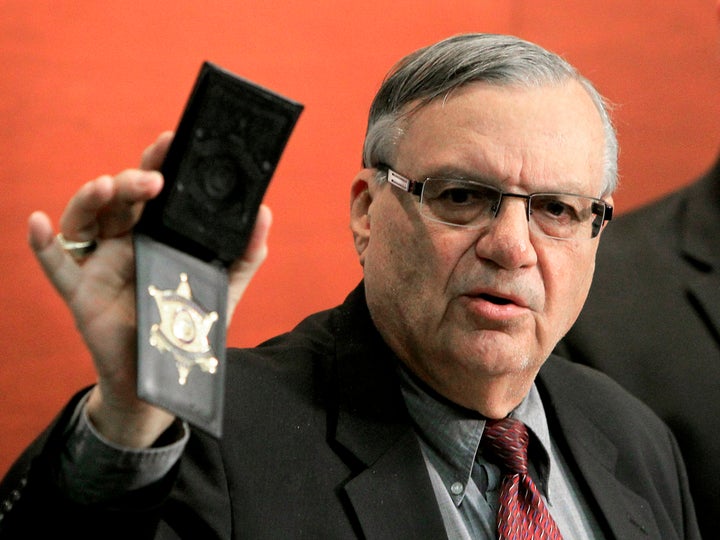 On Aug. 17, 2011, WorldNetDaily's Jerome Corsi gave an hour-long-plus birther presentation to a tea party group in Surprise, Arizona. Corsi rehashed his usual evidence that President Obama's birth certificate is a forgery and promoted his conspiracy that Donald Trump was secretly working for Obama, and even entertained a question about whether Obama looks "a lot like Malcolm X." Corsi responded that "there's no proof that he is Malcolm X's son," and he "always thought the father was Indonesian," because Obama's "characteristics are more Indonesian."
Despite Corsi's central role in peddling dubious and discredited birther claims, this presentation appears to have been what led to Arizona sheriff Joe Arpaio launching an "cold case posse" investigation into Obama's "eligibility" to be president.
Four days after his presentation, WorldNetDaily published an article by Corsi stating that "WND has received an advance copy of the letter the Surprise Tea Party in Surprise, Ariz., plans to deliver tomorrow to Maricopa County Sheriff Joe Arpaio at his downtown Phoenix office, asking the lawman to investigate Barack Obama's alleged proof of natural-born citizenship." The article includes pictures of Corsi posing with Surprise Tea Party members, but it's not until the final paragraph that Corsi notes he gave a birther presentation to the group.
The petition worked: Corsi reported on September 16th that Arpaio "has constituted a special law enforcement posse to investigate allegations brought by members of the Surprise, Ariz., Tea Party that the birth certificate Barack Obama released to the public April 27th might be a forgery." Corsi followed up two days later with an interview with Arpaio, in which he claimed that "this investigation does not involve politics." Never mind, of course, that birtherism is completely driven by politics, WorldNetDaily editor Joseph Farah is simply running his Vincent Foster conspiracy playbook against Obama in an attempt to delegitimize his presidency.
Corsi was apparently the first to line-up and testify before the posse. A November 1st article stated that Corsi "spent 18 hours over a two-day period in Arizona briefing the Cold Case Posse on a wide-range of evidence regarding Obama's eligibility."
That cozy relationship defines Corsi and WND's coverage of Arpaio and the investigation. It has been so fawning and biased that it appears to be an effort to guarantee that the probe generates a result favorable to Corsi and unfavorable to Obama -- in other words, a form of bribery. On top of that, Corsi is violating journalistic ethics by playing both sides of the fence -- writing about an investigation he not only instigated but participated in.
When an effort began to remove the sheriff from office, Corsi tried to discredit the effort and smear the person leading the campaign. On January 3rd, Corsi asserted that the leader of the effort, Randy Parraz, is a "transplanted radical attorney-activist " who "has made his career applying Saul Alinsky-style community organizer tactics for radical leftist movements in the U.S. and Canada." The next day, Corsi claimed that Parraz "staged a poorly attended protest Wednesday morning at the sheriff's downtown Phoenix office." On January 9th, Corsi stated that "A protest against Arizona's Sheriff Joe Arpaio and Gov. Jan Brewer organized by transplanted attorney-activist Randy Parraz yielded exactly one protestor."
In a January 16th column, Corsi did his best to paint Arpaio as the noble victim of a conspiracy against him led by none other than President Obama, claiming it is "not coincidental" that a federal investigation into whether Arpaio and his deputies committed civil rights violations against hispanics surfaced at the same time that Arpaio launched the "cold case posse" investigation. Corsi concluded:
In the final analysis, Arpaio remains a hero to millions of law-abiding citizens across America precisely because today he still retains the same respect for law that has served to distinguish him throughout his five-decades-long career in law enforcement.
How can someone so in the tank for Arpaio, as Corsi is, be expected to report fairly and accurately about him and this investigation? He can't.
WorldNetDaily's Arpaio sycophancy is so extreme that it essentially rewrote history in obscuring the involvement of Arpaio's office in a lawsuit involving homeschoolers.
A February 4th article by Bob Unruh detailed how "The Home School Legal Defense Association has filed a petition asking the justices to review the case of John and Tiffany Loudermilk, who they say gave in to a search of their home "after social workers used an anonymous tip to threaten to handcuff them and seize their five children, and then summoned deputies to do that." Unruh listed the defendants in the case but curiously omitted Arpaio's name, even though 1) The case is titled Loudermilk v. Arpaio, and 2) Unruh listed Arpaio in an earlier article on the lawsuit.
Meanwhile, WorldNetDaily has been engaging in a more direct form of bribery by raising money to help fund the posse investigation. A December 26th column by Joseph Farah begs readers to donate to the fund, declaring it "probably America's last chance to salvage the integrity of the Constitution for all time." Farah's column has been sent out at least eight times since the beginning of the year to WorldNetDaily's email subscribers as a solicitation to donate.
That email links to a page at WorldNetDaily's online store where you can donate to "fund independent investigations of Obama's eligibility," adding, "A portion of all contributions will go to support WorldNetDaily's efforts, with another portion going to Sheriff Joe Arpaio's Cold Case Posse, set to issue its report in February 2012." WorldNetDaily has sent out at least three email solicitations promoting this fund since the beginning of the year. WorldNetDaily provides no details on exactly what that funding split will be.
WorldNetDaily has done its best to buy its preferred result from Arpaio and his "cold case posse." The only question is whether anyone can explain why that's not attempted bribery.

(A expanded version of this article is at ConWebWatch.)