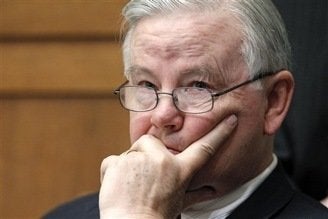 After Republican Rep. Joe Barton issued an apology to BP CEO Tony Hayward at a Capitol Hill hearing Thursday -- calling the Obama administration's efforts to hold the oil giant accountable a "shakedown" -- lawmakers on both sides of the aisle swiftly responded to the Texas congressman's remarks by demanding he step down as the ranking Republican on the House Energy and Commerce Committee.
Democrats and the White House wasted no time in pouncing on Barton's apology to Hayward, some of the congressman's most vocal new-found critics are coming from within his own party.
"People are calling for his head," a fellow Republican committee member of Barton told Politico.
Politico reports on what Barton had to say when asked about calls for him to step down from his committee post, which the Texas Republican made clear he has no intention of doing:
Barton, headed into Minority Leader John Boehner's office, said calls for his resignation are "news to me."

Asked whether he planned to stay put as top Republican on the committee, he declared "Damn straight."

Lawmakers were "hunkered down" in Boehner's office to discuss the flap, according to the member who said people were calling for Barton's resignation.
Below are reactions from both Democrats and Republicans who have condemned Barton's remarks, and in some cases, demanded he resign from his ranking committee post:
Senate Majority Leader Harry Reid said "it takes an appalling amount of chutzpah" for Barton to apologize to Hayworth about Democrats' efforts to hold BP accountable: "Where is his apology for the families of the 11 men who lost their lives and the industries along the Gulf that have been devastated because of this disaster? Where is his sympathy for the ecosystem in the Gulf of Mexico that will be damaged for generations because of BP's negligence? And shouldn't he be apologizing to the people of the Gulf Coast for decades of Republican policies that ignored oversight and accountability for the oil industry?"
House Minority Leader John Boehner said that he disagreed with Barton's remarks at a press conference on Capitol Hill Thursday. "I have said since the beginning that BP ought to be held responsible for every dime of this tragedy," Republican congressman said. "They ought to be held accountable to stop the leak and get it cleaned up as soon as possible."
Republican Congressman Jeff Miller, whose Florida district is among the worst impacted by the massive oil spill, said that Barton's remarks to Hayworth were "out of touch with this tragedy" and added, "I feel his comments call into question his judgment and ability to serve in a leadership on the Energy and Commerce Committee."
Texas Republican Congressman Michael Burgess was quick to distance himself from Barton after his apology to Hayworth."He made it quite clear he was speaking only for himself," Burgess said.

Rep. Adam Putnam (R-Fla.) said that Barton "owes the people of the gulf coast an apology, not the CEO of the company that caused this mess."
Rep. Steve Scalise (R- La.) expressed his disagreement with Barton's comments, but added that it's not his decision to make whether the Texas Republican should step down from his committee post.
Popular in the Community