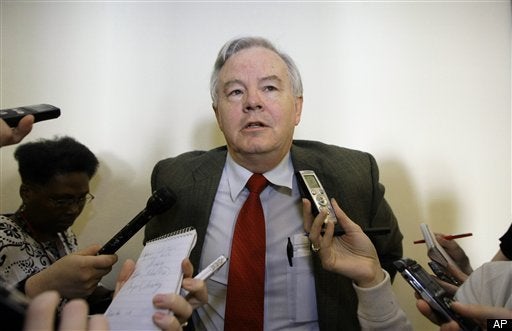 Joe Barton's fate rests with the voters, though they don't have to wait until November to weigh in. Republican leadership aides say that Barton's ability to remain the senior-ranking Republican on the House Energy and Commerce Committee depends on what GOP members hear from constituents back in their districts about Barton's apology to BP on Thursday, according to House Republican leadership aides.
Those members will report back Tuesday evening, when the House returns to business.
At the end of the 2010 legislative session, Barton will have been ranking Republican on the committee for three terms. According to House GOP term limits, his time would be up, preventing him from becoming chairman. But Barton, said GOP aides, had planned on asking for an extension, arguing that years spent as ranking member and years spent as chairman aren't equal.
As Barton makes his case to GOP leadership, it doesn't help that he ran against Minority Leader John Boehner (R-Ohio) for the top spot following the 2006 Democratic takeover.
Barton's tenuous hold on his seniority has set off a round of jockeying for his position. The Republican next in line is Rep. Fred Upton (R-Mich., but Rep. John Shimkus (R-Ill.) is further down the line and making a move for the spot, said GOP aides. (Neither Upton nor Shimkus returned calls for comment.) Rep. John Shadegg (R-Ariz.) is a high-ranking member of the committee who is retiring at the end of the year. If Barton is asked to step aside, Shadegg could step in as ranking member as a placeholder until next year.
Barton's seat is one of the most valuable in the House, with Republicans salivating at the very real prospect of a takeover. With deficit hysteria in full force, the Appropriations Committee is no longer the plum spot it was under Tom Delay's earmark-laden leadership.
The Ways and Means chairmanship would be a valuable one, given the GOP proclivity for cutting taxes, but much of the action will be in Energy and Commerce, which oversees energy policy and large portions of health care reform.
K Street is watching closely. If Barton is booted from the top spot this session or next, the Energy and Commerce staff may see heavy turnover. GOP aides both on the Hill and off told HuffPost that under the leadership of David Cavicke, the committee's staff has become difficult to work with and has been unable to rein in the more erratic impulses of Barton. Energy and Commerce, under then-Rep. Billy Tauzin, was once known as one of the most politically effective GOP units, with Ken Johnson leading the communications effort. When Barton took over, he had the well-regarded Bud Albright running the staff. Albright went on to become an undersecretary at the Department of Energy and is now a lobbyist with CenterPoint Energy. Johnson went on to run communications for the Pharmaceutical Research and Manufacturers of America (PhRMA).
Exhibit A in the case against Cavicke is Barton's disastrous apology to BP, which was made in prepared remarks, the kind that are generally read and approved by senior staff. The apology to BP came after GOP leadership urged Republicans to be careful in their rhetoric and not give Democrats any video clips they could exploit. They didn't think to add: Don't apologize to BP.
"His staff sucks," said one GOP lobbyist. "How you could have a prepared statement apologizing to the most hated CEO on planet earth is mind boggling."
There may be little advantage to dumping Barton now, however, say some aides. He has already apologized for his apology and Democrats have the clip they want. Stripping Barton of his position won't change that and would make him a martyr in the eyes of the GOP's far-right base, but would only elevate the battle for his position that is now going on underground.
Popular in the Community